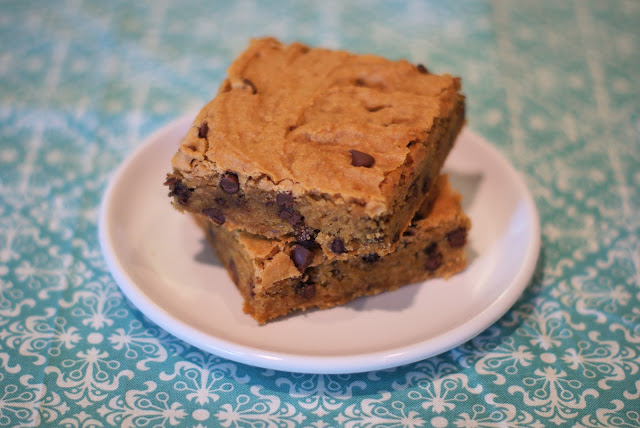 Blondies. Do you remember these fabulous cookie bars? I would make them all the time when I was little. They were so easy to whip together! You just poured the simple brown sugar batter in the dish and baked. Everything you love in a chewy, warm chocolate chip cookie in a bar. Awesome invention. I've made them with walnuts and with chocolate chips. Can't decide. Both make a pretty mean blondie!
I was looking through my Betty Crocker Cook Book and came across this classic blondie recipe. I tweaked an ingredient here and an ingredient there to make…gluten free vegan blondies! Now don't be alarmed. Even without gluten, eggs, or dairy, these bars are AMAZING! I used pumpkin puree in place of the egg (which you totally can't taste). Pumpkin is my new best friend these days. It adds moisture and is packed with vitamins. I must say that when you are in need of a warm and gooey treat, just think…blondies to the rescue!
gluten free vegan blondies
makes 16 bars (depending on size)
1/4 cup coconut oil
1 cup brown sugar
1/4 cup pumpkin puree
1 teaspoon pure vanilla extract
1 1/4 cups Sarah's gluten free flour blend
1/2 teaspoon baking powder
1/4 teaspoon baking soda
1/4 teaspoon salt
1/2 cup dairy free mini chocolate chips
Preheat oven to 350 degrees. Grease 8×8-inch baking pan with non-stick cooking spray. In microwave safe bowl, melt coconut oil on high for 30 seconds until completely melted. In large mixing bowl, combine melted coconut oil and brown sugar. Add pumpkin puree and vanilla. Stir until smooth. Mix in the flour blend, baking powder, baking soda and salt. Add chocolate chips. Pour mixture into prepared baking pan. Bake for 20-25 minutes or until edges are golden brown. Cool in pan for 10 before cutting.