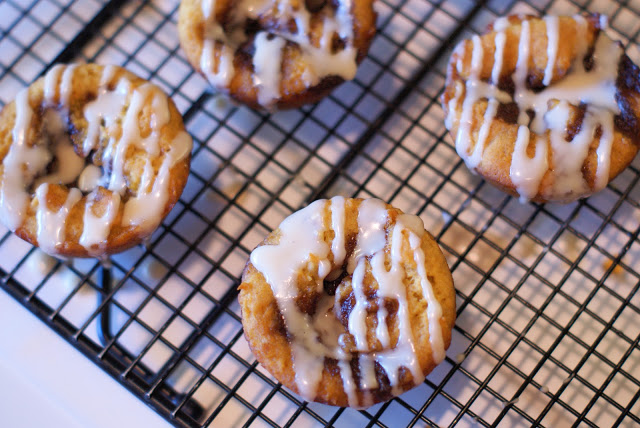 Thanksgiving morning is crazy. Baking, cooking, cleaning, stressing. You are in overdrive, making sure you aren't forgetting to make the cranberry sauce or trying to keep the turkey from overcooking. Family is filling your house and the smells are intoxicating. It may be chaos, but it's a day of eating delicious food that we all look forward to! Stuffing our bellies until we can't move. Yes, it is a good thing.
Now I know that breakfast isn't really on your mind on Thanksgiving morning, but if you make these pumpkin cinnamon rolls…it will become a necessity! Little bites of cinnamon goodness that are everything you love about a classic cinnamon roll. Gooey center with a drizzle of vanilla glaze. These gluten free and vegan muffins are so easy to make! Just a couple simple steps and you have pumpkin cinnamon roll muffins for all of your guests. Double or triple the batch. Your family will thank you. These most certainly would be a great addition to your day of giving thanks!
gluten free vegan pumpkin cinnamon roll muffins
makes 12 muffins
1 1/2 cups Sarah's gluten free flour blend
1/3 cup sugar
1/4 teaspoon salt
1/2 teaspoon baking soda
4 teaspoons rapid rise yeast
2/3 cup warm non-dairy milk*
3 tablespoons sunflower seed oil
1/4 cup pumpkin puree
1/2 teaspoon pure vanilla extract
filling
1 tablespoon Earth Balance buttery spread*
1/4 cup brown sugar
1/2 teaspoon ground cinnamon
pinch of ground nutmeg
pinch of ground allspice
icing
1 cup powdered sugar
1 tablespoon coconut milk
1 tablespoon pure maple syrup
1/2 teaspoon vanilla
Dissolve the yeast in a
measuring cup filled with the warmed milk. Set aside to proof. In a
large bowl, combine flour blend, sugar and salt. Stir in milk mixture,
oil, pumpkin, and vanilla into the flour mixture. Mix until smooth. Scoop
into muffin cups sprayed with cooking spray. Let rise for 15 minutes.
While
the dough rests, mix together buttery spread, brown sugar, and cinnamon until
crumbly. Sprinkle evenly on top of rested dough
and press sugar mixture down into the dough with your fingertips. Place
pan into a cold oven, then set the oven temperature to 350 degrees.
Bake for 20 minutes, until muffins are golden brown on edges. Remove from
pan and cool for 10 minutes on wire rack. Whisk together the icing and
drizzle over muffins. Serve warm.
*If you can tolerate dairy, feel free to use regular milk, as well as butter.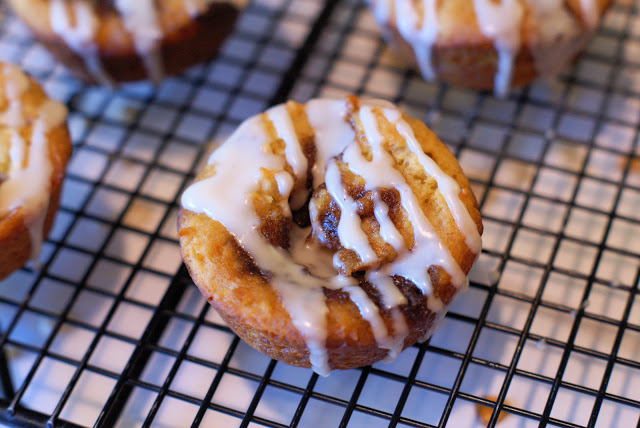 Recipe adapted from Joy the Baker
Check out our google hangout with Lexie from Lexie's Kitchen, where we chat about tips on entertaining the kids on Thanksgiving day! I share the recipe for these heavenly cinnamon roll muffins, as well my family traditions. Happy Thanksgiving, friends!