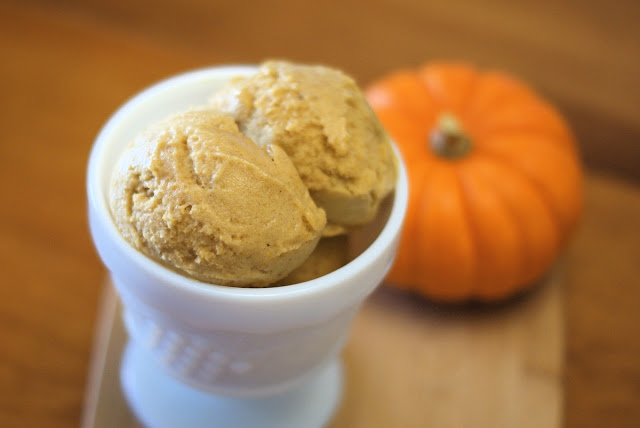 You might be thinking, "ice cream in the fall?" Well, it may be fall here in California…but it sure doesn't feel like it. I'm so ready for sweaters, scarves and boots. I love feeling cozy and warm in my house. Making soups in the crock-pot for dinner and baking all day long. Fall is my most favorite baking time of the year!
This ice cream is similar to my nutella banana "ice cream" except for this recipe is dairy and refined sugar free! It's actually just bananas, pumpkin puree, and pure maple syrup. The addition of cinnamon and nutmeg give it that pumpkin pie taste we all love. Light, creamy, and there is no need to count calories with this ice cream. Enjoy this fall (frozen) treat!
pumpkin spice "ice cream"
serves 3
3 bananas, frozen
1/2 cup pumpkin puree
1/4 cup pure maple syrup
1/2 teaspoon ground cinnamon
pinch ground nutmeg
Place bananas in food processor. Pulse until no large banana chunks
remain. Add pumpkin puree, maple syrup, cinnamon, and nutmeg. Continue to blend on low until
smooth (may take a couple minutes). Place ice cream in freezer -safe
container and freeze until set, 1-2 hours. Scoop and enjoy!