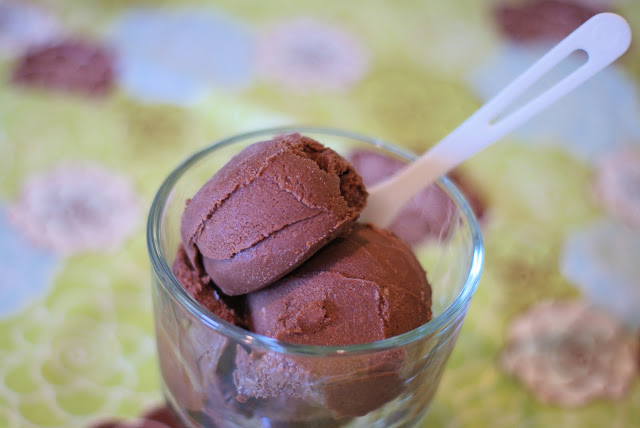 I remember seeing a recipe for banana "ice cream" and thought to myself, "that is a fabulous idea!" Frozen bananas blended until smooth. No cream. No fat. Ice cream that you don't have to feel guilty about eating. Now that is what I'm talking about!
This is the easiest dessert ever. Ever. Only 3 ingredients and a food processor. That's all you need! I always have frozen bananas in my freezer and Nutella…well, it's just good to have at all times. At the last minute, I got an urge to make it even more chocolatey with a little cocoa powder. I'm in love with this Nutella banana "ice cream." Oh so creamy and guilt-free!
nutella banana "ice cream"
serves 3
3 ripe bananas, frozen
1/4 cup Nutella hazelnut spread
2 tablespoons cocoa powder
Place bananas in food processor. Pulse until no large banana chunks remain. Add Nutella and cocoa powder. Continue to blend on low until smooth (may take a couple minutes). Place ice cream in freezer -safe container and freeze until set, 1-2 hours. Scoop and enjoy!