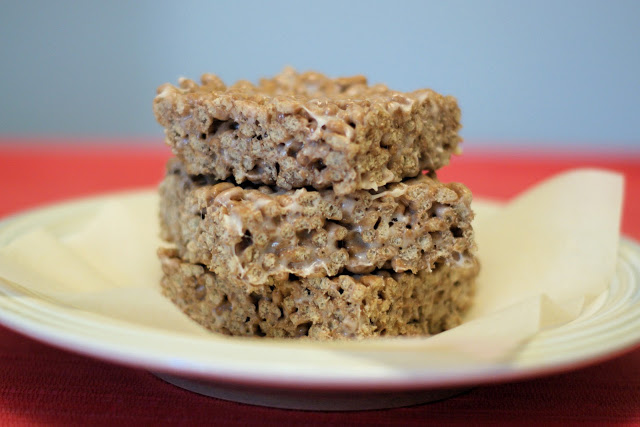 When Kyri gets home from school, she pretty much asks for a snack the minute we walk in the door. I usually tell her she can finish whatever is leftover from her lunch, which is almost always the other half of her sandwich or a few veggie straws. She's not very happy with that response. She would much have something fun and exciting…like a popsicle or ice cream! If only I were a cool mom.
For those days you want to surprise your kids with a (sweet) after school snack, whip up some chocolate crispy treats! I used Koala Crisp Cereal, a yummy chocolatey, organic cereal. Our family loves all of the Nature's Path gluten free cereals, especially Panda Puffs! I decided to make these dairy free, by using coconut oil in place of the butter. Worked great! The chocolate cereal with the coconut oil is pretty awesome. Chocolate crispy treats…chewy, gooey and a great treat for any time of the day!
chocolate crispy treats
makes 9-12 servings
Grease 8×8-inch baking pan with non-stick cooking spray or coconut oil. In medium saucepan, melt coconut oil and marshmallows over low heat. When completely melted, remove from heat. Stir in cereal with large rubber spatula. Pour into prepared pan. With greased hands, pan down cereal mixture until smooth (careful, it's warm). Cool completely before cutting.