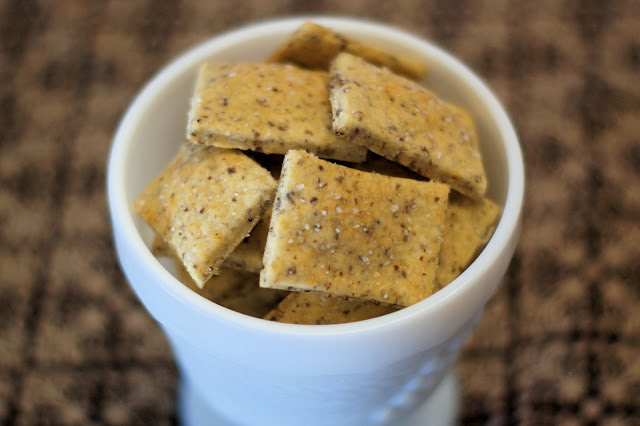 Sometimes you just need a good salty, crunchy snack to take with you on the go. Maybe crackers. Maybe chips. Maybe pretzels. Now, when you start doing the whole gluten free diet, you soon realize that all of those salty, crunchy snacks you once loved…can be quite pricey. Don't get me wrong, there are some great gluten free varieties out there. But then I asked myself, "why not make your own?"
I was really starting to miss crackers. Crispy, crunchy, with a touch of salt on top. They are just a great snack and perfect for dips. When I saw this recipe on Annie's Eats (which I know I've shared just how much I love that girl!), I knew I had to give them a try. I used my flour blend in place of the all-purpose flour and added a couple extra tablespoons of flaxseed meal. I also threw in a few spices, to kick things up a notch! The parmesan cheese really is the star of these crackers. Trust me, it's a must. You may be afraid to make your own home-made crackers. I know I was! However, these really do come together quickly and in my own opinion…they are the best, most flavorful gluten free crackers out there!
gluten free crackers
makes 60-70 crackers
1 1/4 cup Sarah's gluten free flour blend
3 tablespoons flaxseed meal
1/4 cup grated parmesan cheese
1/4 teaspoon smoked paprika
1/2 teaspoon granulated garlic
1/2 teaspoon sea salt
4 tablespoons unsalted butter, cold
6-8 tablespoons cold water
additional sea salt, for sprinkling
Preheat oven to 425 degrees. Line large baking sheet (or jelly roll pan) with parchment paper. In food processor with blade attachment, add flour, flaxseed meal, parmesan cheese, paprika, garlic, and salt. Blend on low until ingredients are combined. Add cold butter. Pulse on high until resembles course crumbs. While processor is on high, slowly pour in cold water through the top, one tablespoon at a time. When the dough comes together in a ball, you will know you have added enough water.
Transfer dough to parchment lined baking sheet. Place another piece of parchment paper on top of dough (same size as baking sheet). Roll dough out into a very thin rectangle, about 1/8 inch thick. Gently peel away top sheet of parchment paper. Sprinkle dough with sea salt. Using pizza cutter, cut dough into 1-inch crackers. Bake in oven for 16-18 minutes, or until golden brown and crispy ( some outer edges might over-bake). As the crackers bake, they will start to separate. Remove from oven and place on cooling rack. While still warm, break apart the crackers. Cool completely on cooling rack. Store in airtight container. Crackers will stay fresh for about a week.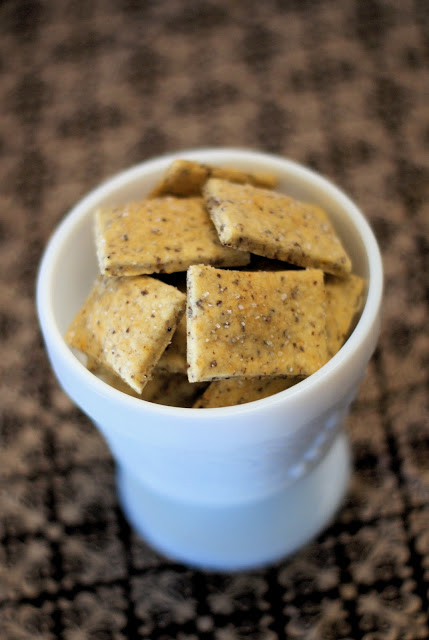 Recipe adapted from Annie's Eats