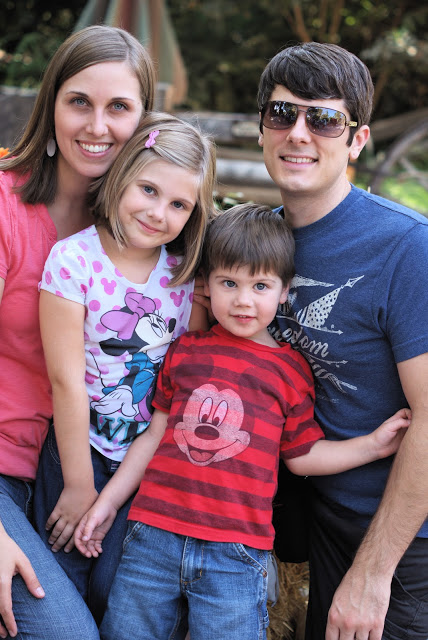 Our family recently spent a week at the most magical place on earth…Disneyland!  We have made it a family tradition to go every other year.  This was our third time going with kids (we also went on our honeymoon, cause we're cool like that).  I think I can most certainly say this was our best trip to Disneyland!  Kyri and Kaden were the perfect age, full of imagination.  We also took on both parks with grandma and grandpa Hornacek!  We drove down in our van and Kevin's parents flew in from Omaha to meet up with us.  This was seriously a dream come true for our family!
Not only was this our first time at Disneyland with grandma and grandpa, it was our first trip on a gluten free diet.  We weren't sure how that was going to work!  I searched online for allergy-friendly dining options and I found helpful info here, as well as well as here.  I was so excited to see so many choices!  Disneyland has this gluten thing down, let me just tell you.  Once you enter the park, you go into the City Hall and ask for a gluten free list.  Also, at the restaurants, the chef will come out and answer any questions you have.  So helpful!  We ate quite well, without feeling like we were missing out.  I think I ate one of the best gluten free burgers I've ever had.  Oh, and gluten free buns don't cost you extra!  Honestly, all I really cared about…the cotton candy.  100% sugar and 100% amazing!
Here is a list of some of the delicious gluten free items that our family enjoyed…
hamburger/cheeseburger with gluten free bun
french fries
hot dog with gluten free bun
fresh apple slices
chicken tacos with rice and beans (my fave!)
roasted chicken with corn tortillas, rice and beans
cheese/pepperoni pizza with gluten free crust (with dairy free options!)
spring mix salad with basil vinaigrette
cotton candy
popcorn
fresh fruit
Dole Whip (the classic pineapple treat!)
mickey ice cream bars
Starbucks coffee/tea drinks…now at California Adventure!
Gluten free and Disneyland…no problem!  Being able to know where we could eat ahead of time, made it so easy to eat gluten free in the park.  Disneyland is also fabulous because you can bring in any of your own snacks.  We stocked up on gluten free pretzels, fruit n' nut bars, peanuts, chips, applesauce, and plenty of water.  The gluten free meals we enjoyed were simply delicious, making our trip even better.  Having Kevin's parents with us was also wonderful!  They loved seeing the joy on the faces of their grandbabies.  We stayed in a hotel close to the park and spent 3 long days going on every ride possible (sometimes twice).  Soaking in the sun while savoring every minute at Disneyland.  I took 100's of photos, but here are some of my faves.  Enjoy these moments captured from our amazing vacation!
cool dude. ready for toy story 3-D ride.
 my sweet babies.
greatest in-laws a girl could ask for.
 riding the dumbo ride with my little man.
Kyri got to meet the new frost fairy!
the happiest place on earth sure does make you smile.
Disneyland vacation with grandma and grandpa…best EVER!