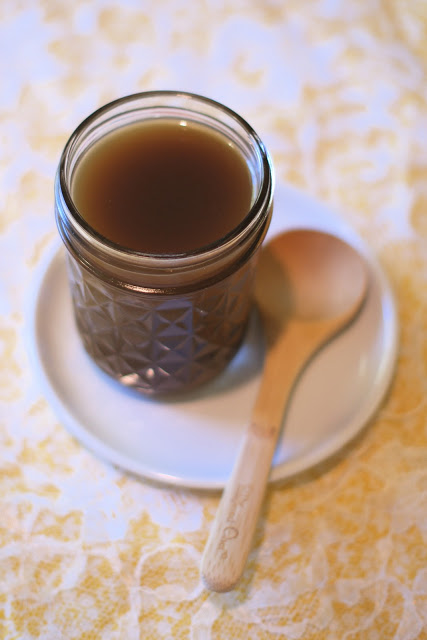 Caramel sauce, sweet creamy caramel sauce. Simply divine. It's the perfect topping for a scoop of vanilla bean ice cream, warm apple cobbler, or a frosty frappuccino. For those of you who's tummy can't tolerate the dairy, you know it's pretty much impossible to buy any caramel sauce that doesn't "contain milk." Butter, cream, both essentials when making caramel sauce. Well, not anymore!
This dairy free caramel sauce is amazing! The true caramel flavor comes through from the brown sugar and pure maple syrup. The use of coconut milk and coconut oil makes it creamy, smooth and almost too good to be true. I'm sure I don't need to do anymore convincing…it's just simply delicious!
dairy free caramel sauce
makes about 1 cup
1/2 cup brown sugar
1 tablespoon tapioca starch or cornstarch
pinch of sea salt
1/3 cup coconut milk fat (from full-fat, unsweetened coconut milk)
2 tablespoons pure maple syrup
1 tablespoon coconut oil
1/2 tsp. pure vanilla extract
In small saucepan, combine brown sugar, tapioca starch and salt. Stir in 1/4 cup water. Whisk until combined. Open can of unshaken coconut milk. DO NOT STIR. Remove 1/3 cup of the thick coconut milk fat from top of can. Add to the saucepan, along with maple syrup and coconut oil. Cook and stir over medium heat until bubbly. Continue to cook while stirring, for another 3 minutes. Remove from heat and add vanilla extract. Serve warm or cover and chill in refrigerator.