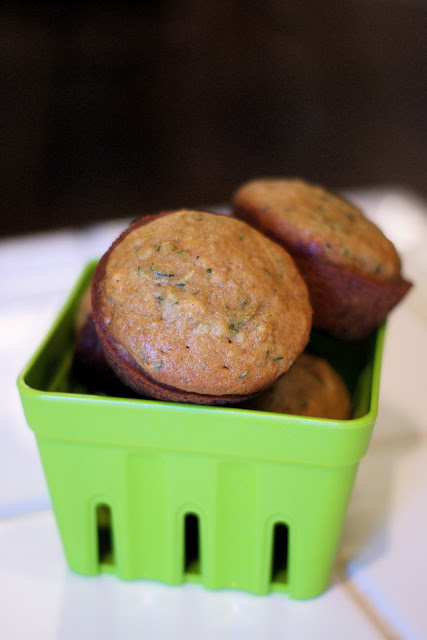 School mornings can be so not a pretty sight. It's early and no one wants to be up yet. You're telling your kids to get dressed for the 10 millionth time. Smelling their breath to see if they really did brush their teeth. Trying to pack their lunch and get yourself ready…which is a rarity. Don't even get me started on breakfast. My kids don't like eating right when they wake up so it's ALWAYS a battle to get them to get food in their little bellies before we head out the door. Come on, breakfast is the most important meal of the day! At least that's what my mom told me.
An easy breakfast solution…muffins! Great served with scrambled eggs or a fruit smoothie. I like to make muffins the night before, to have for the next few mornings. My whole family adores muffins, just like I do. You can make them so many different ways and pack lots of yummy nutrients in there, without anyone knowing! I love sneaky baking. These zucchini muffins are mega-moist and studded with little bits of green goodness. Getting those veggies in…one gluten free, dairy free muffin at a time.
gluten free zucchini muffins
makes 22 muffins
1 teaspoon salt
1 teaspoon baking soda
1/2 cup canola oil
1/2 cup unsweetened applesauce
3/4 cup brown sugar
1/4 cup pure maple syrup
3 eggs
1 teaspoon pure vanilla extract
2 cups grated zucchini (I used 2 large zucchini)
Preheat oven to 350 degrees and spray muffin pan with cooking spray. Sift together flour, salt, and baking soda. In large mixing bowl, stir together oil, applesauce, brown sugar, and maple syrup. Squeeze excess water out of shredded zucchini. Add to batter, along with eggs and vanilla. Gently stir in flour mixture until just combined. Pour batter into prepared muffin pan. Bake 20-22 minutes or until edges are golden brown. Remove from pan and cool on cooling rack. Store in airtight container.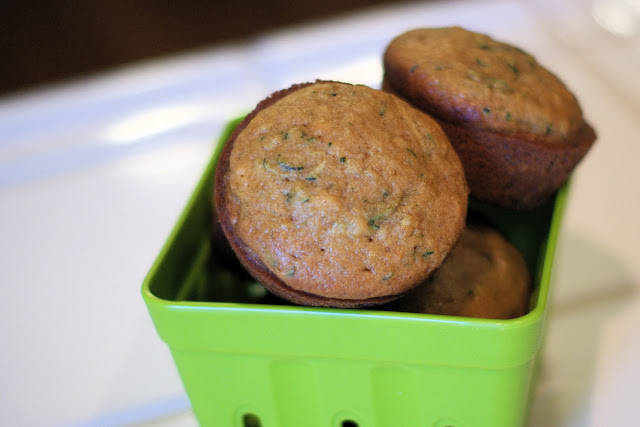 Recipe adapted from Long Road to China