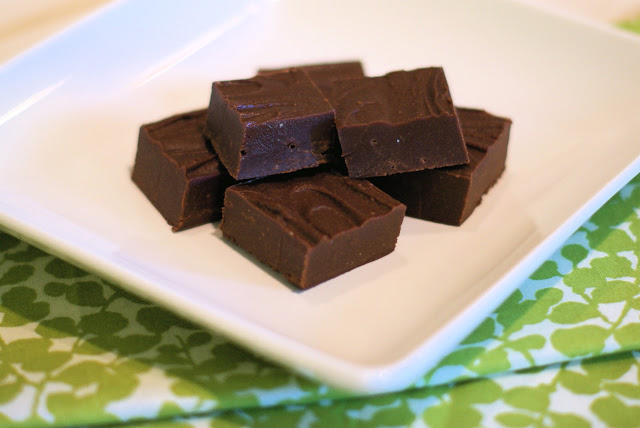 I was craving a simple, bite-size chocolate treat. So I mixed up a few of my favorite ingredients, poured it into a pan, and let it set in the fridge. About an hour later, I took a spoon and dug out a little scoop. Love. Creamy, chocolatey, and not too sweet (the way I like it). You can taste every ingredient…the honey, the chocolate, the peanut butter, and the coconut oil. They all work perfectly together. I used Trader Joe's semi-sweet chocolate chips so my fudge is dairy-free too!
I'm in trouble. This chocolate peanut butter fudge is insanely good.
Not just, "Oh yeah, that's tasty." More like, "Oh yes, this is SO what I
needed!" Don't worry though, it's a healthy fudge recipe so you don't
have to feel too terrible if you eat 5 pieces in an hour. Who's
counting?
chocolate peanut butter fudge
makes 24 small sqaures
1/2 cup semi-sweet chocolate chips
3 tablespoons coconut oil
1/2 cup all natural peanut butter (no sugar added)
1/3 cup honey
2 tablespoons cocoa powder
Line a 9×5 baking dish with parchment paper. In microwave safe bowl, melt chocolate chips, coconut oil, and peanut butter for 30 seconds on high. Stir and microwave for another 15 seconds. Stir until chocolate chips are completely melted. Mix in honey and cocoa powder. Pour into prepared baking dish and spread evenly. Refrigerate for at least one hour, or until completely set. Cut into small squares. Cover with plastic wrap and store in refrigerator.