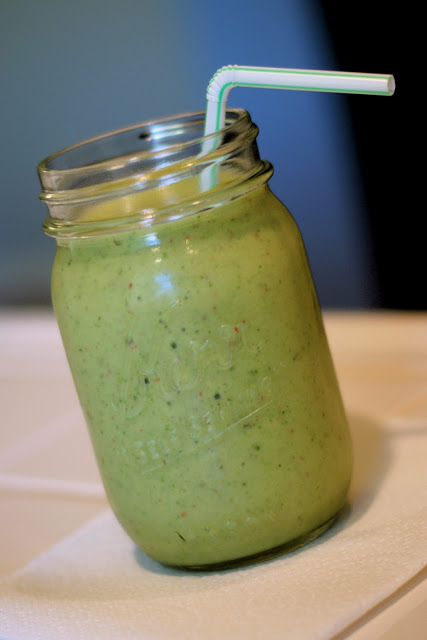 We are a smoothie-lovin' family! For breakfast, lunch, or dinner. They can be so filling and FULL of good stuff! One of my favorite things to add to a fruit smoothie…fresh kale or spinach leaves. Your kids will never know you sneaked it vitamin-packed veggies. But honestly, what kid wouldn't like a bright, green smoothie? Just tell them it will give them super powers!
I never measure anything when I make smoothies. A little bit of this, a scoop of that. I just put it all in a blender and blend until it looks about right. For my special readers, I decided to actually measure the ingredients for my tropical kale smoothies. If you don't have kale leaves on hand, you can substitute with fresh spinach. I like to stock my freezer with frozen fruit so I'm always prepared to whip up a delicious smoothie, perfect for any meal of the day!
tropical kale smoothie
serves 2
6-7 ice cubes
1 cup kale leaves
1 frozen banana
1/2 cup frozen mango chunks
1/2 cup frozen strawberries
1/4 cup frozen pineapple pieces
1/2 cup coconut milk
1/2 cup orange juice
1/4 cup plain Greek yogurt
2 tablespoons honey
Place all ingredients in blender. Blend until smooth. Add more coconut milk or orange juice, if needed. Enjoy!