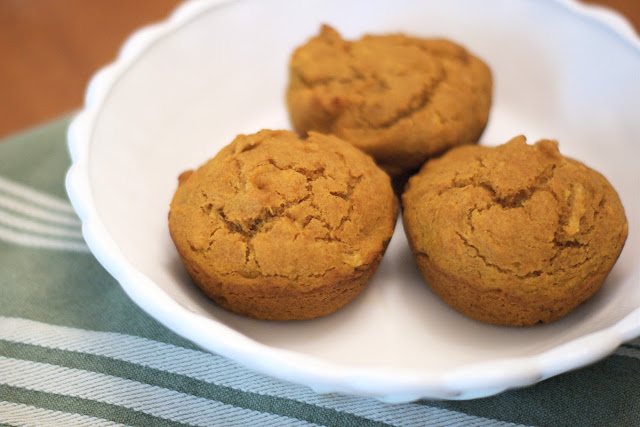 My dear friend Heather is on an elimination diet while she is nursing her son. I feel for her because I know how hard it is to feel like you can't eat anything! I've gone off of eggs, dairy, nuts, sugar, as well as gluten. It's no easy task, let me tell you. I really wanted to make her a treat that she could enjoy, without feeling deprived. I think these muffins were just what she needed!
I love pumpkin and apple together. The taste of fall, anytime of year! The pumpkin adds great moisture and the apple adds a little extra sweetness. Pumpkin puree is a great alternative when you are baking without eggs too (which is always tricky). You will not feel like you are missing out on anything when you take a bite of these vegan apple pumpkin muffins! A little spice, a lot of flavor. These would be a great addition to your Saturday morning breakfast or perfect healthy snack when you're on the go. Will these become your new favorite muffins?
gluten free vegan apple pumpkin muffins
makes 12 muffins
1 3/4 cups Sarah's gluten free flour blend
1 1/4 cups sugar
1 tablespoon baking powder
1/2 teaspoon salt
1 teaspoon ground cinnamon
1/2 teaspoon ground nutmeg
1/2 teaspoon ground ginger
1/2 teaspoon ground allspice
1 cup pumpkin puree
1 apple, peeled, cored and grated
1/2 cup coconut, almond, or soy milk
1/2 cup canola oil
2 tablespoons molasses
Preheat oven to 400 degrees. Grease muffin tin with nonstick cooking spray. Whisk together flour, sugar, baking powder, salt and spices. In large mixing bowl, combine pumpkin, grated apple, milk of choice, oil and molasses. Add flour mixture. Stir until just mixed through. Fill muffin cups 2/3 full. Bake 18-20 minutes, until golden brown. Remove from pan and cool on cooling rack.
Recipe adapted from Eat Well Meal Plans