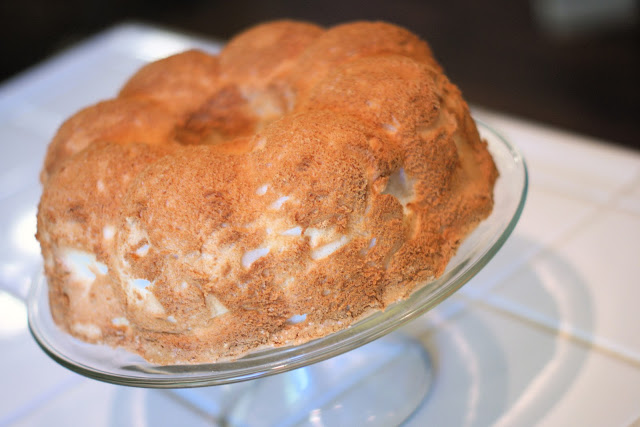 There is one dessert that I was terrified to make gluten free. Terrified. Angel food cake. It's hard enough to make from scratch and get just right, using regular flour. What was going to happen when I used my flour blend? Would it be too heavy? Would it even work? Don't ask me why I was filled with such terror. I guess I just didn't want to put all the effort into a cake that could totally flop. Or maybe I should say, a cake that would sink.
We were invited over to our friends for a barbecue and they too, are a celiac family. It really is so great having another family that we can relate to on such a personal level with our food issues. The Bradley's are also in our home group and have just become great friends. I love how God brings people in your life and there is just an instant connection! I knew this barbecue was the perfect opportunity to try out a gluten free angel food cake. I found an easy enough recipe online and decided it was time. Time to face my fear.
As you can see from the photo's, my first EVER gluten free angel food cake was a gigantic success! Woohoo! It seriously could not have come out any better. Light, so fluffy, everything I was hoping for. Did I mention it's fat-free? This cake is my new favorite. To me, it almost taste like cotton candy…and that's saying a lot because I adore cotton candy! We enjoyed our cake with fresh sliced strawberries and Cara's homemade vanilla ice cream. The Bradley family was happy to enjoy angel food cake once again too! You realize how much you love something when it's been missing from your life for so long. Angel food cake, I love you. Thank you for tasting so yummy, even gluten free!
gluten free angel food cake
serves 16
12 egg whites, room temperature
1/2 teaspoon additional xanthan gum
1/4 teaspoon salt
1 1/2 cups sugar
1 1/2 teaspoons cream of tartar
1 tablespoon vanilla
Preheat oven to 325 degrees. In large bowl for an electric mixer fitted with whisk attachment, add the room temperature egg whites. In separate bowl, sift together flour blend, xanthan gum, salt, and 3/4 cup of the sugar. Set aside. Beat egg whites until nice and foamy. Add the cream of tartar. Continue to beat egg whites on medium-high speed until soft peaks form. Add the other 3/4 cup of sugar, about 1/4 cup at a time. Beat until stiff peaks form. Remove bowl from mixer. Using a rubber spatula, slowly fold in flour mixture by hand (about 1/4 cup at a time). Once the flour is combined, fold in vanilla.
Gently pour batter into non-greased tube pan or bundt pan. Spread the batter evenly. Bake for 50-55 minutes, until top is golden and the sides of the cake begin to pull away. Place on cooling rack upside down (this will keep the cake from falling) and cool for 10-15 minutes. Run a butter knife around edge of cake and invert on to cooling rack to continue to cool. Serve with your favorite toppings!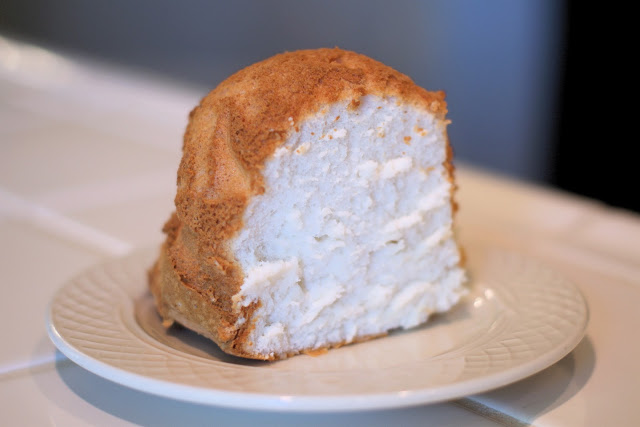 Recipe adapted from Gluten Free Mommy