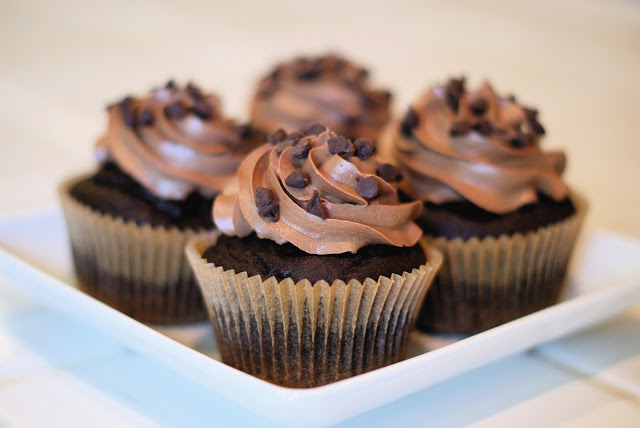 Are you ready for my most requested recipe?  Well, here it is!  I have been making these chocolate cupcakes for years, way before our family went gluten-free.  I found the recipe when I was asked to make my first wedding cake.  I quickly fell in the love with this moist, rich cake.  Way, way better than any boxed cake mix.  I will fight you on that one.  Just try this recipe one time.  I promise, you will never go back!
When I found out that all-purpose flour would no longer be in my life, this was one of the first recipes I knew I had to make gluten free.  They are my favorite chocolate cupcakes to make for birthdays and for friends.  The first time I used my gluten free flour blend with this recipe, I almost fell over on my kitchen floor.  They were exactly the way I remembered them to be!  So delicate.  So divine.  The recipe is so simple.  The results are perfection every time.
I also just discovered the most amazing chocolate buttercream frosting to pair with these little gems!  A Sarah Bakes original.  It tastes like fudge and is so, well, heavenly.  My new favorite topping for these gluten free chocolate cupcakes, mini chocolate chips.  Don't they just make them irresistible?  The photos don't lie.  They really are as yummy as they look!
gluten free chocolate cupcakes
makes 24 cupcakes
1 1/2 cups sugar
3/4 cups cocoa powder
2 teaspoons baking soda
1 teaspoon baking powder
1 teaspoon kosher salt
1 cup milk (I used coconut milk)
1 teaspoon apple cider vinegar
1/2 cup oil (I used sunflower seed oil)
2 eggs
1 teaspoon pure vanilla extract
1 cup fresh brewed coffee or hot water
heavenly chocolate buttercream
1 cup (2 sticks) unsalted butter, softened*
1 cup dairy free chocolate chips
1/4 cup cocoa powder
3 cups powdered sugar
1 teaspoon pure vanilla extract
3 tablespoons milk (I used coconut milk)
Preheat the oven to 350 degrees.  Line muffin tins with paper cupcake liners.  Sift together the flour blend, sugar, cocoa, baking soda, baking powder, and salt.  In bowl of an electric mixer fitted with paddle attachment, combine the buttermilk, oil, eggs, and vanilla.  Add the flour mixture to the wet ingredients.  Mix until just combined.  Drizzle in coffee (or hot water) slowly, scraping the bowl while beating on low.  Batter will be thin.  Pour the batter into the prepared muffin tins** and bake for 18-22 minutes, until a toothpick comes out clean.  Cool in pan for 5 minutes.  Turn them out onto a cooling rack and cool completely.To make the chocolate buttercream, start by placing chocolate chips in microwave safe bowl and microwave for 30 second intervals, until melted.  Set aside to cool slightly.  Place the butter in the bowl of an electric mixer fitted with the whisk attachment.  Whip butter on medium-high for 1 minute.  Add the melted chocolate, cocoa powder, powdered sugar, vanilla, and heavy cream.  Whip on low until full incorporated.  Continue to whip on medium-high for 3-4 minutes, scraping down bowl, until light and fluffy.  Frost your cupcakes and enjoy!
*Use 1/2 cup organic non-hydrogenated shortening and 1/2 cup earth balance to make your buttercream dairy free.
*This cake can also be made into an 8 inch double-layer cake.  Pour batter into 2 prepared 8″ cake pans, bake for 22-25 minutes.  Follow remaining instructions.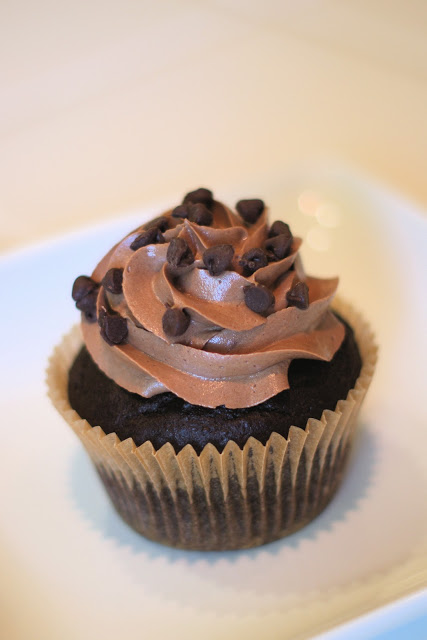 Recipe adapted from The Food Network