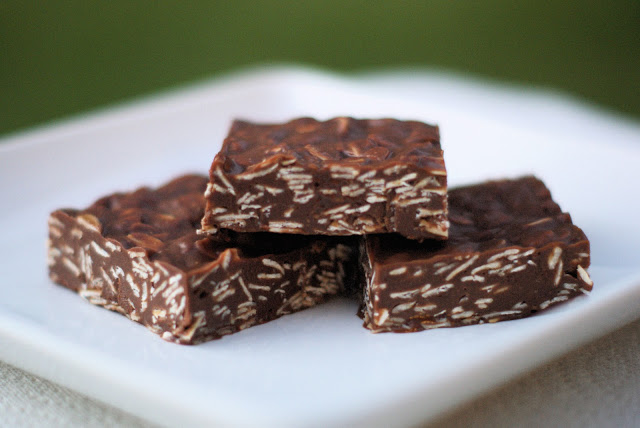 Yes, you heard me right. I did put the word "healthy" in front of "candy bar." Crazy! I came across this recipe and didn't think twice before pinning. They sounded a lot like the no-bake cookies I remember making as a kid. Those ones however, are full of butter and sugar. Not so healthy…but these no-bake bars, are no less decadent and still just as dreamy.
Three baking ingredients that make me smile…chocolate, oats, and peanut butter. You just can't go wrong when all three are involved in a recipe! Notice that the use of coconut oil is a MUST. Not only does it give the candy bars their creaminess, but it adds a nice coconut flavor. The raw oats stay nice and chewy, which I think is my favorite part. Promise me you'll keep these treats in the fridge…otherwise they'll melt away on you. I like to keep them in a ziploc bag, making them quite easy to just grab and go when I needed something sweet!
healthy candy bars
makes 16 bars
1/2 cup natural peanut butter
1/3 cup honey
1/4 cup coconut oil (gives the creamy texture!)
3/4 cups chocolate chips
1 cup certified gluten free rolled oats
Line 8×8 baking dish with parchment paper. In microwavable bowl, stir together peanut butter, honey, and coconut oil. Microwave for 30 seconds. Remove and add chocolate chips. Melt in microwave for another 30 seconds. Stir until chocolate chips are completely melted. Stir in oats. Pour into prepared pan. Refrigerate until hardened (about an hour). Cut into bars. Store in refrigerator.
Recipe adapted from New Nostalgia