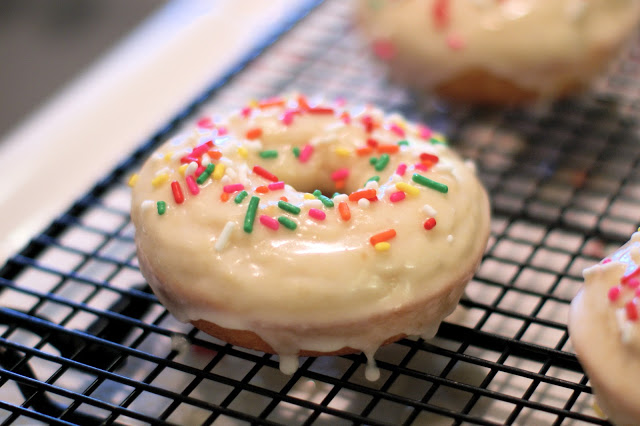 It has become a tradition in our little family, for mommy to make you a special breakfast on your birthday. We do candles, sing "happy birthday" and everything. The kids (and daddy) love it! Well, this year we had our first ever birthday donuts! We celebrated Kaden's 3rd birthday with these delicious gluten free baked vanilla glazed donuts. Kaden's favorite part…the birthday sprinkles of course!
After baking a couple different batches of gluten free donuts, I've realized that the hotter the oven, the better. It creates a crispy edge and the center stays really light and fluffy…what you love in a traditional fried donut! These really do have the perfect bite. The vanilla glaze is oh so sweet, but not too much. I added a touch of nutmeg, which is always a good thing. This recipe only makes 6 donuts (just right for our family) so feel free to double your ingredients and bake in two batches. These donuts are best eaten right away. I'm pretty sure that won't be a problem. Irresistible is a good way to describe these birthday donuts!
gluten free baked vanilla glazed donuts
makes 6 donuts
1/3 cup sugar
1 teaspoon baking powder
1/4 teaspoon ground nutmeg
1/4 teaspoon salt
1/2 cup buttermilk
1 egg
1/2 teaspoon pure vanilla extract
1 tablespoon butter, melted
vanilla glaze
1 cup powdered sugar
1 teaspoon butter, melted
2 tablespoons milk, I used coconut milk
1/2 teaspoon pure vanilla extract
Preheat oven to 425 degrees. Spray donut pan with nonstick cooking spray. In mixing bowl, combine flour blend, sugar, baking powder, nutmeg and salt. Add buttermilk, egg, vanilla and melted butter. Slowly stir to combine. Pour batter into pastry bag with large tip (or plastic ziploc bag with corner cut off) and pipe into prepared donut pan. Bake donuts for 10-12 minutes, just barely golden brown. Turn out onto cooling rack.
To make the vanilla glaze, mix together the powdered sugar, melted butter, milk and vanilla. Dip the tops of the cooled donuts in the glaze. Top with sprinkles (optional).
Recipe adapted from Averie Cooks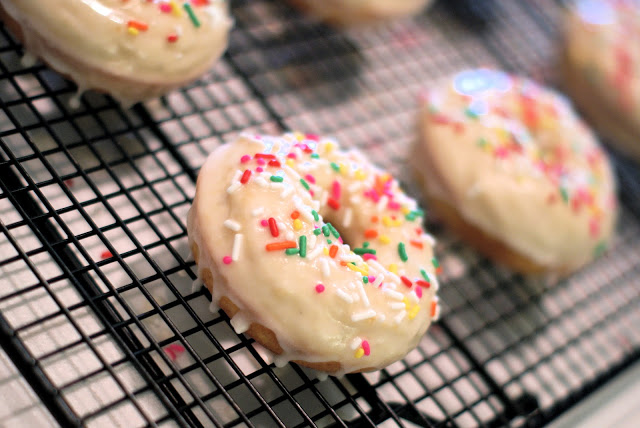 yumilicious.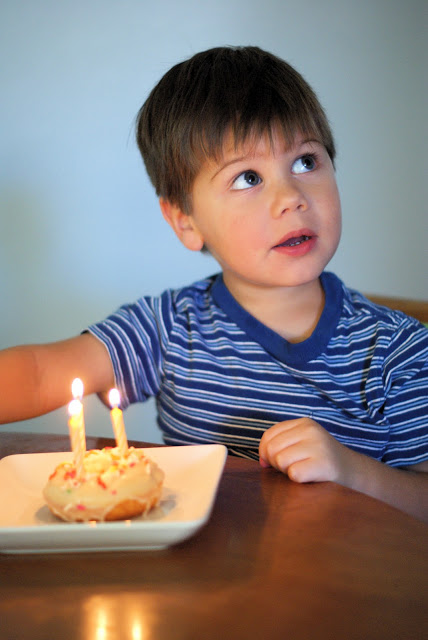 happy birthday, sweet boy!