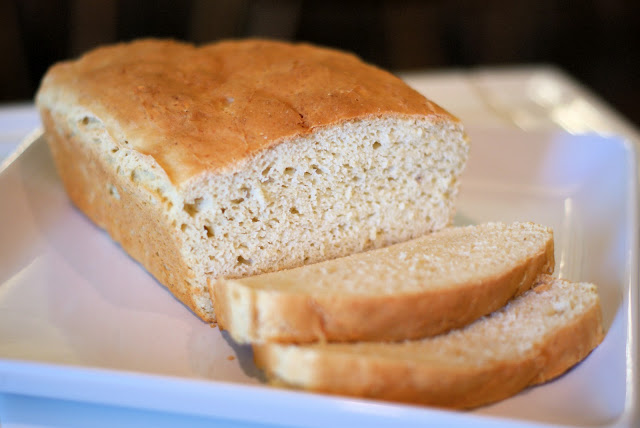 I may have shed a few tears when I found out about my gluten allergy. The thought of not being able to eat bread was heartbreaking. Is there anything more lovely than a loaf of fresh baked bread? It is
quite stunning. And don't get me started on the smell that fills your
house when there is bread baking in the oven. Intoxicating! Now I knew that gluten free bread did exist, but I had a hard time believing it would come anywhere near my mom's homemade yeast bread. I'm sort of spoiled because I grew up with fresh-out-of-the-oven rolls at dinnertime. My mom didn't even follow a recipe…that's how many time she made her famous rolls. I would miss those little beauties.
There are many recipes out there for gluten free bread. I've tried a few. Some good, some not so good. I'm sharing this recipe for gluten free honey oat bread because it's very good! Super simple to make. It's dairy free too for all of my non-dairy buddies! I changed the recipe a bit, adding the course ground oats. Gives a bit more substance. Remember, gluten free bread dough is TOTALLY different than regular bread dough. It's a whole lot stickier and doesn't come together in a ball (that's what you get when you take that darn gluten out). It may look funny, but you will end up with a pretty great looking and tasting loaf of bread! I'm lucky if it lasts a day in our house. If you do happen to have leftovers, store in a tightly sealed ziploc bag. This bread really is at it's finest served warm. Spread on some butter and blackberry jam, yum!
gluten free honey oat bread
makes 1 loaf
1/2 cup certified gluten free rolled oats
1 tablespoon active dry yeast
1 cup warm water
2 eggs, lightly beaten
2 tablespoons vegetable oil
3 tablespoons honey
1 teaspoon cider vinegar
2 1/4 cups Sarah's gluten free flour blend
1 1/2 teaspoons salt
Lightly grease a 9×5-inch loaf pan. Grind oats in blender or food processor until they become a course meal. Set aside. In small bowl, combine warm water and yeast. Allow yeast to proof for 5 minutes. In bowl of electric mixer with paddle attachment, mix together eggs, oil, honey and vinegar. Add yeast and water mixture. Mix on low until combined. With the mixer still on low speed, slowly add flour blend, salt, and ground oats. Scrape down sides of bowl and beat on medium speed for 4 minutes.
Spoon dough into prepared loaf pan. Spread evenly. Allow dough to rise in warm place, covered with light kitchen towel for 60-70 minutes (right next to the oven is a good place). It's ready when the dough rises to the top of the pan. Preheat oven to 350 degrees while the dough is rising. Bake bread for 35-40 minutes. Remove from pan right away and cool completely on cooling rack.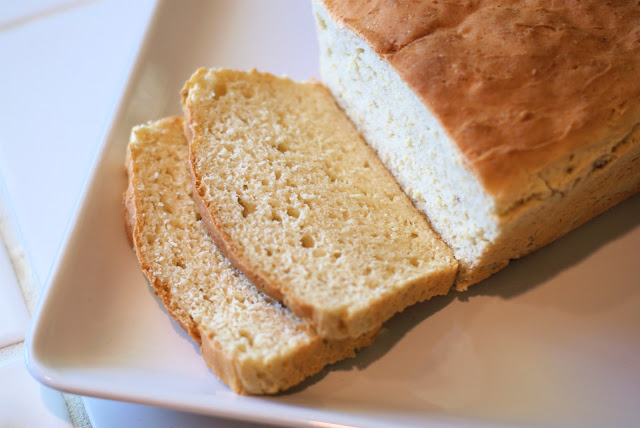 Recipe adapted from Living Without