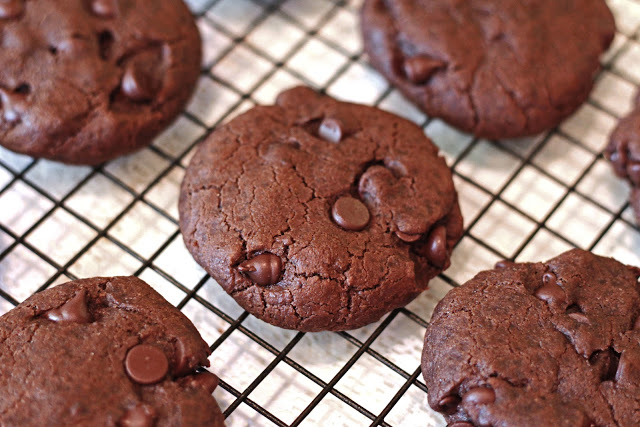 For these sinful cookies, I took my
chocolate chip cookie recipe
and changed them up a bit. Most of you know that I have a habit of altering recipes to make them even more fabulous. It was easy to do with this recipe, as I was just adding a good, quality cocoa to enhance the chocolate flavor. I find it really does make a difference. I like
Ghirardelli
cocoa powder, which I usually find at Target. What is your favorite brand of cocoa to use?
I do enjoy the classic chocolate chip cookie, but my heart is really fond of a CHOCOLATE chocolate chip cookie. It's almost like a hand-held gooey brownie with those crispy edges that we all love. Rich, chocolatey goodness…all wrapped up in one gluten, egg, and dairy free cookie.
gluten free vegan chocolate chocolate chip cookies
makes 2 dozen
1 1/2 cups Sarah's gluten free flour blend
1/2 cup good quality cocoa powder
1 teaspoon baking soda
1/2 teaspoon sea salt
1/2 cup organic cane sugar
1/2 cup organic brown sugar
1/4 cup coconut oil, softened
1/4 cup So Delicious unsweetened coconut milk, room temperature
1/4 cup pure maple syrup, room temperature
2 teaspoons pure vanilla extract
1 cup dairy free chocolate chips
Preheat oven to 350 degrees. Line baking sheets with parchment paper. In medium bowl, sift together flour blend, cocoa powder, baking soda and salt. Set aside. In large mixing bowl, beat together the sugar, brown sugar, coconut oil, coconut milk, maple syrup, and vanilla. Beat until smooth. Add the flour mixture and chocolate chips. Stir until combined. Drop 2-tablespoon size scoops of cookie dough onto prepared baking sheet. Slightly flatten with fingers. Bake for 8-9 minutes. Do not over-bake (cookies will be soft to the touch and will seem under-baked). Carefully place cookies on cooling rack to cool completely. Store in air-tight container.