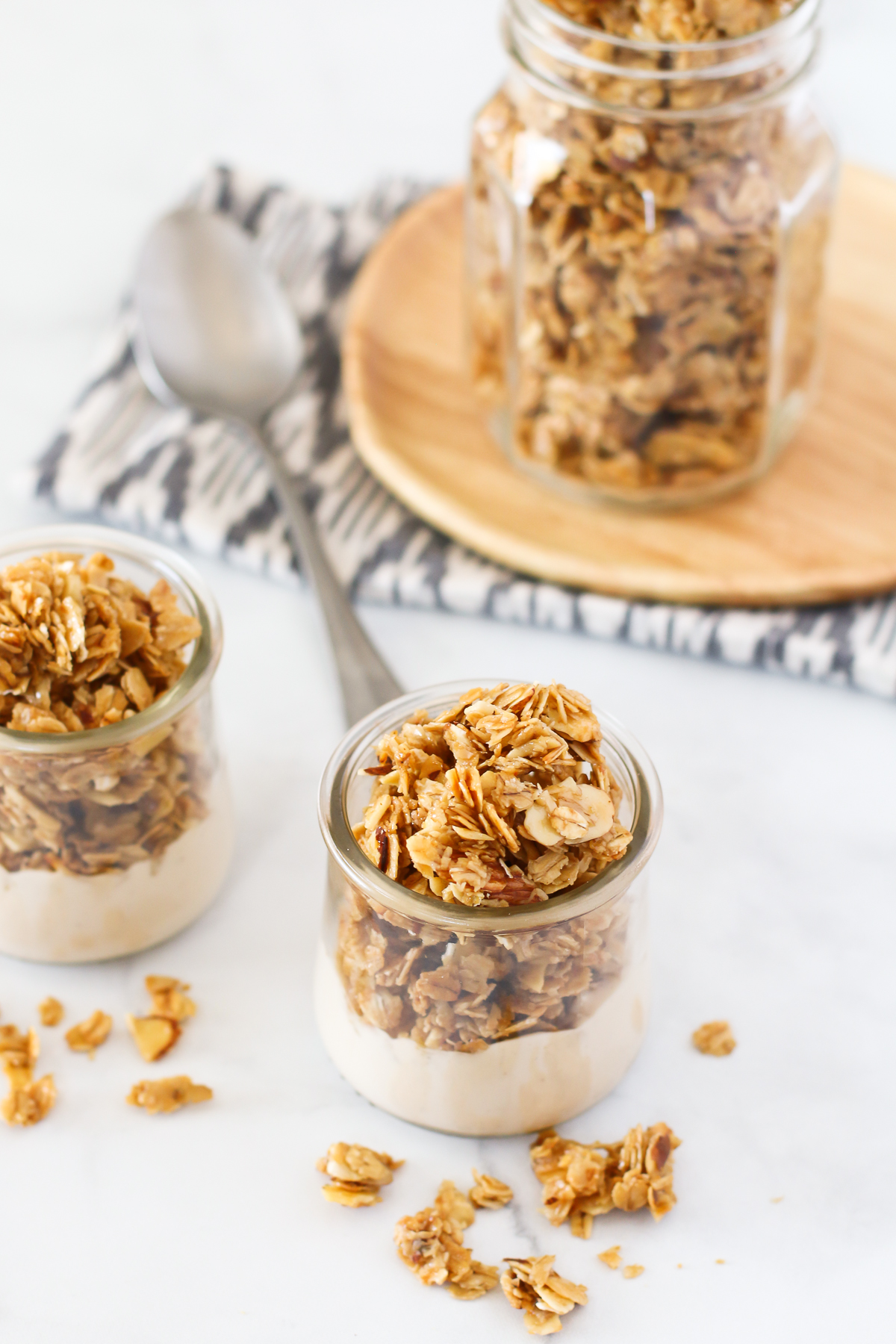 What could be better than a bowl of homemade gluten free honey almond granola? It's crunchy, sweet and the perfect breakfast treat!
I make a batch of homemade granola about once a week. It's a family fave, for sure. The biggest granola fan in our house is my husband. He has celiac disease and has tried MANY gluten free granolas over the years. He still says, "homemade is best!" With a little vanilla yogurt, it's his go-to snack.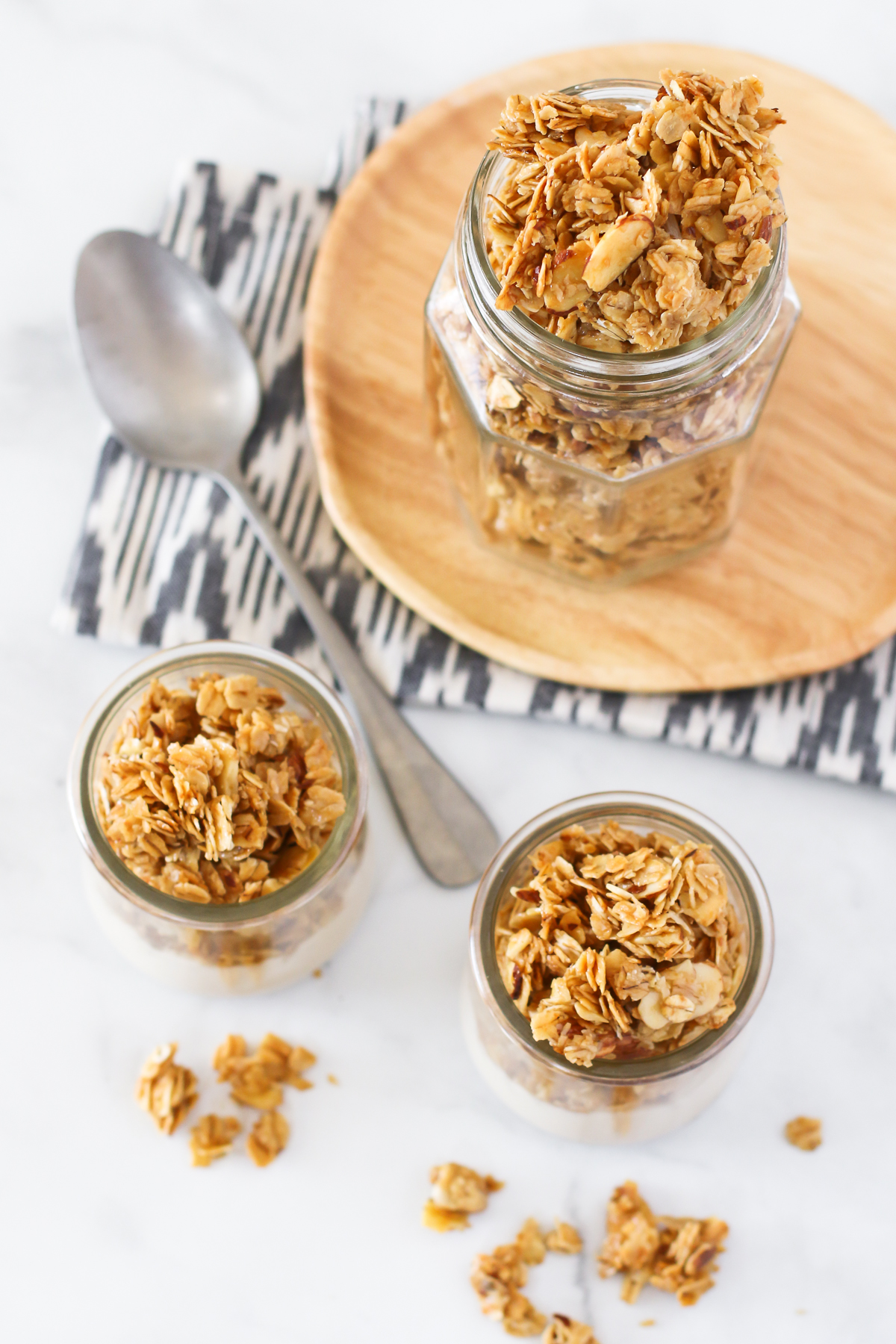 For this gluten free honey almond granola recipe, you only need a few ingredients that you probably already have in your pantry. Rolled oats (make sure they are certified gluten free!), sliced almonds, honey, brown sugar, oil, vanilla and salt. The sweet honey mixture is poured over the oats and almonds, tossed to coat, then baked until golden brown and perfectly crunchy. It's important to not stir after removing from the oven. Let the granola cool in the pan so you can break it up into clusters. Those delicious granola clusters are the BEST! 
I'm so excited to share with you this easy, homemade granola recipe! The crunch from the almonds and oats, along with the sweetness from the honey and brown sugar, make it irresistible. The vanilla adds just a little something extra too! Once you make this gluten free honey almond granola, you will want to always have a jar of it on your counter to enjoy all week. It's just that good!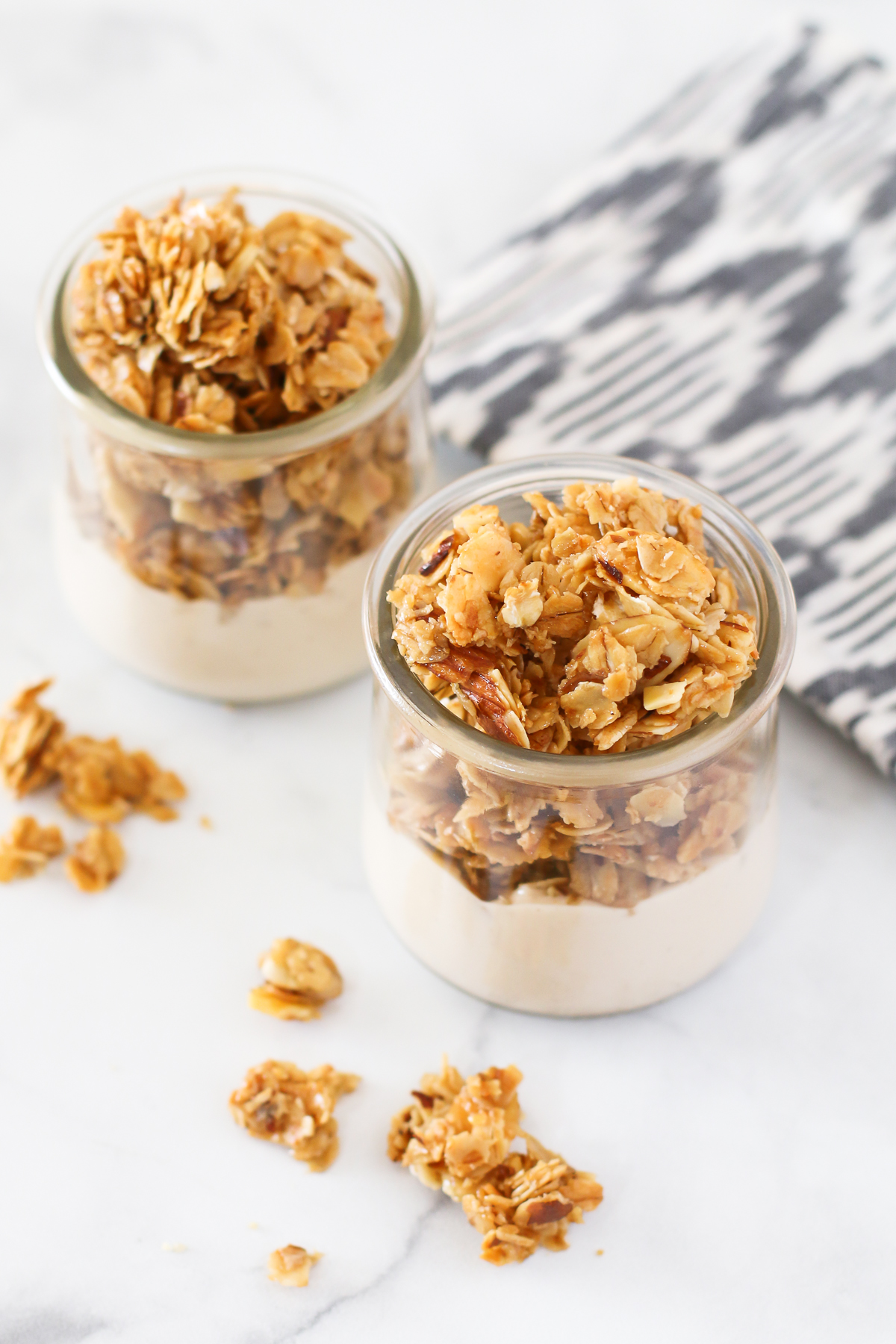 gluten free honey almond granola
AUTHOR:
Sarah Bakes Gluten Free
INGREDIENTS
1/3 cup honey
1/3 cup brown sugar
1/3 cup avocado oil
1 teaspoon pure vanilla extract
1/4 teaspoon sea salt
1 cup sliced almonds
INSTRUCTIONS
Preheat oven to 300 degrees. Line baking sheet with parchment paper or silicone mat.
In small saucepan, combine honey, brown sugar and oil. Over medium-low heat, stir just until brown sugar dissolves, 3-5 minutes. Remove from heat and stir in vanilla extract and salt.
In large mixing bowl, add oats and sliced almonds. Pour warm honey mixture over oats and mix until oats and almonds are well coated.
Spread granola evenly onto prepared baking sheet. Bake 15 minutes, stir granola and bake an additional 15-20 minutes, until golden brown.
Remove granola from oven and do not stir. Allow to cool completely on baking sheet. When cool, break into clusters and store in airtight container.