gluten free honey almond granola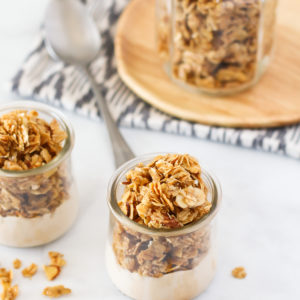 AUTHOR:
Sarah Bakes Gluten Free
1/3 cup honey
1/3 cup brown sugar
1/3 cup avocado oil
1 teaspoon pure vanilla extract
1/4 teaspoon sea salt
1 cup sliced almonds
Preheat oven to 300 degrees. Line baking sheet with parchment paper or silicone mat.
In small saucepan, combine honey, brown sugar and oil. Over medium-low heat, stir just until brown sugar dissolves, 3-5 minutes. Remove from heat and stir in vanilla extract and salt.
In large mixing bowl, add oats and sliced almonds. Pour warm honey mixture over oats and mix until oats and almonds are well coated.
Spread granola evenly onto prepared baking sheet. Bake 15 minutes, stir granola and bake an additional 15-20 minutes, until golden brown.
Remove granola from oven and do not stir. Allow to cool completely on baking sheet. When cool, break into clusters and store in airtight container.
Recipe by
Sarah Bakes Gluten Free
at https://www.sarahbakesgfree.com/2021/05/gluten-free-honey-almond-granola.html