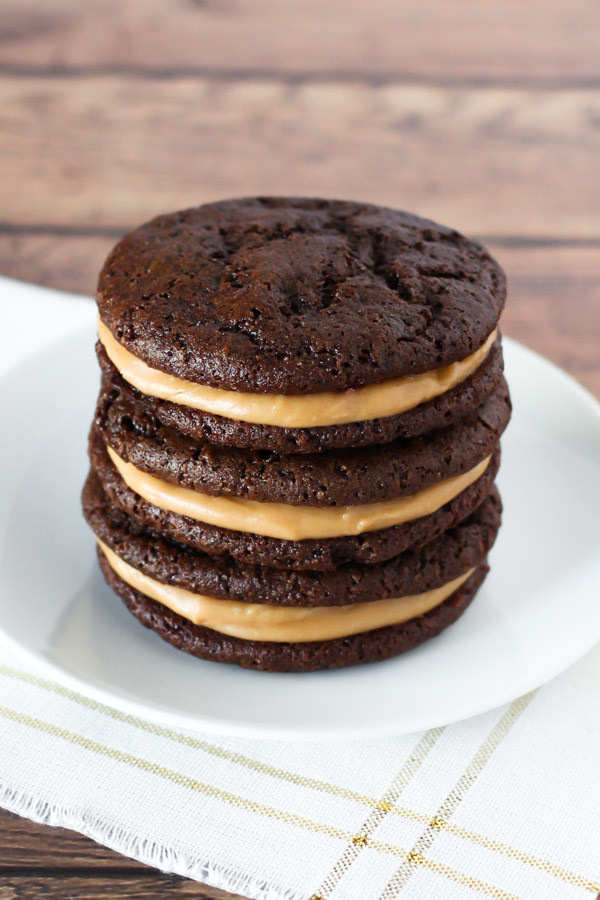 My husband is not hard to please when it comes to desserts. He either wants ice cream or anything with peanut butter. Peanut butter and chocolate combination, even better. That's why it's never difficult for me to come up with a dessert to make for him on Valentine's Day. I stick to what he likes and I can never go wrong!
This year, I decided to create a cookie sandwich recipe for my man. Gluten free vegan chocolate peanut butter cookie sandwiches. Two soft, chewy chocolate cookies, filled with a creamy peanut butter filling. Done. All you need, right here in this cookie creation.
Wouldn't these be so adorable wrapped up in little baggies with a bow and a sweet little note for your sweetie? I must agree. If you need to make them nut allergy friendly, simply swap out the peanut butter for sunflower seed butter. Still oh so rich and oh so decadent.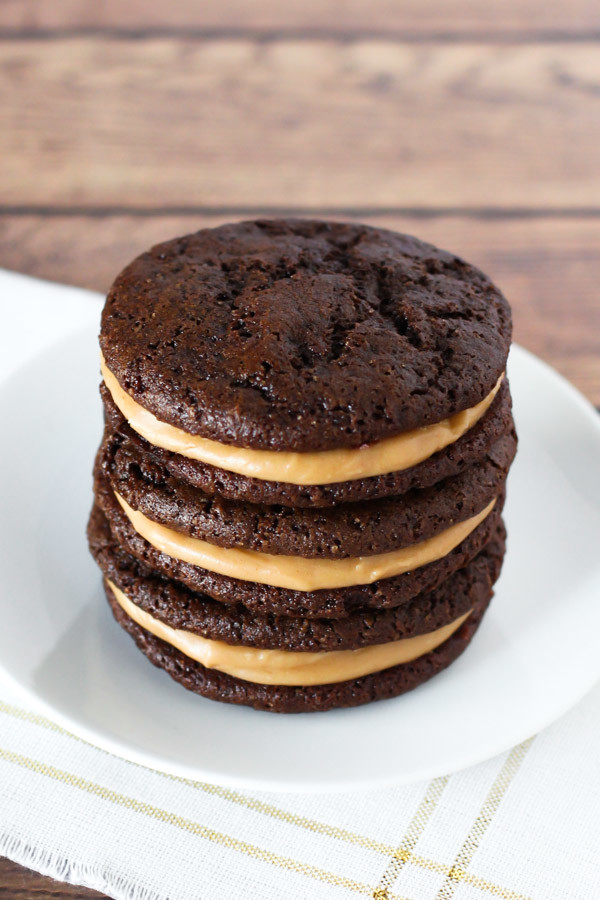 gluten free vegan chocolate peanut butter sandwich cookies
AUTHOR:
Sarah Bakes Gluten Free
SERVES:
12 cookie sandwiches
INGREDIENTS
chocolate cookies
5 tablespoons cocoa powder
1 teaspoon baking powder
1/2 teaspoon baking soda
1/2 teaspoon sea salt
1/2 cup organic cane sugar
1/4 cup brown sugar
1/4 cup coconut oil, melted
1/4 cup unsweetened applesauce
3 tablespoons So Delicious unsweetened coconut milk, room temperature
2 tablespoons pure maple syrup, room temperature
1 teaspoons pure vanilla extract
peanut butter filling
1 1/2 cups powdered sugar
1/3 cup creamy peanut butter
2-3 tablespoons So Delicious unsweetened coconut milk
1/2 teaspoon pure vanilla extract
INSTRUCTIONS
Preheat oven to 325 degrees. Line baking sheets with parchment paper.
In medium bowl, sift together flour blend, cocoa powder, baking powder, baking soda and salt. Set aside.
In large mixing bowl, cream together sugar, brown sugar, melted coconut oil, applesauce, coconut milk, maple syrup and vanilla. Add flour mixture and mix until blended.
Place heaping-tablespoon size scoops of cookie dough onto prepared baking sheet, using cookie scoop. Cookies will spread.
Bake cookies for 15-17 minutes. Cookies will be soft to the touch. Allow to cool on pan 5 minutes. Place on cooling rack to cool completely.
To make peanut butter filling, mix together powdered sugar, peanut butter, coconut milk and vanilla. Whip until smooth and creamy.
Assemble cookie sandwiches by spreading filling onto underside of one cookie and topping with another. Repeat with remaining cookies.
Once again, I've teamed up with some of my favorite gluten free bloggers and this time our giveaway is HUGE! Like the coolest ever. We are giving away this
KitchenAid Stand Mixer
. Say what?! It's even the one with glass bowl, which I own and absolutely adore. We will also be including this
stainless steel bowl
. Only the best for all of you!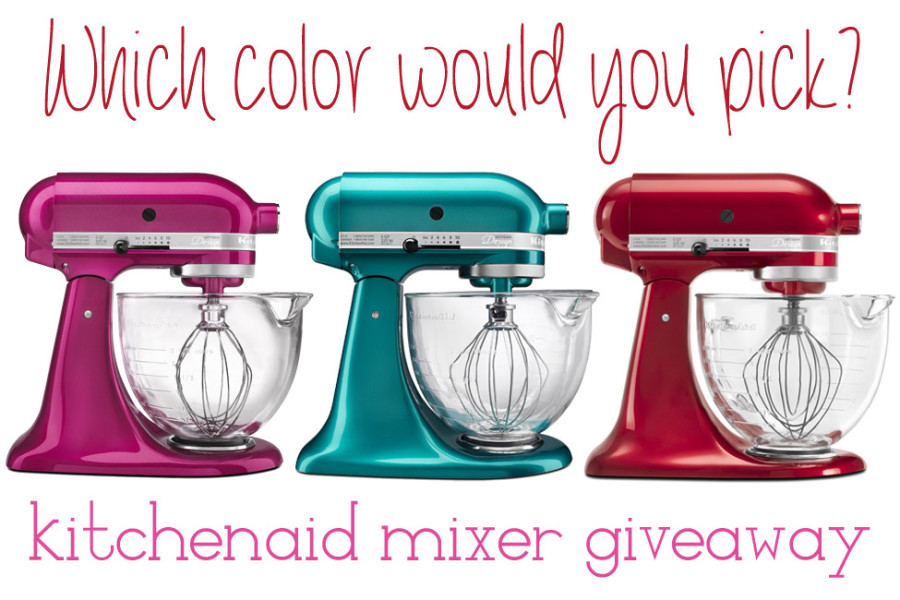 To enter this fabulous giveaway, simply fill out the widget below. The winner will receive the KitchenAid Stand Mixer in the color of their choice, along with the extra mixing bowl. Giveaway ends February 10 at midnight. Don't hesitate, enter away!
a Rafflecopter giveaway
These lovely ladies and I are also sharing a collection of 15 Gluten Free Sweets for you Sweeties! Recipes to make for your loved ones this Valentine's Day or anytime. Be sure to check out all of these amazing desserts. I don't know which one to make first! Listed in the order they appear, left to right: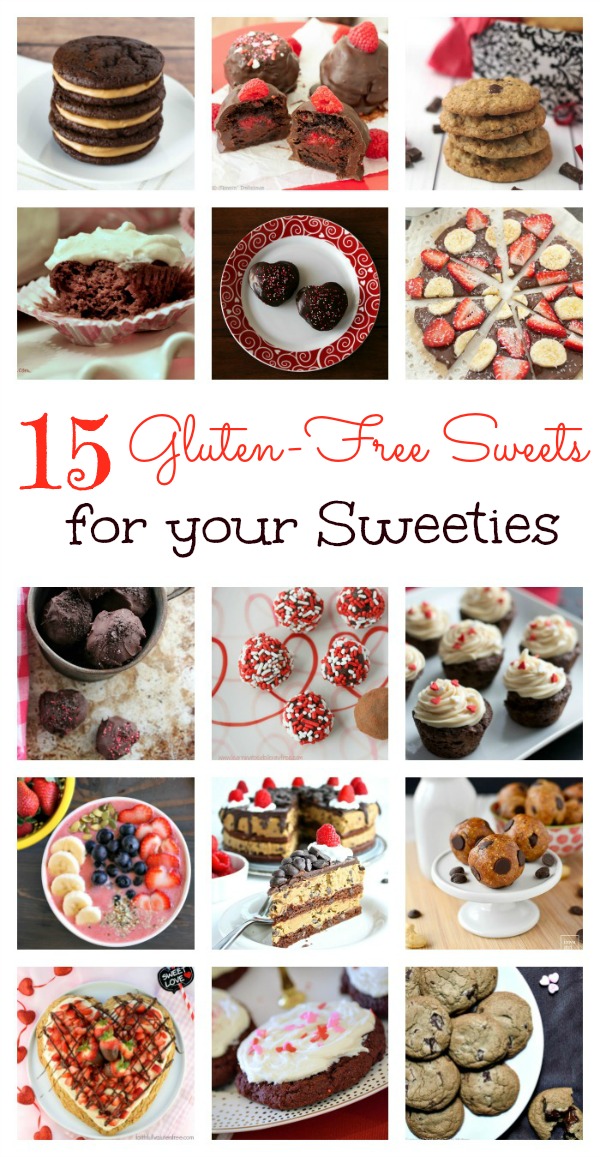 Gluten Free Vegan Chocolate Peanut Butter Sandwich Cookies from Sarah Bakes Gluten free
Gluten Free Raspberry Chocolate Truffle Brownie Bombs from Flippin' Delicious
Royalty Cookies from Gluten-Free Palate
Gluten-Free Dye-Free Red Velvet Cupcakes from gfJules
Chocolate Love Cakes from My Gluten-free Kitchen
Gluten-Free Sweet Tortilla Pizza from Allergy Free Alaska
Cookies and Cream Truffles from Vegetarian Mamma
Chocolate Truffles from Learning to Eat Allergy Free
Double Chocolate Cookie Cups from Making it Milk Free
Smoothie Bowl from My Plant-Based Family
Gluten Free Cookie Dough Brownie Cake (Vegan) from Petite Allergy Treats
Chewy Chocolate Chip Cookie Dough Bites from Iowa Girl Eats
Gluten Free Chocolate Chip Cookie Pizza from Faithfully Gluten Free
Ooey Gooey Red Velvet Cookies from Gluten Free Frenzy
The Ultimate Chocolate Chip Cookie from Only Taste Matters