gluten free vegan chocolate peanut butter sandwich cookies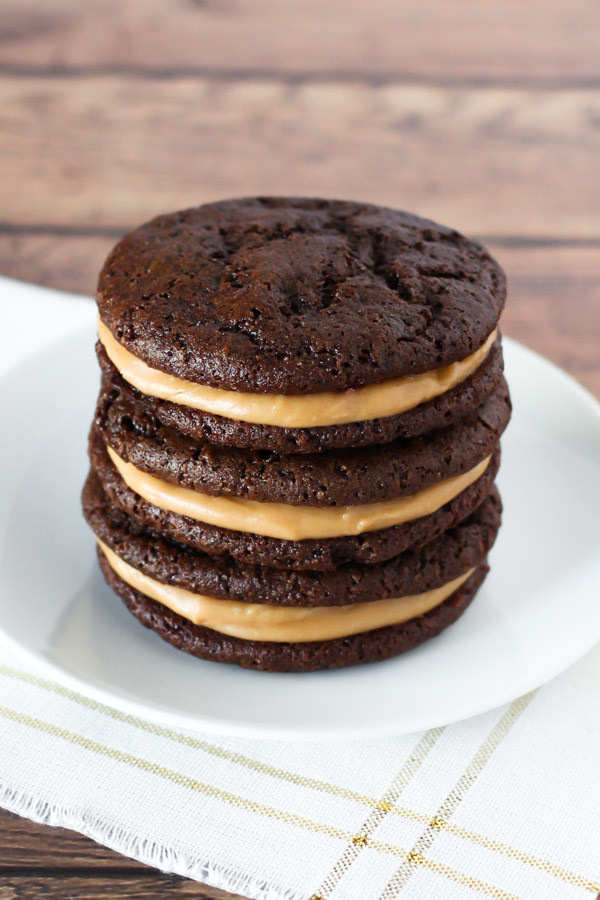 AUTHOR:
Sarah Bakes Gluten Free
SERVES:
12 cookie sandwiches
5 tablespoons cocoa powder
1 teaspoon baking powder
1/2 teaspoon baking soda
1/2 teaspoon sea salt
1/2 cup organic cane sugar
1/4 cup brown sugar
1/4 cup coconut oil, melted
1/4 cup unsweetened applesauce
3 tablespoons So Delicious unsweetened coconut milk, room temperature
2 tablespoons pure maple syrup, room temperature
1 teaspoons pure vanilla extract
1 1/2 cups powdered sugar
1/3 cup creamy peanut butter
2-3 tablespoons So Delicious unsweetened coconut milk
1/2 teaspoon pure vanilla extract
Preheat oven to 325 degrees. Line baking sheets with parchment paper.
In medium bowl, sift together flour blend, cocoa powder, baking powder, baking soda and salt. Set aside.
In large mixing bowl, cream together sugar, brown sugar, melted coconut oil, applesauce, coconut milk, maple syrup and vanilla. Add flour mixture and mix until blended.
Place heaping-tablespoon size scoops of cookie dough onto prepared baking sheet, using cookie scoop. Cookies will spread.
Bake cookies for 15-17 minutes. Cookies will be soft to the touch. Allow to cool on pan 5 minutes. Place on cooling rack to cool completely.
To make peanut butter filling, mix together powdered sugar, peanut butter, coconut milk and vanilla. Whip until smooth and creamy.
Assemble cookie sandwiches by spreading filling onto underside of one cookie and topping with another. Repeat with remaining cookies.
Recipe by
Sarah Bakes Gluten Free
at https://www.sarahbakesgfree.com/2016/02/gluten-free-vegan-chocolate-peanut-butter-sandwich-cookies.html