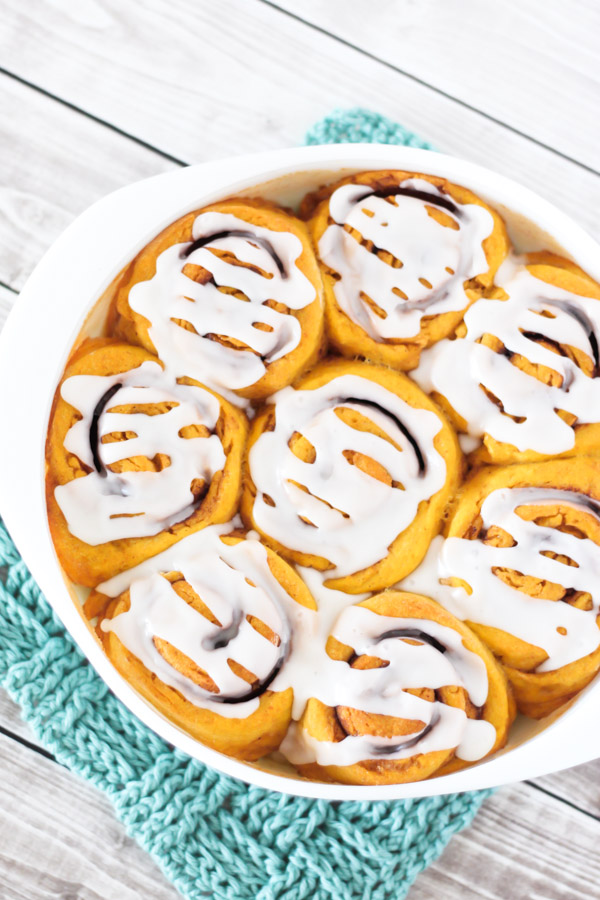 You guys. Can we just take a minute and drool over these cinnamon rolls? I mean, come on. Pumpkin, cinnamon, vanilla glaze. I'm kind of at a loss for words.
When it comes to cinnamon rolls, there is a fine line between being considered a breakfast item or a dessert. They can be eaten for breakfast (without hesitation), but should be on the dessert menu. It's pretty much frosted bread, with swirls of sugar. All the good things.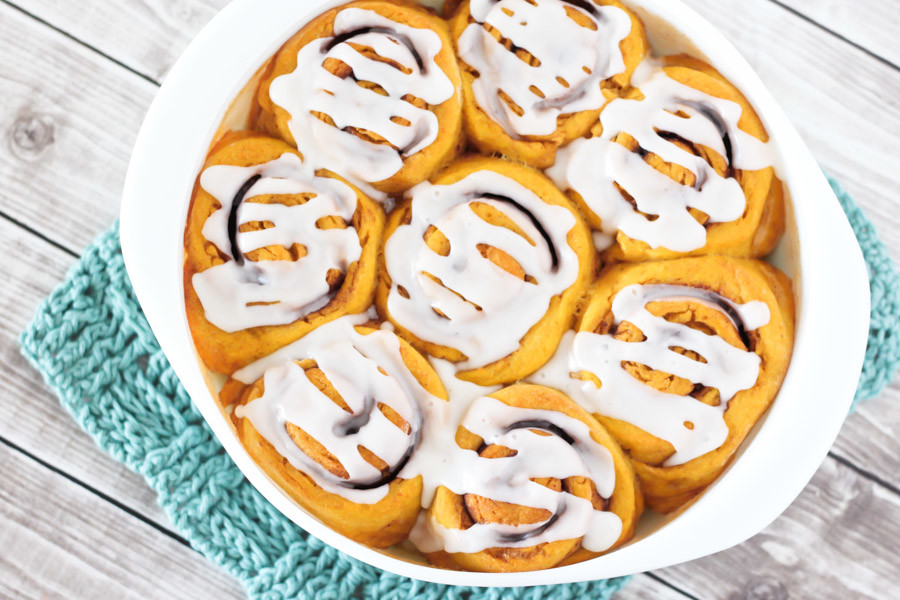 I've been wanting to test out pumpkin cinnamon rolls for months. Haven't we all? It's just a fantastic idea all around. Now, this recipe took a few tries and this one is by far the best. The pumpkin keeps them nice and moist, the cinnamon sugar swirl brings the magic and the vanilla glaze compliments every bite. This breakfast treat take a few steps, a little rise time, and some patience. Once you smell them baking in the oven, it will all be worth it!
There is only ONE way to enjoy a cinnamon roll. Warm. Either fresh out of the oven or reheated (partly because it's a gluten free thing). I don't know why or how these would ever sit on your counter and get cold anyway. Just trust me when I say, to get experience the full gooey-glory of these pumpkin cinnamon rolls, serve these babies up hot!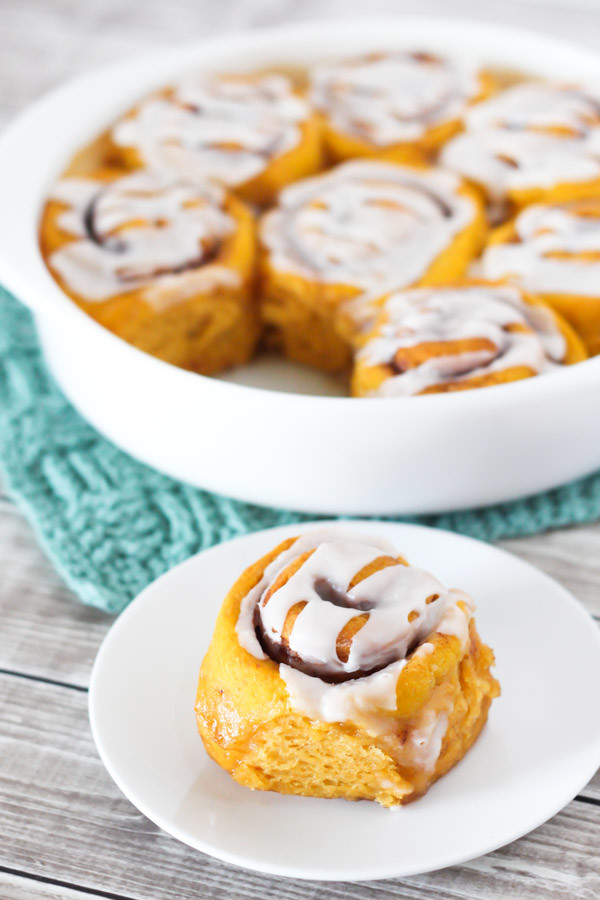 gluten free vegan pumpkin cinnamon rolls
AUTHOR:
Sarah Bakes Gluten Free
INGREDIENTS
pumpkin dough
3/4 cup warm water
2 1/4 teaspoons active dry yeast
1/2 cup cornstarch or tapioca starch
1 1/2 tablespoons psyllium husk powder
1 teaspoon salt
1/2 cup So Delicious unsweetened coconut milk or almond milk, warm
1/2 cup pumpkin puree
2 tablespoons grape seed or sunflower seed oil
2 tablespoons, plus 1 teaspoon cane sugar
1 teaspoon apple cider vinegar
filling
1 tablespoons cornstarch or tapioca starch
1/4 cup cane sugar
1/4 cup brown sugar
2 teaspoons ground cinnamon
1/2 teaspoon ground ginger
1/4 teaspoon ground nutmeg
1 1/2 tablespoons grape seed or sunflower seed oil
vanilla icing
1 1/2 cups organic powdered sugar
2-3 tablespoons So Deliciousunsweetened coconut or almond milk
1/2 teaspoon pure vanilla extract
INSTRUCTIONS
Mix together warm water with yeast and 1 teaspoon sugar. Let sit for 5 minutes, to allow yeast to proof.
Sift together flour, cornstarch, psyllium husk powder and salt. Set aside.
In large bowl of electric mixer with paddle attachment, mix together warm coconut milk, pumpkin puree, oil, sugar and apple cider vinegar. Add water/yeast mixture. Mix on low until combined.
While mixer is on low, slowly add flour mixture. Once flour is incorporated, scrape down sides of the bowl. Continue to beat dough on medium speed for 2-3 minutes.
To make filling, mix together sugar, brown sugar, cinnamon, ginger and nutmeg in small bowl. Set aside.
Cover counter space with large piece of plastic wrap. Sprinkle with 1 tablespoon cornstarch. Place dough in middle of plastic wrap. Roll out dough to 10x13 inch rectangle.
Brush on oil, covering to edges. Sprinkle on cinnamon/sugar mixture. Start by rolling up longer edge of dough, using plastic wrap to help. Gently roll up dough until you reach other edge. Help seal edge with a little warm water on fingertip.
With large knife, cut dough into about 1 1/2 inch sections (you'll end up with 8 rolls). Place rolls seam-side down into greased 9-inch round baking dish. Slightly press down. Cover lightly with towel or plastic wrap.
Preheat oven to 375 degrees. Place cinnamon rolls next to or on top of warming oven. Let rise for 45 minutes or until doubled in size.
Bake in oven for 30-35 minutes, or until golden brown. Let cool in pan for 15 minutes on cooling rack.
To make vanilla icing, mix together powdered sugar, coconut milk, and vanilla. Add additional tablespoon of coconut milk if needed. Stir until smooth and creamy. Drizzle icing over cinnamon rolls.
Best served warm and same day. To reheat rolls, simply place in microwave for 15-20 seconds.