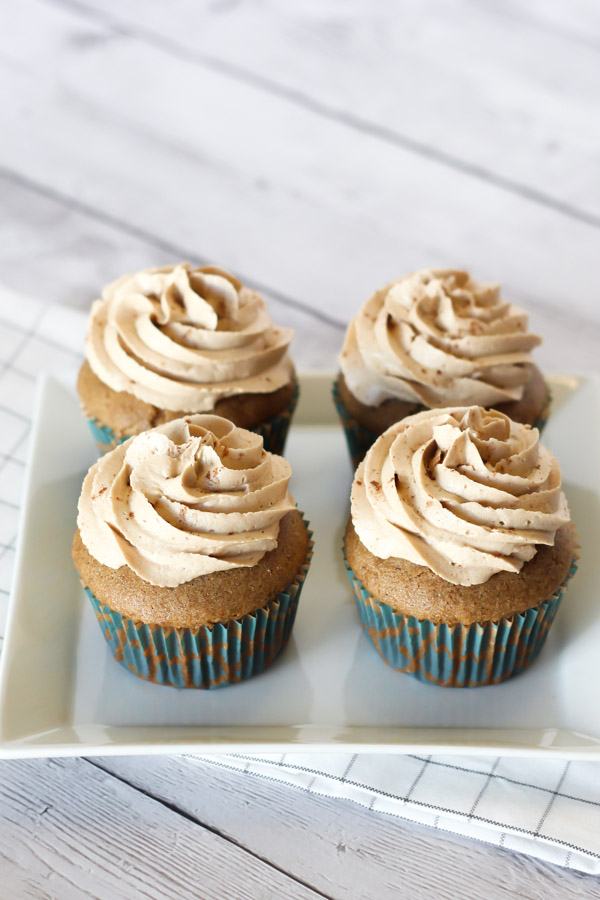 My go-to drinks at just about any coffee shop is either an almond milk decaf latte or a soy chai latte. Two drinks I've ordered for years and they just never get old. Now when someone introduced me to a dirty chai latte, I was completely intrigued. Combining both espresso and chai. Ummm, genius! For this girl, it was love at first sip.
To celebrate my amazing husband's birthday, I'm sharing a recipe for dirty chai cupcakes today! He LOVES chai lattes and even though he's not a huge coffee drinker, he agrees that dirty chai lattes are pretty amazing. I've made chai cupcakes before, but never thought of adding espresso. I knew it could only be a good thing so it was a must that I made these for my man.
A light, chai spiced cupcake with a whipped dairy free espresso buttercream. Every bite of these cupcakes just gets better and better. The chai flavor is strong, with a hint of espresso. I've also created a chai spice blend to go along with this recipe, which is used in the cupcake batter and sprinkled on top. It makes about 1/4 cup so you'll have plenty left over for creating more chai treats. The spice blend really tastes just like a cup of chai tea and you'll want to keep it stocked in your pantry for sure!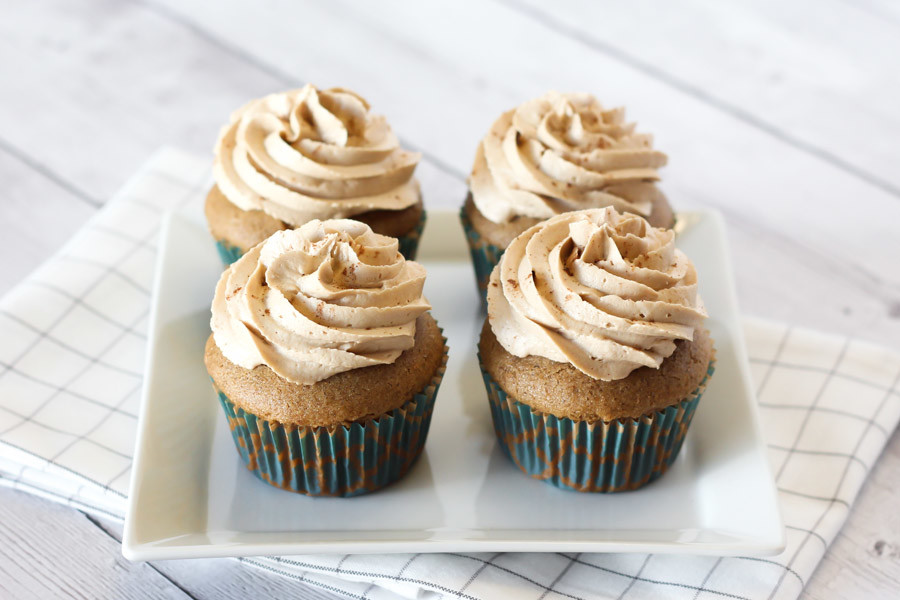 gluten free vegan dirty chai cupcakes
AUTHOR:
Sarah Bakes Gluten Free
RECIPE TYPE:
cupcakes & cakes
INGREDIENTS
chai spice blend
3 1/2 teaspoons ground cinnamon
3 teaspoons ground ginger
2 teaspoons ground cardamom
1 1/2 teaspoons ground clove
1 teaspoon ground allspice
1 teaspoon ground nutmeg
dirty chai cupcakes
1 3/4 cups, plus 2 tablespoons Sarah's gluten free flour blend
3 teaspoons chai spice blend (see below)
1 teaspoons baking powder
1/2 teaspoon baking soda
1/2 teaspoon sea salt
1/2 cup warm water
1 1/2 teaspoons instant espresso powder
1/2 cup So Delicious Dairy Free unsweetened coconut milk or almond milk
1/3 cup grape seed or sunflower seed oil (or mild flavor oil)
1 tablespoon white vinegar
3/4 cup cane sugar
1/4 cup brown sugar
1 teaspoon pure vanilla extract
espresso buttercream
2 tablespoons So Delicious Dairy Free unsweetened coconut milk or almond milk
2 teaspoons instant espresso powder
6 tablespoons Earth Balancevegan butter, softened
6 tablespoons non-hydrogenated shortening
2 1/2 cups powdered cane sugar
1 teaspoon pure vanilla extract
INSTRUCTIONS
To make chai spice blend, place all spices in small bowl and whisk to combine. Makes about 1/4 cup. Store in airtight container and set aside.
Preheat oven to 350 degrees. Prepare cupcake pans by lining with paper liners.
Sift together flour, chai spice blend, baking powder, baking soda and salt.
In large mixing bowl, mix together warm water and espresso, until dissolved. Stir in coconut milk, oil, vinegar, sugar, brown sugar and vanilla. Add flour mixture and mix until well combined.
Evenly divide cupcake batter into prepared cupcake pan. Bake for 16-18 minutes or until toothpick inserted in center comes out clean.
Cool cupcakes in pans for 5 minutes, then invert onto cooling rack to cool completely.
While cupcakes are baking, start espresso buttercream. Mix together coconut milk and espresso powder, until dissolved.
Cream together vegan butter and shortening in bowl of stand mixer, 1-2 minutes. Add powdered sugar, espresso mixture and vanilla. Beat for 3-4 minutes until creamy (add additional coconut milk if needed).
Place frosting into piping bag with large star tip and pipe onto cooled cupcakes. Top with sprinkling of chai spice mixture.