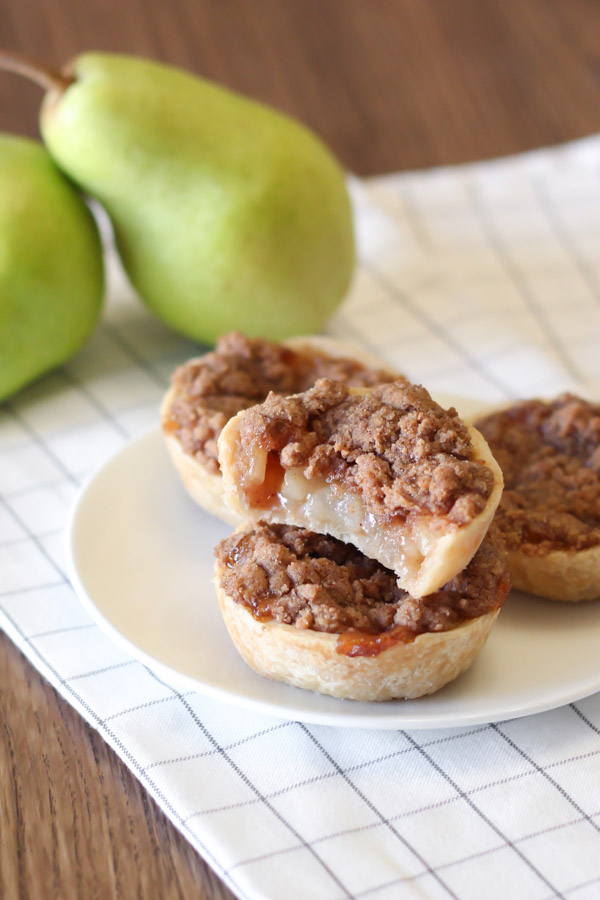 I've got an itch. An itch for fall baking! The weather outside may not be agreeing with me, but I can't wait any longer. I'll be spending the next 3 months in my kitchen, creating holiday recipes for all of you. You'll be seeing lots of apples, cranberries, pumpkin, cinnamon and spice. The ingredients that make my heart go pitter-patter.
Pies are kind of my favorite fall dessert. You just can't go wrong with pie. Pumpkin pie will always be my first love, but apple pie isn't far behind. It's just the combination of tart apples and cinnamon, with a flakey crust. Now, have you ever made a pear pie before? Me neither! I adore pears and their natural sweetness so I knew they would work beautifully in an apple pie recipe.
Going a little nontraditional in a couple ways with these pies. Using pears in place of apples and making them teeny-tiny by baking them in a muffin tin (y'all know I like mini desserts). The cinnamon crumb topping adds great texture and sweetness to the pear filling. All served in a little, flakey pie crust. Yes, please.
Do you want my honest option on the BEST way to enjoy these mini pear pies? First, serve 'em up warm. Next, top them with So Delicious Dairy Free Cocowhip and magic happens. Magic. It's like the most perfect little bite of pie with that creamy whipped coconut goodness.
Enough talking. Let the fall baking begin!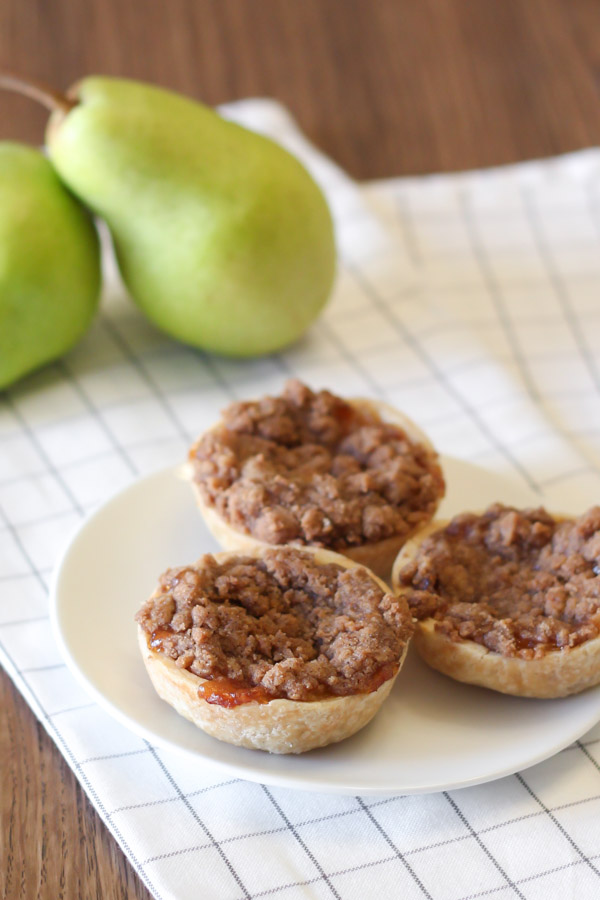 gluten free vegan mini pear pies with crumb topping
AUTHOR:
Sarah Bakes Gluten Free
RECIPE TYPE:
pies & tarts
INGREDIENTS
pie crust
1 1/2 cups Sarah's gluten free flour blend
1/2 teaspoon salt
4 tablespoons vegan butter, cold
3 tablespoons organic non-hydrogenated shortening
4-6 tablespoons ice-cold water
pear filling
2 1/2 cups peeled and finely diced ripe pears, about 4 pears
3 tablespoons packed brown sugar
1 tablespoon Sarah's gluten free flour blend
1/2 teaspoon ground cinnamon
1 teaspoon lemon juice
crumb topping
1/2 cup Sarah's gluten free flour blend
1/3 cup packed brown sugar
1 teaspoon ground cinnamon
2 tablespoons vegan butter, chilled
2 tablespoons organic non-hydrogenated shortening
1 tablespoon pure maple syrup
INSTRUCTIONS
Sift together flour blend and salt for pie crust in large mixing bowl. Add cold vegan butter and shortening. Using pastry cutter, combine until resembles a course meal and butter pieces are less than pea-size. Pour in 4 tablespoons cold water. Continue to blend until dough comes together (add 1-2 tablespoons water if needed).
Pat dough into round disc, wrap in plastic wrap and place in refrigerator for 30 minutes or until ready to use.
While dough chills, make pear filling. Mix together finely diced pears, brown sugar, flour, cinnamon and lemon juice. Stir until pears are evenly coated. Set aside.
To make crumb topping, blend together remaining 1/2 cup flour, brown sugar and cinnamon. Add vegan butter, shortening and maple syrup. Stir until crumb topping comes together.
Preheat oven to 375 degrees. Prepare regular-size muffin tins by spraying with non-stick cooking spray.
Place chilled dough onto large piece of plastic wrap and top with another piece of plastic wrap. Roll into 1/4-inch thick. Cut dough into 3-inch rounds using circle cookie/biscuit cutter. Place rounds into prepared muffin tin. Gently press dough into bottom and halfway up sides of cups.
Fill each pie shell with about 2 tablespoons pear filling. Top each pie with crumb topping.
Bake mini pies for 23-25 minutes or until pears are bubbling and crust is golden brown. Carefully remove from pan and cool on cooling rack.