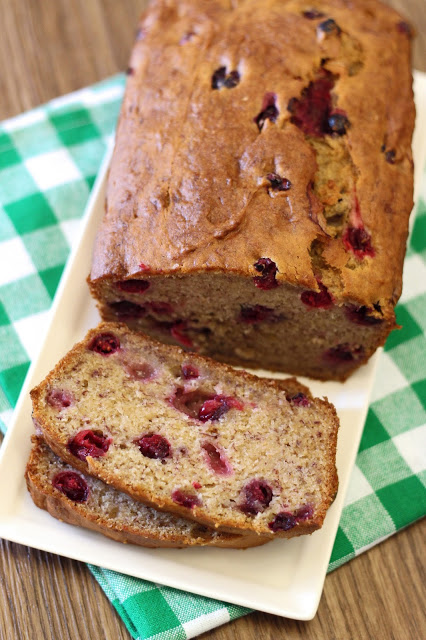 All of the holiday baking has come to an end. Sad. Don't worry, baking is what I do so there will still be many recipes coming your way! I made this banana cranberry bread with the leftover cranberries I had in the freezer. I always stock up this time of year so I can keep them on hand to add to smoothies, breads and muffins. What's your favorite way to enjoy fresh cranberries?
This simple banana bread is my go-to recipe. No excuses when it comes to making banana bread from scratch. So easy and so quick. The longest part is the baking time and cooling time. Oh the agony of waiting for warm banana bread to cool! I usually don't wait and cut off a small slice when it's piping hot. Mmmmmm. With those little tart cranberries, this banana bread is quite the morning treat.
gluten free vegan banana cranberry bread
makes 12 slices
1 1/2 cups fresh or frozen cranberries
1 3/4 cups, plus 2 tablespoons Sarah's gluten free flour blend
1 teaspoon baking powder
1/2 teaspoon baking soda
1/2 teaspoon sea salt
3 ripe bananas, mashed
1/2 cup brown sugar or coconut sugar
1/3 cup sunflower seed or canola oil
1/4 cup So Delicious unsweetened coconut milk
3 tablespoons pure maple syrup
1 teaspoon pure vanilla extract
Preheat oven to 375 degrees. Prepare 9×5-inch loaf pan by spraying with cooking spray or lining with parchment paper. Coat cranberries with 2 tablespoons flour. Set aside. In large mixing bowl, sift together flour, baking powder, baking soda and salt. In separate bowl, mix together mashed bananas, brown sugar, oil, coconut milk, maple syrup and vanilla. Add to flour mixture and blend well. Fold in flour-coated cranberries, be sure to add all the flour and stir gently to combine.
Pour batter into prepared loaf pans. Bake for 50-55 minutes or until toothpick inserted in center comes out clean (possibly a bit longer baking time if using frozen cranberries). Allow to cool in pan for 10 minutes. Remove from pan and continue to cool on cooling rack. Slice and serve.