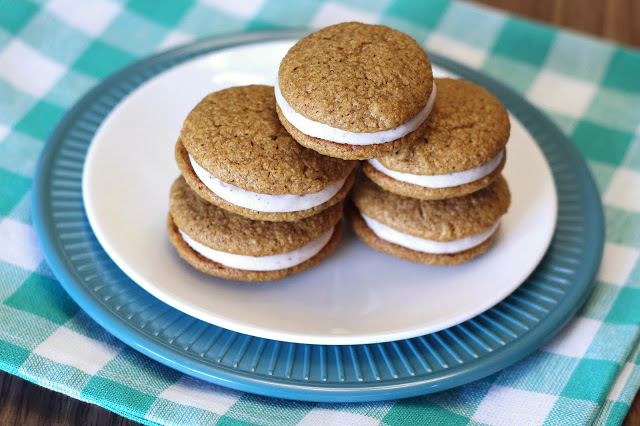 Girl, you know it's true, pumpkin desserts are in full force around here! I wonder how many new pumpkin recipes I'll be sharing with you guys over the season. I'm just warning you now…it's hard for me to stop.
The other day I wanted to make some yummy cookies to send to a dear friend, who is also gluten and dairy free. She was actually the first person that was really there to support me in my transition because she had already been doing it for quite some time. What a change it was, cutting out gluten and dairy, but she was there for me during that difficult journey. I love you, Kerri! Wish you lived closer so we could have our chats over a warm batch of cookies and cup of hot Good Earth tea.
So back to those cookies. Kerri also loves pumpkin, a girl after my own heart. I made her these little, precious pumpkin spice sandwich cookies to send in a "just thinking about you" package. Soft, bite-size pumpkin cookies with a cinnamon cream filling. You eat one and then another. And then another. That's why I strongly advise you to double the recipe. 16 of these sandwich cookies is surely not enough.
gluten free vegan pumpkin spice sandwich cookies
makes 16-18 sandwich cookies
3/4 cup gluten free oat flour*
1/2 cup Sarah's gluten free flour blend
1 teaspoon pumpkin pie spice
3/4 teaspoon baking powder
1/2 teaspoon baking soda
1/4 teaspoon sea salt
1/2 cup pure pumpkin puree
1/4 cup brown sugar
1/4 cup cane sugar
3 tablespoons coconut oil, melted
1 tablespoon So Delicious unsweetened coconut milk
1 teaspoon pure vanilla extract
1 1/2 cups powdered sugar
2 tablespoons non-hydrogenated palm shortening
1-2 tablespoons So Delicious unsweetened coconut milk
1/2 teaspoon pure vanilla extract
1/2 teaspoon ground cinnamon
Preheat oven to 325 degrees. Line baking sheets with parchment paper. In medium bowl, sift together oat flour, flour, pumpkin pie spice, baking powder, baking soda and salt. Set aside. In large bowl, mix together pumpkin puree, brown sugar, sugar, melted coconut oil, coconut milk and vanilla. Stir until blended. Add flour mixture and stir until combined.
Fill large ziploc bag with cookie dough. Cut tip of bag. Squeeze 2 teaspoon-size round dollops of dough onto prepared baking sheets. Use fingers to flatten into 1-inch round discs. Cookies will spread slightly. Repeat with remaining dough (you'll get about 36 cookies). Bake cookies 9-11 minutes, until golden brown. Allow cookies to cool on baking sheet for 3-5 minutes. Place cookies on cooling rack to cool completely.
Make cinnamon cream filling by blending together powdered sugar, shortening, coconut milk, vanilla and cinnamon. Add an additional tablespoon coconut milk if needed. Blend until smooth and creamy. To assemble cookie sandwiches, turn over half of the cookies and frost with cinnamon filling. Top with remaining cookies. Let sit for 20 minutes to allow frosting to set. Store cookies in air-tight container.
*Blend about 1 cup certified gluten free oats in high-powdered blender on high until fine oat flour has formed. Measure out 3/4 cup of oat flour.