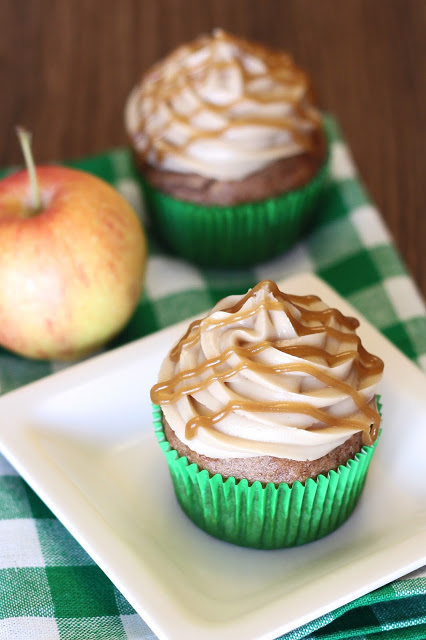 Fall flavors are all the rage these days. Pumpkin may be number one, but I can be found rooting for the underdog…the apple. The crispy, juicy apple with cinnamon as it's tasty companion. Apple crisp, apple bundt cake, apple muffins, apple pie. Fresh apples, a little spice. It's always something nice!
I've done it again. Created a cupcake recipe that I know you won't be able to resist. Who doesn't love a caramel apple? I've taken the flavors of the caramel apple and wrapped them up into a cupcake. An apple cinnamon cupcake, full of flavor and moist as can be. For the caramel frosting, I start with my simple recipe for dairy free caramel. Whip with powdered sugar, shortening and coconut milk and you have a sweet, decadent caramel frosting. A little drizzle of caramel on top. Beautiful.
Those holiday parties will be coming up here soon and I'm certain I'll be serving these caramel apple cupcakes. Perfect for halloween! The kids will love them and the adults might try to hide them from the kids, keeping them all to themselves. Some desserts are not as easy to share.
gluten free vegan caramel apple cupcakes
makes 14 cupcakes
apple cinnamon cupcakes
1 3/4 cups, plus 2 tablespoons Sarah's gluten free flour blend
1 1/2 teaspoons ground cinnamon
1 teaspoons baking powder
1/2 teaspoon baking soda
1/2 teaspoon sea salt
1/2 cup unsweetened applesauce
1/2 cup So Delicious Dairy Free unsweetened coconut milk
1/3 cup sunflower seed oil (or mild flavor oil)
1/2 cup brown sugar
1/4 cup cane sugar
3 tablespoons pure maple syrup
1 cup peeled, cored and shredded apple (use large holes on grater)
1 teaspoon pure vanilla extract
caramel frosting
1 cup full-fat coconut milk
3/4 cup brown sugar
2 1/2 cups powdered sugar
2 tablespoons non-hydrogenated palm shortening
2 tablespoons So Delicious coconut milk coffee creamer or coconut milk
1 teaspoon pure vanilla extract
Preheat oven to 350 degrees. Prepare cupcake pans by lining with paper liners. Sift together flour, cinnamon, baking powder, baking soda and salt. Set aside. In large mixing bowl, combine applesauce, coconut milk, oil, brown sugar, sugar, maple syrup and vanilla. Mix in shredded apple. Add flour mixture and stir until well combined. Evenly divide cupcake batter into prepared cupcake pan. Bake for 17-19 minutes or until toothpick inserted in center comes out clean. Cool in pans for 5 minutes, then invert onto cooling rack to cool completely.
While cupcakes are baking, start dairy free caramel frosting. Place coconut milk in saucepan, along with brown sugar. Cook over medium-low heat and bring to low boil. Continue to boil for 20 minutes, stirring periodically to keep from burning. When caramel is thickened, remove from heat. Pour in bowl to cool until ready to use.
Poor cooled carmel into large bowl of standing mixer (be sure to reserve 2 tablespoons of caramel to drizzle on top). Add powdered sugar, shortening, coffee creamer and vanilla. Beat for 3-4 minutes until creamy. Place frosting into piping bag and pipe onto cooled cupcakes or use offset spatula to frost cupcakes. Drizzle remaining caramel on top of each cupcake. Best served within 1-2 days.