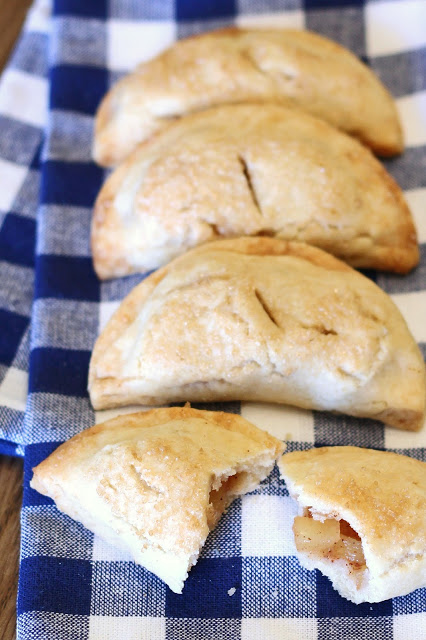 Fall will be here soon enough and you know what that means…apple season! Well, and pumpkin season too (of course). But we're talking apples here. Juicy, crisp apples. One of the most versatile fruits. You can go sweet or savory. If you know me, you'll know I like to stick with the sweet.
One Good Thing By Jillee recently shared a super helpful post on allergy-free baking and included my recipe for gluten free vegan raspberry hand pies. Thanks, Jillee! Seeing those little beauties reminded me of their goodness and I had to recreate them. This time with apples and cinnamon! That crust is flakey, buttery and perfect for any pie recipe. The time to put these together…totally worth it. All the components you love in an apple pie, wrapped up in a hand-help gluten, egg and dairy free treat!
gluten free vegan apple hand pies
makes 12 pies
pie dough
1 1/2 cups Sarah's gluten free flour blend
1 tablespoon organic cane sugar
1/2 teaspoon salt
4 tablespoons Earth Balance vegan butter, cold
3 tablespoons organic non-hydrogenated shortening
4 tablespoons ice-cold water
1 teaspoon apple cider vinegar
apple filling
2 apples, peeled, cored and diced
3 tablespoons cane sugar
2 teaspoons corn starch
1 teaspoons fresh lemon juice
1/2 teaspoon ground cinnamon
pinch ground nutmeg
pinch ground ginger
topping
3 tablespoons So Delicious coconut coffee creamer or coconut milk
2 tablespoon course turbinado sugar or cane sugar
Sift together the flour blend, sugar and salt. Add the vegan butter and shortening. Using a pastry cutter, combine until resembles a course meal and butter pieces are less than pea-size. Pour in 4 tablespoons cold water and vinegar. Continue to blend until dough comes together (add another tablespoon of water if needed). Pat dough into a round disc, wrap in plastic wrap and place in refrigerator for an hour or until ready to use.
To make filling, start by preparing apples. Peel, core and dice the apples into small pieces. In medium bowl, mix together apples, sugar, cornstarch, lemon juice, cinnamon, nutmeg and ginger. Set aside. Preheat oven to 375 degrees. Line two baking sheets with parchment paper. On counter surface, lay out a large piece of plastic wrap. Place pie dough in center and top with another large piece of plastic wrap (keeps dough from sticking to rolling pin). Roll dough to 1/8″ thick. Using 4″circle cookie cutter, cut dough into circles and place on baking sheet. Repeat with remaining dough.
Place heaping tablespoon of filling into center of each pie dough circle. Carefully fold in half and gently press to seal dough (if dough cracks, just pinch back together). Using pastry brush, brush tops of pies with coconut creamer and sprinkle with course sugar. Use small knife to cut 1/2-inch cut into top layer of each pie for steam to escape. Bake in oven for 20-25 minutes or until golden brown. Allow to cool for 10 minutes on cooling rack. Serve warm.