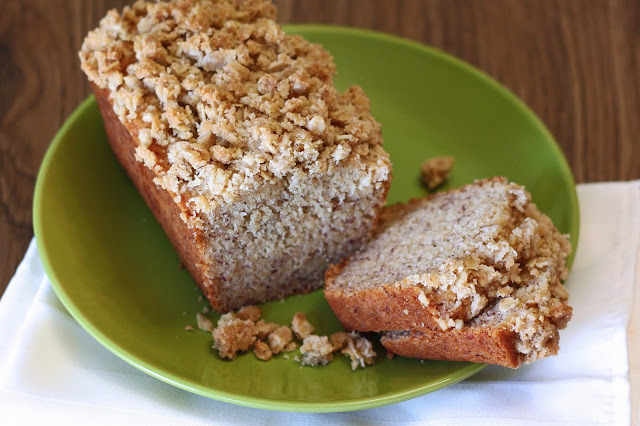 I'm a simple, rustic girl when it comes to baking. I don't like things that are too complicated. One bowl recipes…my favorite. Don't get me wrong, I love decorating cupcakes and creating layered cakes. But when I'm in the mood to bake (which is pretty much all the time), I always go for those easy recipes. The ones that take no time to put together and are ready to go in the oven within minutes.
That's why I love me some mini banana bread loaves! Fresh, warm banana bread that doesn't take quite as long to bake. I changed my most favorite banana bread recipe and added a streusel topping. I might be ruined. I don't think I'll ever make banana bread again without this streusel topping. It adds a little extra sweetness, crunch and texture. You'll be eating every last crumb. I can promise you that!
gluten free vegan mini banana streusel loaves
makes 2-3 mini loaves (depending on pan size)
banana bread
1 3/4 cups Sarah's gluten free flour blend
1 teaspoon baking powder
1/2 teaspoon baking soda
1/2 teaspoon salt
2 ripe bananas, mashed
1/2 cup So Delicious unsweetened coconut milk, room temperature
1/4 cup organic brown sugar
1/2 cup organic cane sugar
1/3 cup coconut oil, melted
3 tablespoons pure maple syrup
1 teaspoon pure vanilla extract
streusel topping
1/2 cup certified gluten free oats
1/3 cup Sarah's gluten free flour blend
2 tablespoons organic brown sugar
2 tablespoons organic cane sugar
dash sea salt
3 tablespoons coconut oil, solid
1 tablespoon pure maple syurp
Preheat oven to 350 degrees. Prepare mini loaf pan by spraying with cooking spray or lining with parchment paper. In large mixing bowl, sift together flour, baking powder, baking soda and salt. Set aside. Mix together mashed bananas, coconut milk, brown sugar, sugar, coconut oil, maple syrup and vanilla. Add to flour mixture and stir just to combine. Divide and pour batter into prepared mini loaf pans.
For topping, combine oats, flour, brown sugar, sugar and salt. Add coconut oil and maple syrup and cut in with pastry blender or fork until ingredients are well mixed. Sprinkle oat crumble over banana bread batter. Bake for 28-30 minutes or until toothpick inserted in center comes out clean. Allow to cool in pan for 10 minutes. Remove from mini loaves from pan and continue to cool on cooling rack. Slice and serve.