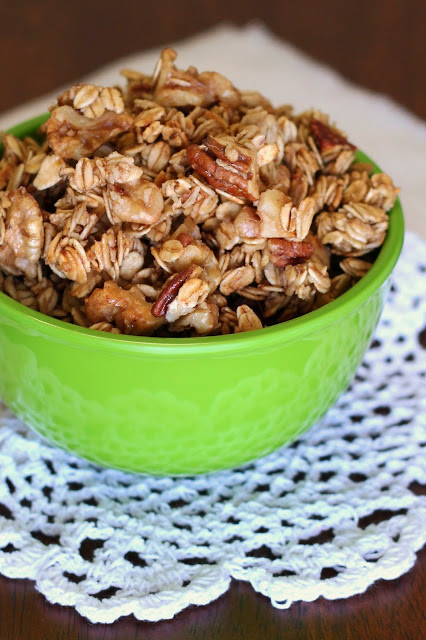 Granola for breakfast. Granola for a snack. I could eat granola all day long! I love the crunch from the toasted nuts and the texture from the chewy rolled oats. It's just a pure, simple snack that anybody can make. No excuses, people. Gluten free granola is a total no brainer.
The smell of this gluten free banana nut granola baking in your oven, is pretty much like the smell of freshly baked banana bread. We all know it…heaven. Ripe bananas, pure maple syrup, brown sugar, walnuts. A flavor combination that never, ever gets old. Now you can enjoy those flavors of banana bread in a gluten free granola. You can thank me later.
Want to know my favorite way to eat this banana nut granola? Over So Delicious cultured unsweetened vanilla coconut milk, just about the best dairy free yogurt out there. I also like to add a layer of either sliced fresh strawberries or banana. A breakfast that will make your tummy do a happy dance!
gluten free banana nut granola
makes 8 servings
4 cups certified gluten free rolled oats
3/4 cup chopped pecans
3/4 cup chopped walnuts
1 ripe banana
1/4 cup brown sugar or coconut sugar
1/4 cup pure maple syrup
1/4 cup canola or sunflower seed oil
3 tablespoons honey
1 1/2 teaspoons pure vanilla extract
1/4 teaspoon sea salt
Preheat oven to 325 degrees. Line large baking sheet with parchment paper. In large mixing bowl, stir together oats, pecans and walnuts. Set aside. In high-powered blender or food processor, add banana, brown sugar, maple syrup, oil, honey, vanilla and salt. Blend on high for 1-2 minutes until smooth. Pour banana mixture over oats and mix together with rubber spatula. Spread on prepared baking sheet. Bake 30-40 minutes, stirring every 10 minutes. Remove from oven when golden brown. Allow granola too cool in pan. Break up and store in airtight container.