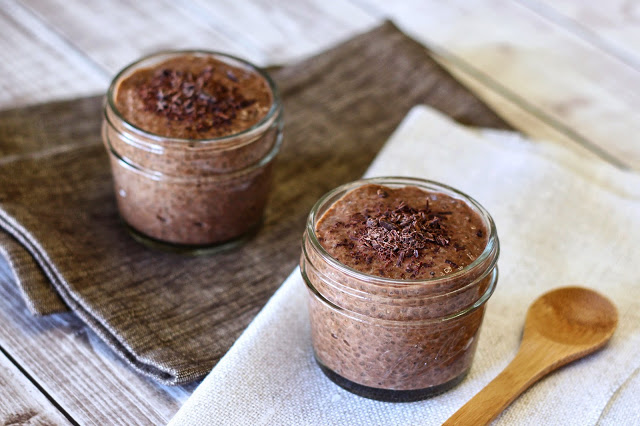 No matter what time of the month it is, I always crave chocolate. Even if it's just a piece of dark chocolate from my stash in the fridge. Chocolate will forever be a part of my life. I say, "chocolate is one of the many blessings from God, one that should be enjoyed to it's fullest!"
I'm here to tell you that not every chocolate treat has to be sinful. There are plenty of healthy options to get that antioxidant-rich chocolate into your diet. Take this dairy free chocolate chia seed pudding for example. Sweetened with pure maple syrup or my favorite…coconut sugar. Packed with tiny chia seeds, which are super high in omega-3's and protein. They require no cooking and produce a magically thick and creamy pudding.
I prefer to use So Delicious unsweetened coconut milk in my chia seed pudding because it's what I always have on hand. You could use soy milk or almond milk, if you would like. The dark chocolate shavings add another chocolate element, which is always a good thing. Fresh berries would also be lovely and quite tasty!
dairy free chocolate chia pudding
serves 3
1 1/2 cups So Delicious unsweetened coconut milk
3 tablespoons pure maple syrup, honey or coconut sugar
2 tablespoons cocoa powder
1/2 teaspoon pure vanilla extract
1/3 cup chia seeds
dairy free dark chocolate shavings (optional)
Mix together coconut milk, maple syrup, cocoa powder and vanilla extract. Whisk until completely combined. Stir in chia seeds. Cover and let refrigerate 2-3 hours or overnight. Once pudding is set, stir and pour into serving dishes. Top with dark chocolate shavings. Serve chilled.