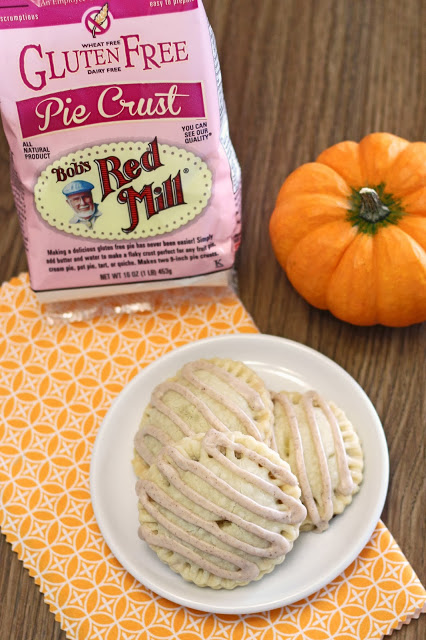 There is a new product in town that will make our holiday baking even more fantastic! Bob's Red Mill has released their gluten free pie crust mix. Tender, flaky gluten free pie crust. It just takes five easy steps…mix, chill, roll, fill and bake. It's as easy as pie! Each 16-oz. package makes 2 9-inch pies. You can make one single-crust pie now and save one for later!
The original pie crust recipe on the package, calls for butter and shortening. I know for certain the combination of the two makes an amazing pie crust, but no dairy for this girl. I was determined to use this mix to make a stunning dairy free pie crust. I started with chilled Earth Balance vegan butter and added organic non-hydrogenated shortening. The result was the flakiest, flavorful gluten free crust I've ever tasted! Success!
Pumpkin pie is at the very tippy-top of my all time favorite desserts. I happen to love the custard-creamy texture, but some may not. These little pumpkin hand pies have all the flavors that we love in a pumpkin pie, just in a hand-held version! The Bob's Red Mill Pie Crust worked beautifully in this recipe. I filled each pie with a simple pumpkin filling. Drizzled them with a cinnamon glaze. My husband was quite smitten with these and could have easily finished off the whole plate (if I let him).
Thank you, Bob's Red Mill, for making our gluten free baking easy and delicious! I use all of their trusted flours for my flour blend, that all of you know I couldn't live without. This pie crust mix is a great addition to my gluten free baking. You can find out all of Bob's Red Mill newest products by following them on facebook, twitter or instagram. Are you ready to get in the kitchen and start baking some hand pies?
gluten free vegan pumpkin hand pies
makes 20-22 hand pies
pie crust
pumpkin filling
1 cup pumpkin puree
1/4 cup organic brown sugar
1 tablespoon pure maple syrup
1 teaspoon pumpkin pie spice
2 tablespoons coconut milk
cinnamon glaze
1 cup powdered sugar
2 tablespoons coconut milk
1/2 tsp cinnamon
In mixing bowl, add gluten free pie crust mix, cold vegan butter and shortening. Using a pastry cutter, combine until butter pieces are less than pea-size. Pour in 6 tablespoons cold water. Continue to blend until dough comes together (add additional tablespoons of water as needed). Pat dough into 2 round discs and wrap individually in plastic wrap. Refrigerate at least an hour or until ready to use.Preheat oven to 375. Prepare filling by mixing together the pumpkin puree, brown sugar, maple syrup and pumpkin pie spice. Set aside. Line 2 baking sheets with parchment paper. On counter surface, lay out a large piece of plastic wrap. Place pie dough in center and top with another piece of plastic wrap. Roll with rolling pin until dough is about 1/8″ thick. Using a circle or biscuit cutter, cut into 3-4″ rounds. Place half of rounds on prepared baking sheets.
Place 1 tablespoon of filling in center of pie dough round. Top with another pie dough round. To seal dough, use fork to crimp the edges. Brush tops with coconut milk. Use a small kniefe to carefully cut a 1/2″ slit into top layer of each pie. Bake for 20-22 minutes or until edges are slight golden brown. Allow to cool on cooling rack. To make the cinnamon glaze, mix together powdered sugar, coconut milk and cinnamon. Drizzle over the top of each cooled hand pie.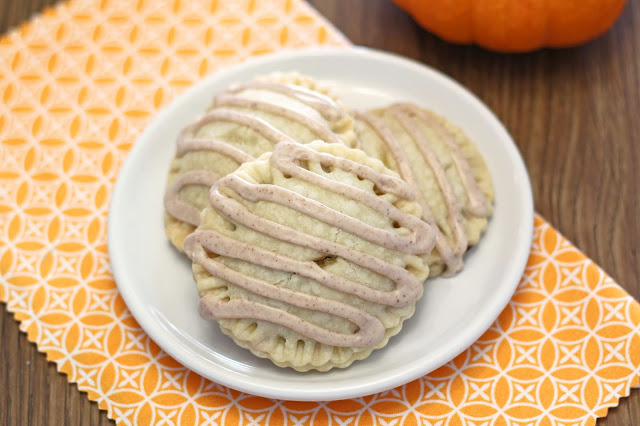 Who wants to make these beautiful hand pies and give Bob's Red Mill Gluten Free Pie Crust a try? They've decided to send one winner a 4-pack of the pie crust mix. That means you could make 8 single-crust pies, just in time for the holidays! Enter in the box below and leave a comment. Be sure to tell me "What is your most favorite pie?" in your comment. You can receive extra entries by liking Bob's Red Mill on facebook, tweeting about the giveaway or sharing on instagram. This giveaway ends on Friday, November 8. I'll announce the winner on Saturday morning. Good luck, all you gluten free bakers!