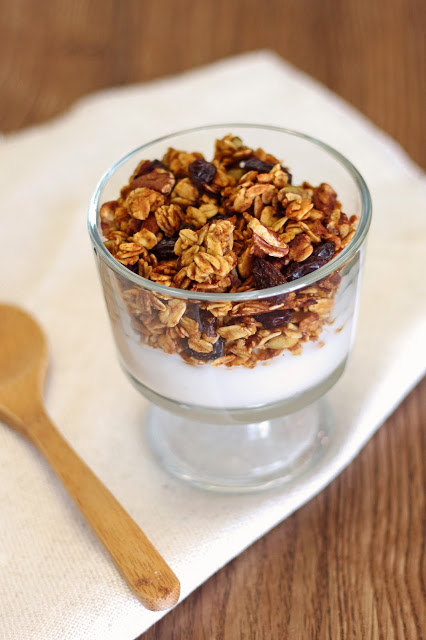 I'm not a morning person and it's rare that I eat right when I wake up. I'm just not hungry. I will usually have a cup of coffee and then wait until I'm ready to figure out what's on the menu for breakfast. When it's a busy morning, I'm in need of something quick to eat. Cereal is ok, but it gets boring. Oatmeal is filling, but is best when it's cold outside. What about granola? Yes, I do love granola!
My mornings just got a little bit sweeter! I was in the mood for a new granola recipe when I created this gluten free pumpkin granola. It's got great crunch and great flavor. Pure pumpkin puree, lots of cinnamon, pepitas, pecans and raisins. If you've never made homemade granola, it is so simple. It's also cheaper than prepackaged gluten free granola and you can customize it, just the way you like it!
Make a batch of this gluten free pumpkin granola and you'll have breakfast (or a yummy snack) ready for the week. I like to eat mine with So Delicious vanilla cultured coconut milk. How do you like to enjoy your granola?
gluten free pumpkin granola
serves 8
4 cups certified gluten free rolled oats
1/2 cup pecans, chopped
1/2 cup pepitas (shelled pumpkin seeds)
1 teaspoon pumpkin pie spice
1 teaspoon ground cinnamon
1/4 teaspoon salt
2/3 cup pumpkin puree
1/4 cup coconut oil, melted
1/4 cup brown sugar
1/4 cup pure maple syrup
1/4 cup honey
1 teaspoon vanilla extract
1/2 cup raisins or dried cranberries
Preheat oven to 325 degrees. Line large baking sheet with parchment paper. In large bowl, mix together oats, pecans, pepitas, pumpkin pie spice, cinnamon and salt. Set aside. Combine pumpkin puree, melted coconut oil, brown sugar, maple syrup, honey and vanilla. Pour over oat mixture and mix together with rubber spatula. Spread on prepared baking sheet. Bake 30-40 minutes, stirring every 10 minutes. Remove from oven when golden brown. Cool completely (granola will crisp up as it cools). Mix in the raisins. Store in airtight container.