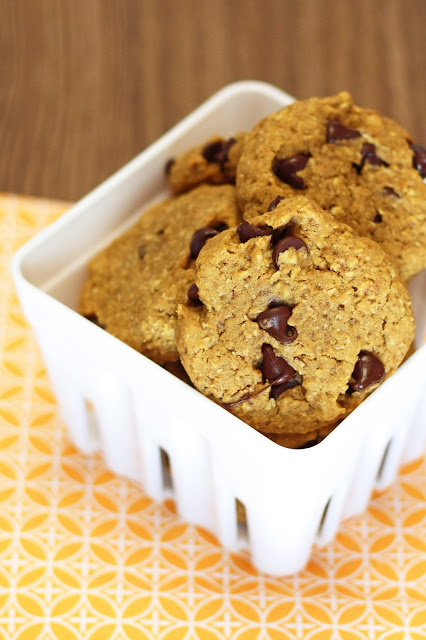 In my house…pumpkin season has officially begun! I just couldn't wait any longer. My whole family agrees that pretty much every dessert is better when it involves pumpkin and cinnamon. Pumpkin bread, pumpkin muffins, pumpkin pie, pumpkin smoothies, pumpkin cake, and pumpkin cookies. What is your favorite pumpkin dessert?
These gluten free vegan pumpkin chocolate chip cookies have a good balance of sweet with a touch of spice. I love the flavor combination of cinnamon and chocolate. It's magical. The pumpkin flavor is subtle, but that pumpkin puree sure does make these cookies soft and tender. They are quite tasty and just might be the perfect treat to kick off pumpkin season in your house!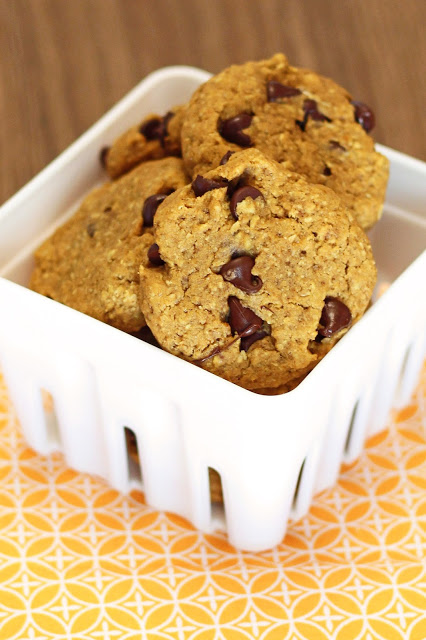 gluten free vegan pumpkin chocolate chip cookies
AUTHOR:
Sarah Bakes Gluten Free
INGREDIENTS
3/4 cup certified gluten free instant oats*
1 teaspoon cinnamon
1/2 teaspoon sea salt
1/2 teaspoon baking soda
1/2 cup pumpkin puree
1/2 cup organic brown sugar
1/4 cup organic cane sugar
1/4 cup coconut oil, melted
1 teaspoon pure vanilla extract
1 cup dairy free chocolate chips
INSTRUCTIONS
Preheat oven to 350 degrees. Line baking sheets with parchment paper.
Sift together flour blend, oats, cinnamon, salt, and baking soda. Set aside.
In large mixing bowl, combine pumpkin puree, brown sugar, sugar, coconut oil and vanilla.
Add the flour mixture and mix until combined. Fold in the chocolate chips.
Drop tablespoon-size scoops of cookie dough onto prepared baking sheet. Slightly flatten to 2-inch circles. Bake for 9-11 minutes.
Cool cookies on baking sheets for 3-5 minutes before transferring to cooling rack. Store in air-tight container.
NOTES
*If you don't have instant oats, you can also pulse gluten free rolled oats in blender until course.