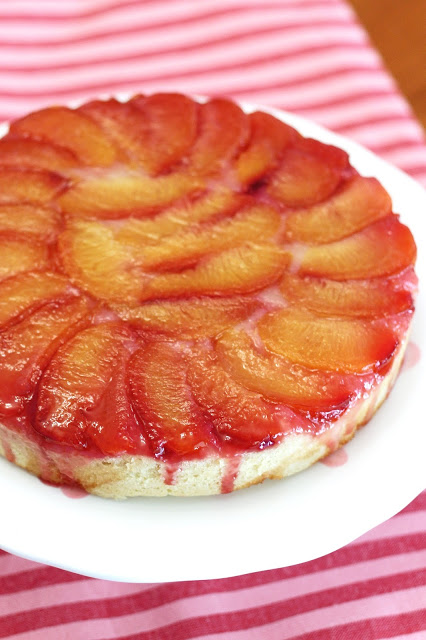 One of the many things I love about summertime…all of the gorgeous, fresh fruit. We are spoiled here in California with an abundance of locally-grown fruit. All of the good stuff comes out at this time of year for us to enjoy. Peaches, plums, strawberries, nectarines, apricots, watermelons, cherries. I take full advantage and stock up…my kids just can't get enough fresh fruit!
I couldn't pass on a great deal on these beautiful, organic plums. They were calling my name. I got them home and decided to conquer the plum upside down cake. I've seen it on pinterest and thought, "it can't be that hard to make!" I was quite right. It was so easy to put together and the final product…a stunning, gluten free vegan plum upside-down cake. The plums become so sweet as they bake and you are left with this amazing syrup, oozing down the sides. The flavors are reminiscent of sweet cherries. I love this cake. So moist and not too sweet. It's not just for dessert either, as it would be a delightful choice for breakfast too!
gluten free vegan plum upside down cake
plum topping
1 tablespoon coconut oil
4 firm, ripe plums, cut into wedges
1/4 cup organic cane sugar
cake
1 1/2 cups Sarah's gluten free flour blend
1 teaspoon baking powder
1/2 teaspoon baking soda
1/2 teaspoon salt
1 cup So Delicious unsweetened coconut milk, room temperature
1 tablespoon white vinegar
1/2 cup organic cane sugar
1/4 cup coconut oil, melted
2 teaspoons pure vanilla extract
Preheat oven to 350 degrees. Prepare 8-inch cake pan by spraying with cooking spray and lining bottom with parchment paper. Melt 1 tablespoon coconut oil in large skillet over medium-heat. Add the plums and 1/4 cup sugar. Cook plums, stirring until the sugar dissolves and juices become syrupy (about 4 minutes). Arrange plums in prepared cake pan in circle, starting from the outside and work your way in. Pour the remaining plum syrup over the plums.
Whisk together the flour, baking powder, soda, and salt. Set aside. In mixing bowl, stir together the coconut milk and vinegar. Let sit for 5 minutes. Add the melted coconut oil, sugar, and vanilla. Stir to combine. Gently mix in the flour mixture.
Pour batter over the plums. Bake for 45-47 minutes or until toothpick inserted in center comes out clean. Place cake on cooling rack and let cool in cake pan for 1 hour. Place large plate or cake stand over the cake pan and invert onto plate. Slice and serve.