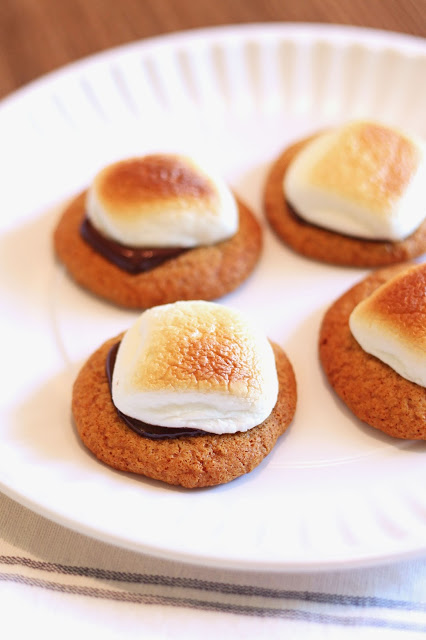 Who doesn't love a s'more? Toasted, gooey marshmallow and melted chocolate, sandwiched between two graham crackers. Simple and delicious. Probably the messiest dessert too…cause I'm pretty sure you can't eat one without getting it all over your fingers and face. It's worth it though. The s'more is the classic camping treat that very few can resist!
I had this need to come up with a cookie that tasted just like the classic s'mores (yes, a NEED). I was craving s'mores, but we weren't going camping anytime soon. So I baked up a batch of gluten, egg, and dairy free cookies that taste just like a graham cracker. Except these are soft and chewy, just how I like my cookies! While still warm, I topped them with a piece of dark chocolate and a marshmallow. I had to toast the marshmallow…a must to get the taste of the classic s'mores.
My husband came home from work and a plate of these gluten free s'mores cookies were sitting on the counter. He took one bite and then another bite. Then another. I was waiting for his verdict, "did they taste like a s'more?" He was pleasantly surprised and told me, "you need to make these for me everyday!" Success. A s'more in a cookie. It can easily be done!
gluten free s'mores cookies
makes 32 cookies
2 1/4 cups Sarah's gluten free flour blend
1 teaspoon baking soda
1/2 teaspoon cinnamon
1/2 teaspoon sea salt
1/2 cup cane sugar
1/2 cup brown sugar
1/4 cup coconut oil, melted
1/4 cup So Delicious unsweetened coconut milk
3 tablespoons honey
1 teaspoons pure vanilla extract
8 ounces dark chocolate*, cut into 1″ squares
16 large marshmallows, halved horizontally
Preheat oven to 350 degrees. Line baking sheets with parchment paper. In medium bowl, sift together flour blend, baking soda, cinnamon and salt. Set aside. In large mixing bowl, beat together the sugar, brown sugar, coconut oil, coconut milk, honey, and vanilla. Beat until smooth. Add the flour mixture and stir until combined.
Drop tablespoon-size scoops of cookie dough onto prepared baking sheet. Slightly flatten with fingers. Bake for 9 minutes or until just golden brown. Once you have removed the cookies from the oven, keep them on the pan. Turn your oven to broil. While the cookies are still warm, place 1 piece of chocolate on each cookie. Top with marshmallow half (cut-side down). Broil cookies for 1-2 minutes, or until marshmallows are golden brown. Transfer cookies to cooling rack to cool. Best served warm…when the marshmallows are gooey and the chocolate is melted!
*I used organic dairy-free dark chocolate in my cookies, but you can use milk chocolate if you don't need these cookies to be dairy free.