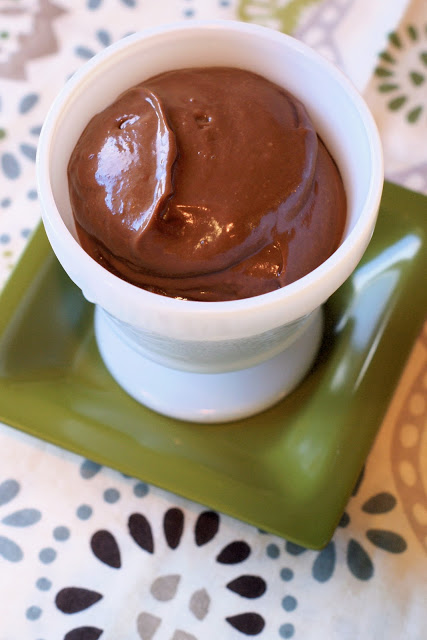 Happy New Year to you! What are you most looking forward in 2013? Any goals, hopes, or dreams in mind? I am looking forward to what this blog will bring into my life, as the last 7 months has been so much more than a blessing. I have really enjoyed sharing my favorite recipes and joy of baking. Looking forward to the new friends I will meet and the things I will learn along the way. Here's to many more delectable gluten free treats this year!
I thought it would be quite appropriate to share a chocolate dessert as the first recipe of 2013…oh yes! I've seen many vegan recipes that use "soaked cashews" and to be honest, it scared me. I love cashews, but was a bit worried about the texture of soaking and blending them. I thought a good first try with this method would be to make a chocolate mousse. What a great idea indeed! I soaked the cashews and added some of my favorite ingredients, like coconut milk and pure maple syrup. Next thing you know, I had the most amazing vegan chocolate mousse! Smooth, creamy. I couldn't stop eating it. Bite after bite. How could there be no heavy cream or refined sugar? Oh man, I'm in trouble.
I almost forgot to tell you…I got a BLENDTEC for Christmas! The professional series. I'm in l.o.v.e. (Thanks, Mom!!!) I've been without a blender for months now and I couldn't be happier with such a powerful blender. It's magical! I've used it everyday to make my morning green smoothies. I can throw in apples slices with the skin, any frozen fruit, handfuls of kale and spinach, and chia seeds. Now I'm going to use it to make this vegan chocolate mousse for my late-night treat. Don't be scared to try "soaked cashews" in your next vegan dessert…they work beautifully!
vegan chocolate mousse
serves 2
1 cup raw cashew nuts
1/3 cup So Delicious unsweetened coconut milk
1/4 cup pure maple syrup
1/4 cup coconut oil, melted
1/3 cup cocoa powder
1/2 teaspoon pure vanilla extract
Soak raw cashews in warm water for 30 minutes. Drain. Add soaked cashews, coconut milk, and maple syrup to blender. Blend on high for 1-2 minutes. Add melted coconut oil, cocoa powder, and vanilla extract. Continue to blend on high until smooth and creamy. Pour into 2 single-serving bowls and cover with plastic wrap. Refrigerate for 1-2 hours.