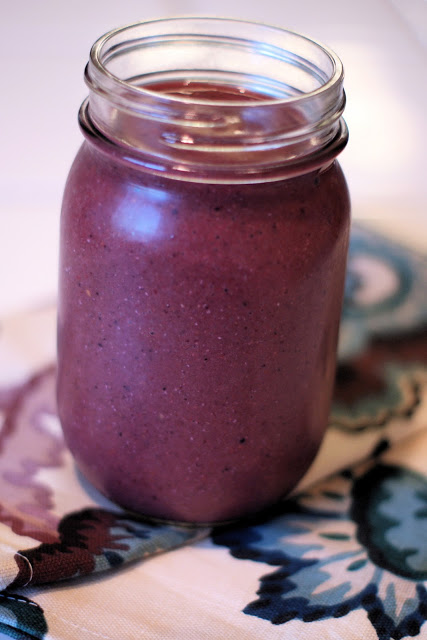 With my new Blendtec, I have made a smoothie for breakfast almost everyday. I love that I can throw just about anything in that thing and it will whip it up in a seconds! So cool. My kids are happy that mommy is making smoothies more often too. Their favorite is any smoothie that is packed with berries. I don't know if it's the cool purple color or that they just like the berrilicious taste!
This is one of my go-to smoothies for fantastic flavor and variety. It has lots of frozen fruit, fresh spinach leaves, and creamy coconut milk. When you combine the berries with those amazing little chia seeds, you get an antioxidant powerhouse! Sounds good to me. This smoothie is sure to fill you up in the morning and give you that boost of energy that we all need to start our day!
berrilicious smoothie
serves 3
1 frozen banana
1 cup frozen berries (I used blackberries, raspberries and blueberries)
1 cup packed spinach leaves
1/2 cup ice
1 cup light unsweetened coconut milk
3/4 cup orange or apple juice
2 tablespoons honey
1 tablespoon chia seeds
Add all ingredients to your blender. Blend on high until everything is smooth and blended well, 1-2 minutes. Add additional coconut milk if needed.