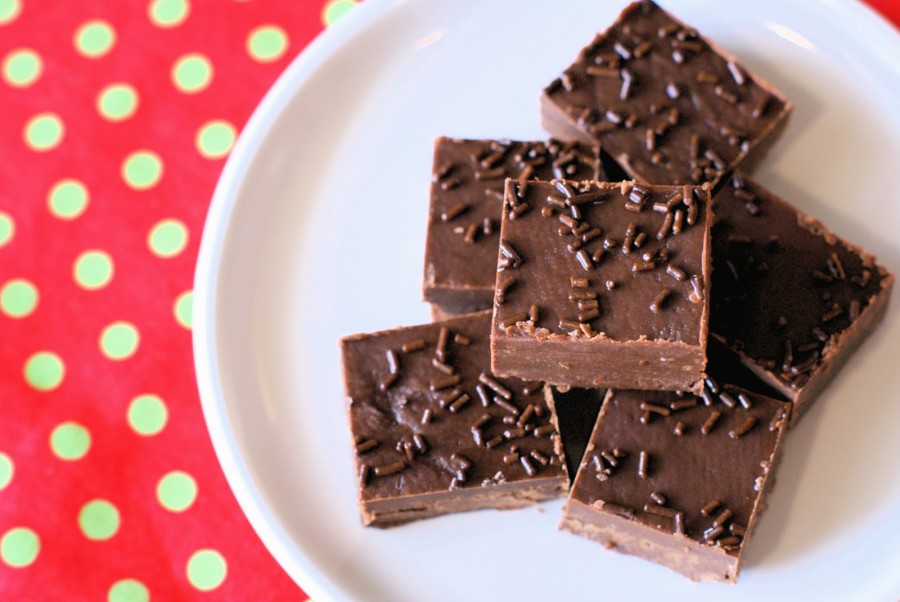 Can you believe that Christmas is only a few days away?  It sure has come quickly this year!  Are you feeling ready?  I would say that I'm getting there.  Packages to family have been sent.  Christmas cards were delivered.  All my crafting is done.  The presents are ready to be wrapped.  There are cookies to be baked.  The family is getting so excited for Christmas morning!
For this baker, handing out homemade gluten free treats to family and friends is a must!  I usually make something different every year, from caramel corn to apple cake.  This year I haven't quite decided, but it might be this vegan peppermint chocolate fudge!  This recipe couldn't be easier and is pretty addicting.  Decadent chocolate fudge with pure peppermint extract.  The perfect combination of chocolate and mint.  This batch makes plenty for you to wrap up and share with your family.  Everyone loves creamy fudge at Christmas time…and this fudge is dairy free!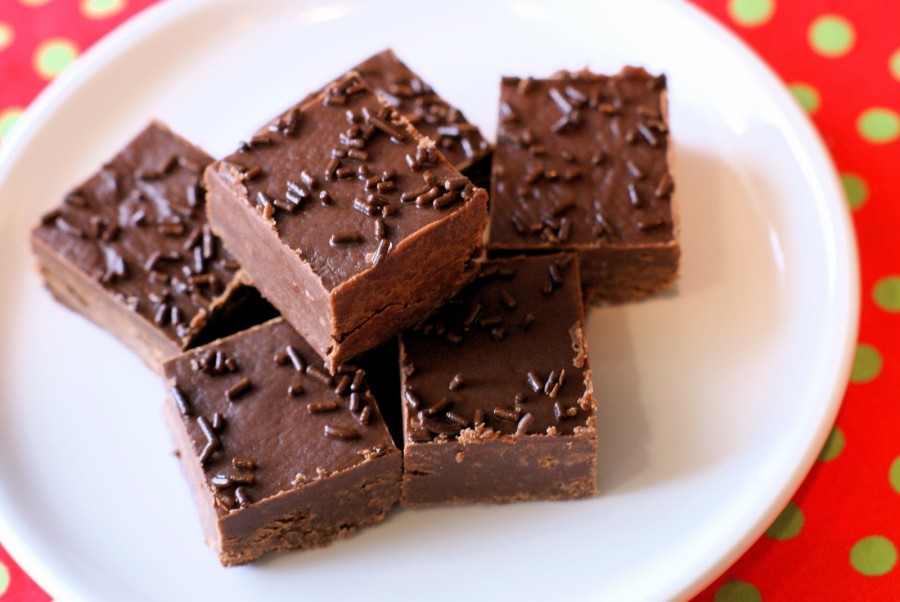 dairy free peppermint chocolate fudge
AUTHOR:
Sarah Bakes Gluten Free
INGREDIENTS
1 cup dairy free chocolate chips
2 tablespoons vegan butter or coconut oil
3 cups organic powdered sugar
1/2 cup cocoa powder
1/2 cup So Delicious culinary coconut milk, stirred
1/2 teaspoon pure vanilla extract
1 teaspoon pure peppermint extract
gluten free chocolate sprinkles (optional)
INSTRUCTIONS
Line an 8x8-inch pan with parchment paper. Fold edges over the pan for easy removal. Set aside.
In medium saucepan, warm coconut milk and vegan butter until melted. Remove pan from heat.
Add chocolate chips and stir to melt chocolate chips. Whisk until smooth.
Add half of powdered sugar and cocoa powder. Whisk until blended. Add remaining powdered sugar, vanilla and peppermint extract. Continue to whisk until mixture is smooth.
Pour fudge into prepared pan. Smooth out with spatula or by gently shaking pan. Sprinkle on chocolate sprinkles, if using.
Cover and chill fudge in refrigerator until set.
To serve, remove fudge by lifting out parchment paper then cut into squares with sharp knife. Store in airtight container.
Recipe adapted from
Once a Month Mom