dairy free peppermint chocolate fudge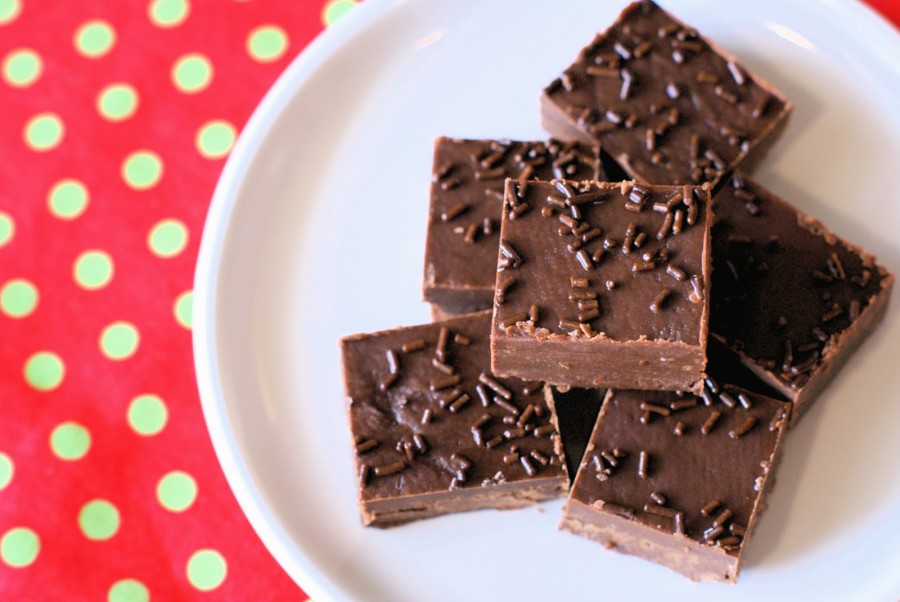 AUTHOR:
Sarah Bakes Gluten Free
1 cup dairy free chocolate chips
2 tablespoons vegan butter or coconut oil
3 cups organic powdered sugar
1/2 cup cocoa powder
1/2 cup So Delicious culinary coconut milk, stirred
1/2 teaspoon pure vanilla extract
1 teaspoon pure peppermint extract
gluten free chocolate sprinkles (optional)
Line an 8x8-inch pan with parchment paper. Fold edges over the pan for easy removal. Set aside.
In medium saucepan, warm coconut milk and vegan butter until melted. Remove pan from heat.
Add chocolate chips and stir to melt chocolate chips. Whisk until smooth.
Add half of powdered sugar and cocoa powder. Whisk until blended. Add remaining powdered sugar, vanilla and peppermint extract. Continue to whisk until mixture is smooth.
Pour fudge into prepared pan. Smooth out with spatula or by gently shaking pan. Sprinkle on chocolate sprinkles, if using.
Cover and chill fudge in refrigerator until set.
To serve, remove fudge by lifting out parchment paper then cut into squares with sharp knife. Store in airtight container.
Recipe by
Sarah Bakes Gluten Free
at https://www.sarahbakesgfree.com/2012/12/dairy-free-peppermint-chocolate-fudge.html