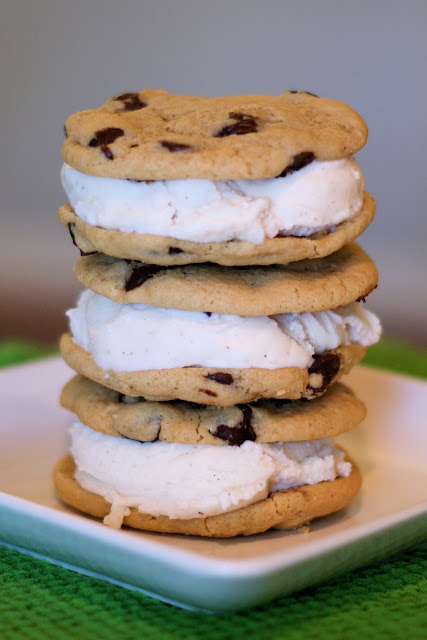 There is always room for ice cream! At least in our house. Even when it's cold outside, ice cream is still just as satisfying. Creamy goodness at it's finest. I'm also a big fan of fruity sorbet, or better yet…coconut milk ice cream! Lord, help me. I could eat that stuff for every meal. Now I ask you, could there be anything better than just a big bowl of simply delicious ice cream? Oh yes there is…when you put it between two soft, chewy fresh baked chocolate chip cookies!
For a long time, I thought making a good gluten free chocolate chip cookie was going to be the death of me. So. many. failures. Time after time, they would just spread out to a gigantic cookie disaster or crumble at the first bite. No fear! This cookie recipe is perfection! Soft in the center and studded with gorgeous chocolate morsels. The little secrets to my recipe is the melted butter and the double dose of pure vanilla extract. You will get just enough cookies to make 8 ice cream sandwiches, or 16 delectable gluten free chocolate chip cookies. Feel free to double the recipe (the more cookie love, the better). We enjoyed vanilla bean ice cream in our ice cream sandwiches, but I'm pretty sure the possibilities are endless. Let me know what creation you come up with!
gluten free ice cream cookie sandwiches
makes 8 sandwiches
1 1/2 cups Sarah's gluten free flour blend
1/2 teaspoon baking soda
1/4 teaspoon salt
1/2 cup brown sugar
1/4 cup sugar
5 tablespoons unsalted butter, melted*
2 teaspoons pure vanilla extract
1 egg
1 cup chocolate chips
1 quart ice cream…of your choice!
Preheat oven to 325 degrees. Line 2 cookie sheets with parchment paper. Whisk together flour blend, baking soda, and salt. Set aside. In large mixing bowl, combine brown sugar, sugar, and melted butter. Add egg and vanilla. Stir until nice and creamy. Mix in the flour mixture and chocolate chips.
Place 2-tablespoon size scoops of dough on cookie sheets. Bake for 9-11 minutes, just until barely golden brown (still soft in the center). Remove from oven and let rest on cookie sheets for 5 minutes, to cool a bit. Place cookies on cooling rack to finish cooling.
To assemble ice cream cookie sandwiches, allow ice cream to soften until soft enough to scoop. Top one upside-down cookie with large scoop of ice cream. Place another cookie on top, right-side up. Repeat with remaining cookies and ice cream. Wrap in plastic wrap and place in freezer to become firm, until ready to devour!
*To make dairy free, you can use 1/4 cup coconut oil. I've tried it and it's so good!