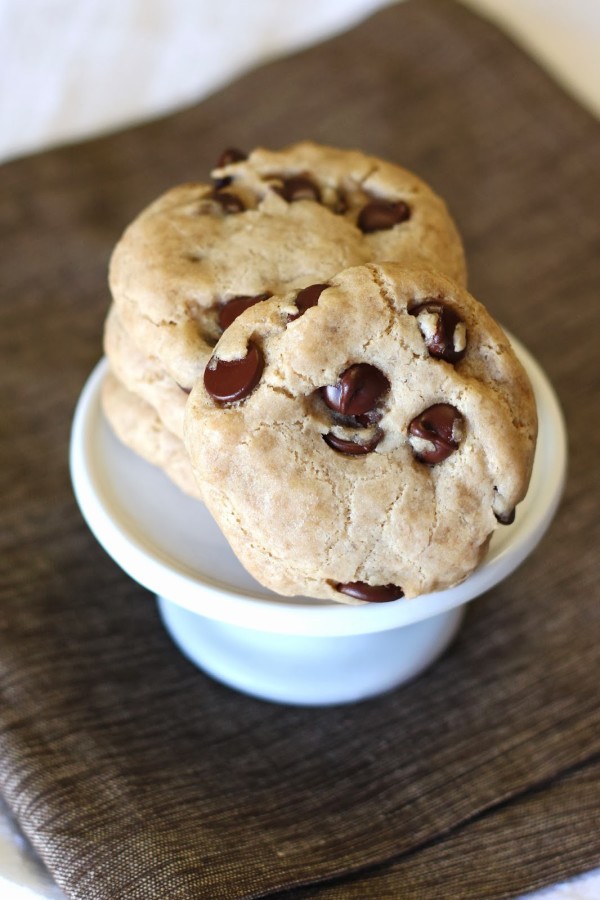 Crispy on the edges. Gooey and chewy on the inside. Lightly golden brown and loaded with chocolate chips. All things I look for in the perfect chocolate chip cookie. When the craving comes, I need them to be just right. Warm and fresh out of the oven is also a must!
I've made more chocolate chip cookie recipes than probably any other recipe. That's how much I love them. I do all the testing in the kitchen to get them to complete perfection, so you don't have to. I also like to eat the cookie dough along the way, since it's egg free (best thing about vegan cookie dough). When these are baked to their chocolate chip cookie deliciousness, they really are amazing. You will never know they are missing those "essential" cookie ingredients. You can trust me. I take this recipe-creator job very seriously.

These cookies are my final entry into the Fast and Fresh Dairy Free Time Trials recipe contest, put on by So Delicious and Go Dairy Free. Be sure to check out my other entries…instant berry frozen yogurt, double chocolate zucchini muffins and mini lemon pancakes. All gluten, dairy and egg free! I've saved the best for last, my friends. These really are the PERFECT gluten free vegan chocolate chip cookies!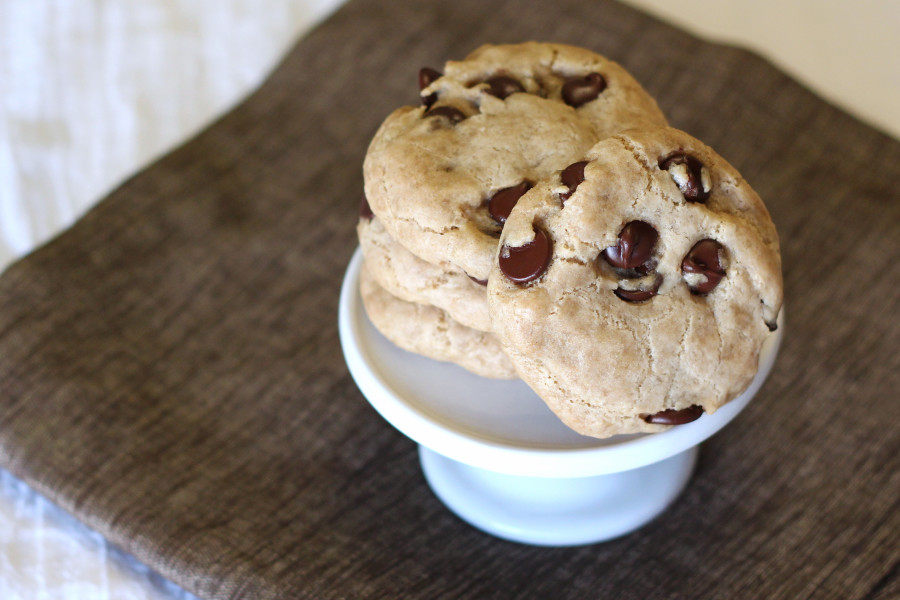 the perfect gluten free vegan chocolate chip cookie
AUTHOR:
Sarah Bakes Gluten Free
INGREDIENTS
2 1/3 cups Sarah's gluten free flour blend
1 teaspoon baking powder
1/2 teaspoon baking soda
1/2 teaspoon sea salt
3/4 cup organic brown sugar
1/2 cup organic cane sugar
1/2 cup refined coconut oil, softened*
1/4 cup unsweetened coconut milk or almond milk, room temperature
2 tablespoons pure maple syrup, room temperature
2 teaspoons pure vanilla extract
1 1/4 cup dairy free chocolate chips
INSTRUCTIONS
Preheat oven to 350 degrees. Line baking sheets with parchment paper.
In medium bowl, sift together flour blend, baking powder, baking soda and salt. Set aside.
In large mixing bowl, cream together the brown sugar, sugar and coconut oil, 1-2 minutes.
Add coconut milk, maple syrup, and vanilla. Mix until blended. Add the flour mixture and chocolate chips. Stir until just combined.
Roll 2-tablespoon size scoops of cookie dough into balls and place onto prepared baking sheet. Slightly flatten with fingers.
Bake cookies for 8-9 minutes. Cookies with be golden brown on edges and soft to the touch. Place on cooling rack to cool completely. Store in air-tight container.
NOTES
*refined coconut oil has less of a coconut flavor, but unrefined coconut oil will work is this recipe as well.