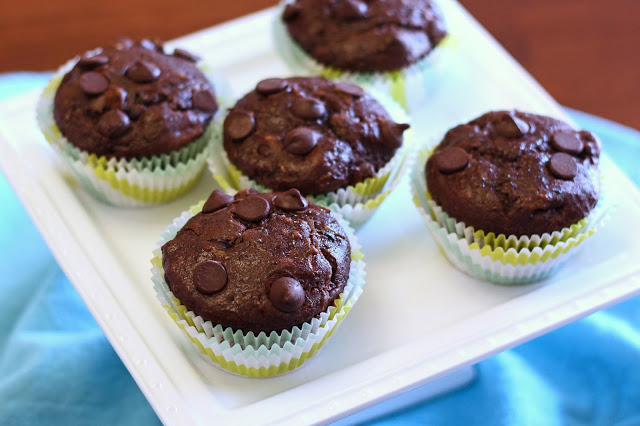 Can you really have too many muffin recipes on hand? I most certainly don't think so. Muffins are one of my top favorite things to make. There are endless flavor creations…blueberry lemon, pumpkin spice, banana oatmeal, apple cinnamon and chocolate zucchini. Just to name a few of my favorites. I can't choose one. That would be like choosing my favorite child. No way, I love both of my babies way too much!

My (crazy good) gluten free vegan double chocolate zucchini muffins are super easy to make! They also take no time at all, which is why I'm entering them into the the Fast and Fresh Dairy Free Time Trials recipe contest, sponsored by So Delicious over at Go Dairy Free. There is cocoa in the batter and dairy free chocolate chips in every bite. I love in zucchini baked goods. It gives amazing moisture, plus you're putting veggies in your muffins! My kids go crazy for this morning treat. It really is like having a cupcake for breakfast. I'm cool with that!
gluten free vegan double chocolate zucchini muffins
makes 12 muffins
1 1/4 cups Sarah's gluten free flour blend
1/2 cup good quality cocoa powder
1 teaspoon baking powder
1/2 teaspoon baking soda
1/2 teaspoon salt
3/4 cup So Delicious unsweetened coconut milk
1 tablespoon white vinegar
3/4 cup organic cane sugar
1/2 cup finely shredded zucchini, packed (about 1 zucchini)
1/4 cup canola or sunflower seed oil
1 teaspoon pure vanilla extract
3/4 cup dairy free chocolate chips
Preheat oven to 350 degrees. Prepare muffin tin by lining with paper liners or spraying with cooking spray. In large mixing bowl, sift together flour, cocoa, baking powder, baking soda and salt. Set aside. Mix together coconut milk and vinegar until curdled. Add sugar, shredded zucchini, oil and vanilla. Add flour mixture and 1/2 cup chocolate chips. Stir until just combined.
Divide batter into prepared muffin tin. Sprinkle remaining 1/4 cup chocolate chips on muffin tops. Bake for 15-17 minutes or until toothpick inserted in center comes out clean. Place muffins on cooling rack to cool. Store in air-tight container. Best enjoyed within 1-2 days.