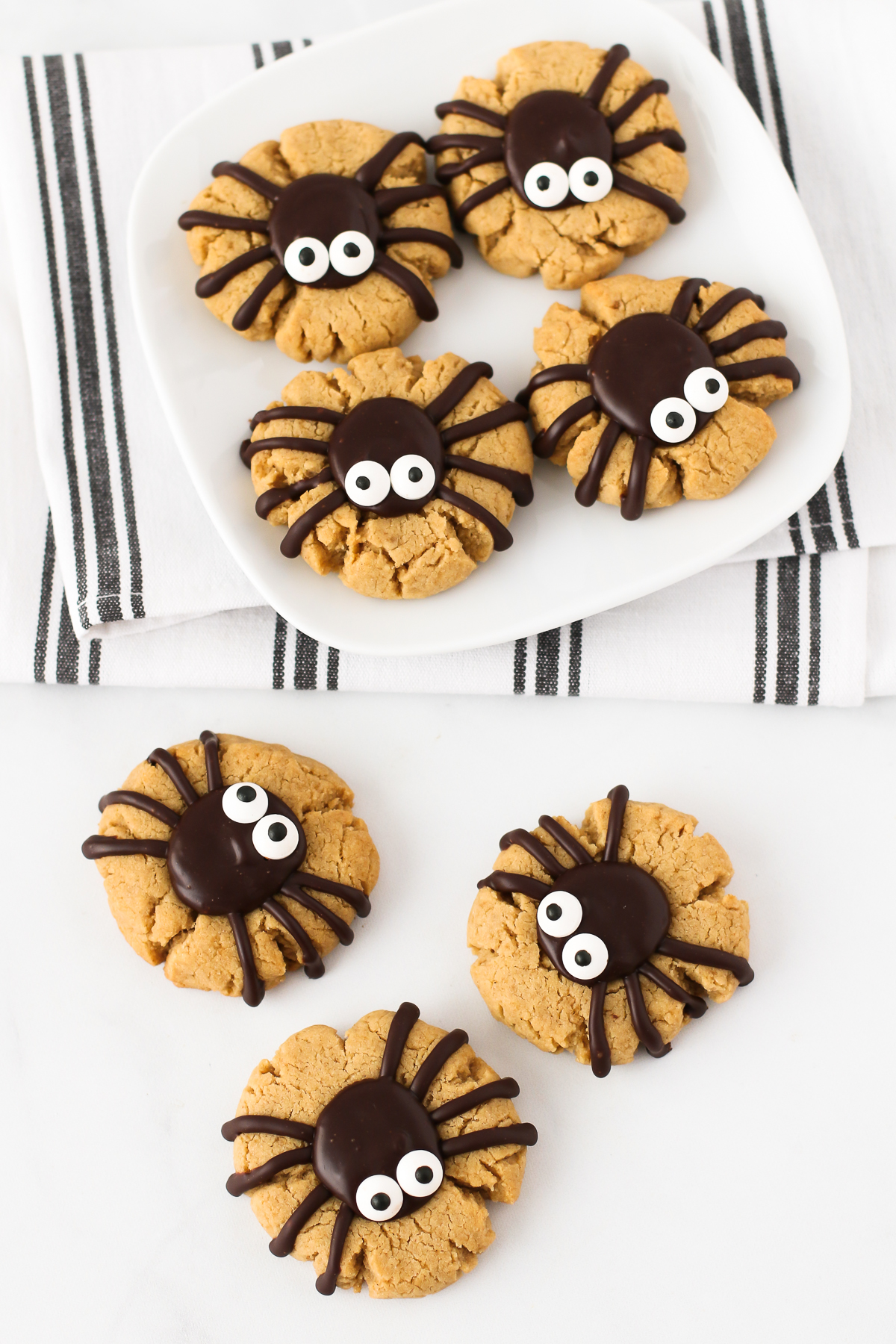 How cute are these gluten free vegan peanut butter spider cookies? Soft peanut butter cookies, topped with a chocolate ganache spider. Creepy, yet so delicious!
I love an excuse to make festive desserts for just about any holiday! Every Halloween, I come up with another spooky treat to make for the kids or for classroom parties. Last year I made these adorable gluten free vegan chocolate spiderweb cupcakes that really couldn't be easier to make. One of my favorites are these gluten free vegan gingerbread skeleton cookies. It doesn't take a lot of effort to make super cute Halloween sweet treats!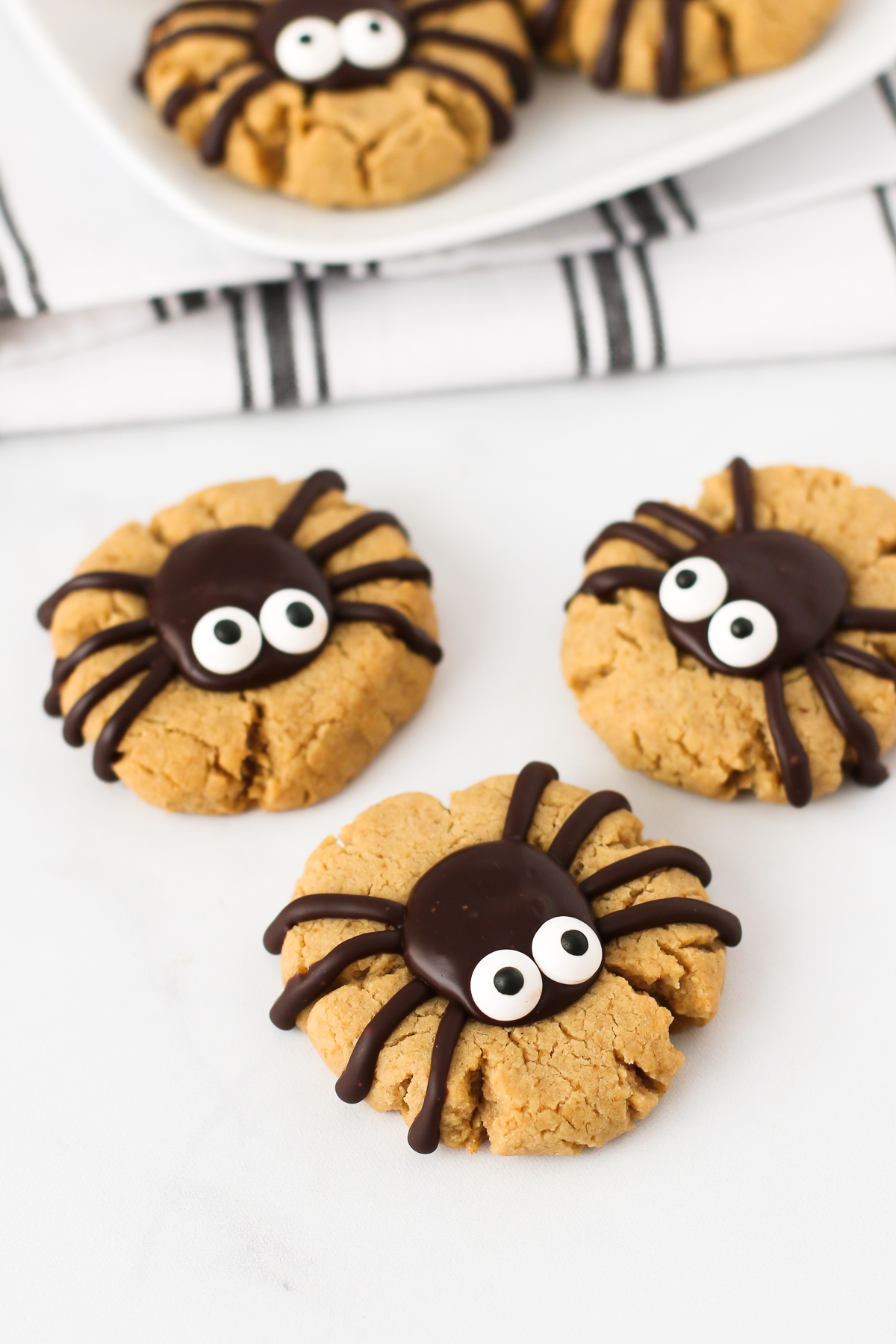 This Halloween, I came up with these gluten free vegan peanut butter spider cookies. Aren't they just too fun? I found these candy eyeballs at my local Target, but you can also find them online and at just about any grocery store this time of year. They were my inspiration for the adorable spiders, which are made from a dairy free chocolate ganache. Finally a spider I'm not scared of.
I've taken a classic peanut butter thumbprint cookie and turned it into something a little creepy and totally fun for Halloween! The soft peanut butter cookie with the chocolate spider is a perfect match. If you love that flavor combination as much as I do, you are going to be quite smitten with these gluten free vegan peanut butter spider cookies.
Friends, I hope you all have a Happy Halloween, filled with lots of gluten free goodies!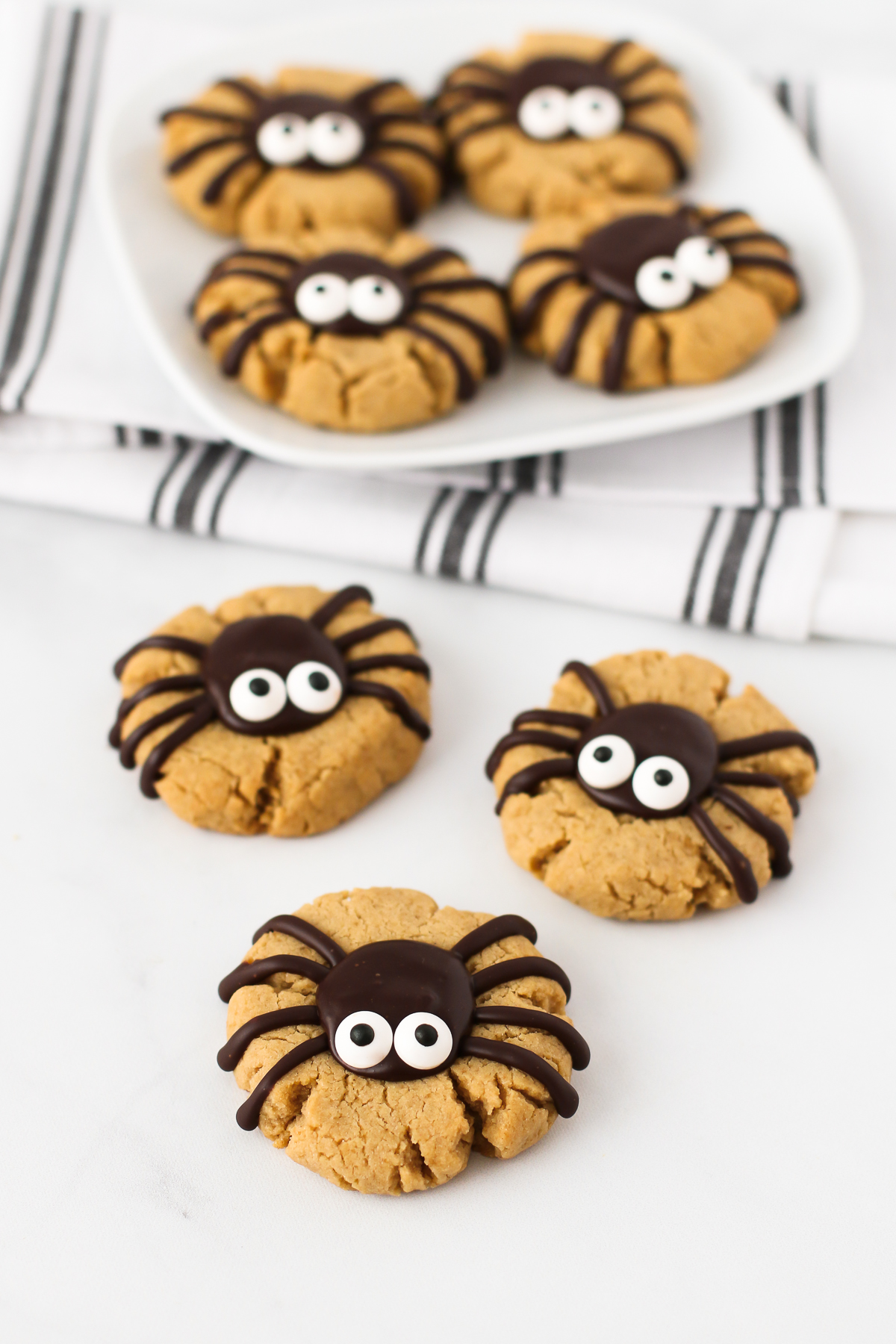 gluten free vegan peanut butter chocolate spider cookies
AUTHOR:
Sarah Bakes Gluten Free
INGREDIENTS
peanut butter cookies
1 cup brown sugar
1/2 cup creamy peanut butter
1/4 cup refined coconut oil, softened
1/4 cup unsweetened almond milk or oat milk
3 tablespoons pure maple syrup
1 teaspoon pure vanilla extract
1 teaspoon baking powder
1/2 teaspoon baking soda
1/2 teaspoon sea salt
chocolate spiders
3/4 cup dairy free chocolate chips
2 tablespoons unsweetened almond milk or oat milk
INSTRUCTIONS
Preheat oven to 350 degrees. Line baking sheets with parchment paper.
In large bowl of standing mixer, cream together brown sugar, peanut butter and coconut oil, 1-2 minutes. Add almond milk, maple syrup and vanilla. Beat until blended.
To mixing bowl, add flour, baking powder, baking soda and salt. Mix until dough comes together.
Scoop cookie dough using cookie scoop and roll dough into balls. Place onto prepared baking sheet and flatten slightly. Indent center of cookie with thumb.
Bake cookies 9-11 minutes. Remove from oven and leave cookies on baking sheet 5 minutes. While still a bit warm, indent center of cookie with thumb. Place cookies on cooling rack to cool completely.
Place chocolate chips and almond milk in small microwave-safe bowl. Microwave on low for 30 seconds. Stir and microwave an additional 20 seconds. Stir until smooth and creamy.
Pour melted chocolate into ziplock bag and snip corner of bag. Onto cooled cookies, first pipe legs of spider. Then fill each center of cookie with chocolate to make the body. Top with two candy eyeballs.
Place cookies in refrigerator to set chocolate. Store cookies at room temperature.