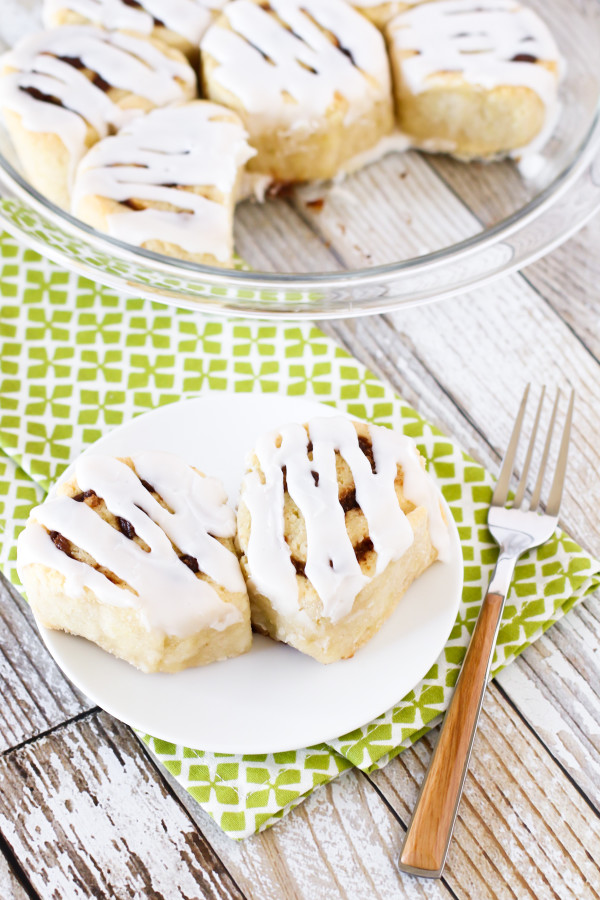 How much do I like cinnamon rolls? Like A LOT. They have always been one of my most favorite breakfast treats. I don't know if it's the soft dough or the cinnamon sugar filling or maybe it's the glaze on top. All of it. Just give it all to me and make sure it's extra warm and extra gooey.
The only thing I don't like about cinnamon rolls. The time. The time it takes to make the dough, roll them out, let them rise and then wait impatiently for them to bake. It's that extra hour of rise time that I could do without. If there was only a faster way to make cinnamon rolls…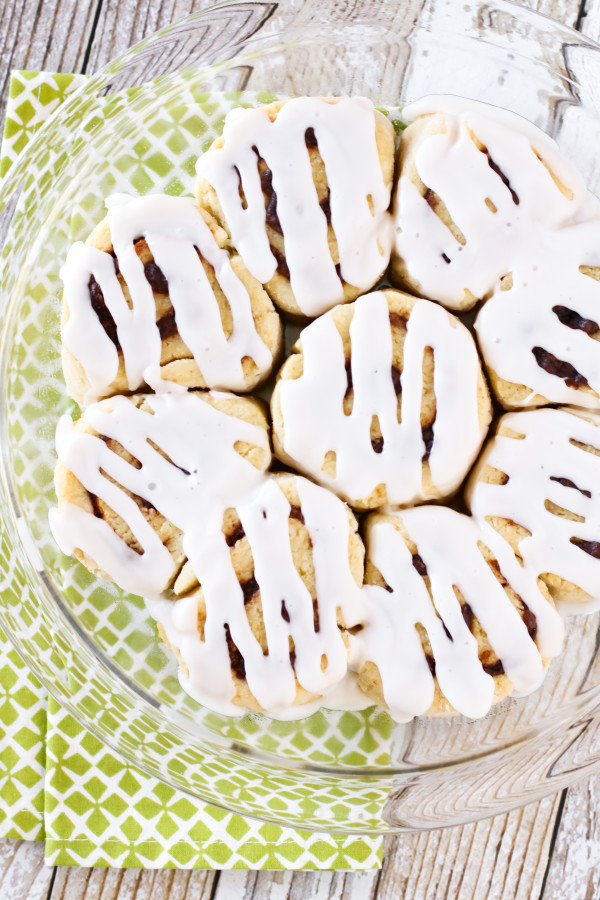 Cinnamon roll biscuits. The way to quick, easy cinnamon rolls! No yeast and no rise. Just roll out the biscuit dough, top with cinnamon sugar filling, roll it up, slice and bake. Oh yeah, and top with that completely necessary, simple glaze.
I've fallen for these cinnamon-swirled tender biscuits. While still hot out of the oven, I picked one up and took a bite. How could I possibly resist? There may be a few steps to these, but it goes pretty. I promise you'll be having warm, gluten free vegan cinnamon rolls in no time!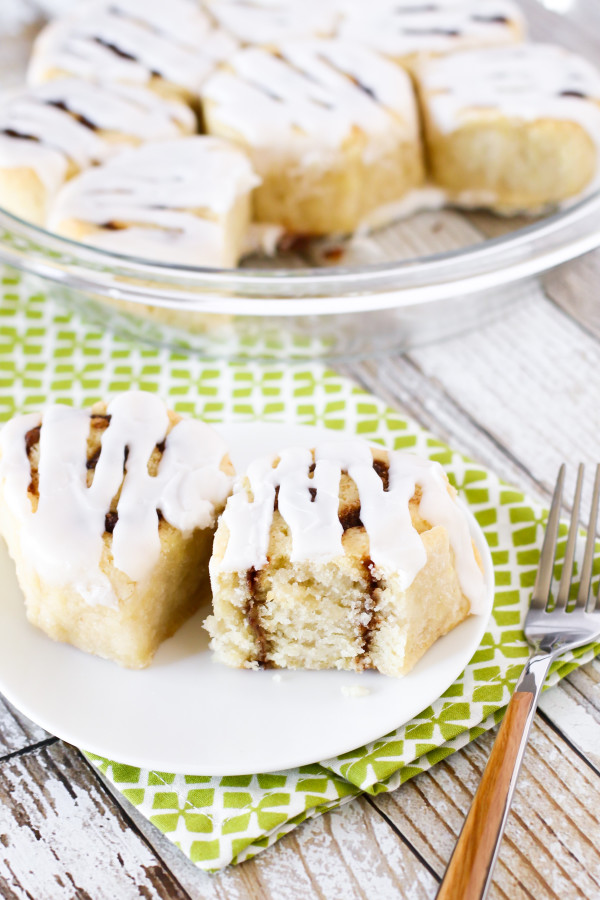 gluten free vegan quick cinnamon roll biscuits
AUTHOR:
Sarah Bakes Gluten Free
INGREDIENTS
biscuits
1/4 cup cornstarch
2 tablespoon cane sugar
1 tablespoon baking powder
1/2 teaspoon baking soda
3/4 teaspoon sea salt
3 tablespoons refined coconut oil, solid
1 cup So Delicious Dairy Free unsweetened coconut beverage or almond milk
1 teaspoon vinegar
cinnamon sugar filling
simple glaze
INSTRUCTIONS
Preheat oven to 425 degrees. Prepare 9-inch pie plate or 9x9 baking dish by spraying with nonstick cooking spray. Set aside.
In large mixing bowl, sift together flour, cornstarch, sugar, baking powder, baking soda and salt.
Add chilled shortening and coconut oil. Using pastry cutter, cut in shortening and coconut oil until small pieces remain.
Mix together coconut milk and vinegar in small bowl, then pour over flour mixture. Gently blend dough until just comes together.
In small bowl, mix together brown sugar, coconut oil, flour and cinnamon. Set aside.
On counter, place large piece of plastic wrap. Sprinkle with extra cornstarch or flour blend to keep dough from sticking. Gently flatten or roll biscuit dough on floured surface to 14x8-inch rectangle.
Top with cinnamon sugar mixture, evenly coating biscuit dough. Starting with 14-inch edge, slowly roll up dough. If the dough cracks, just press back together.
Using sharp knife, slice into 1 1/2 inch rolls. Place cinnamon rolls in prepared baking dish.
Bake biscuits 25-28 minutes or until golden brown and bubbly.
To make simple glaze, mix together powdered sugar and coconut milk. Drizzle over warm cinnamon rolls. Serve warm.