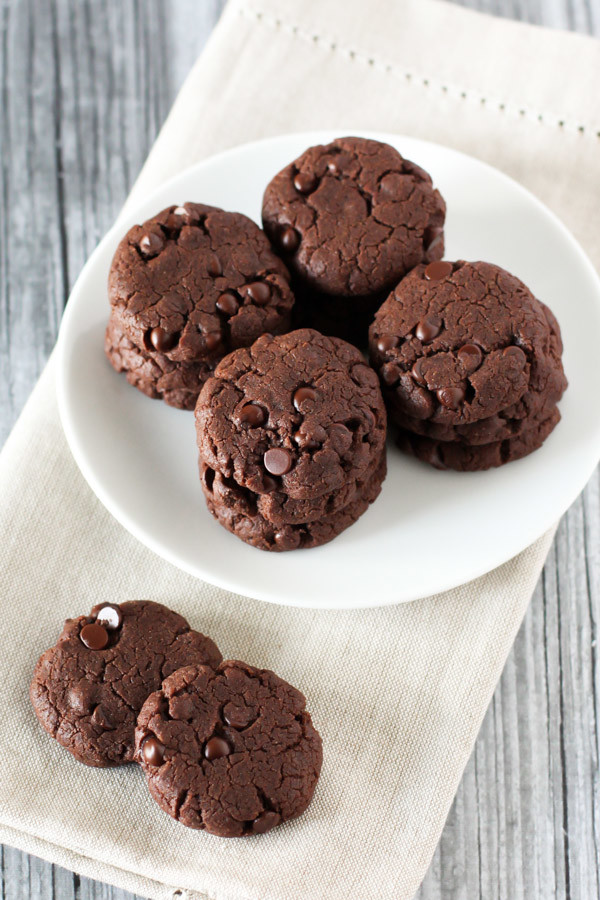 I sort of have this obsession with making desserts in mini form. Like mini cupcakes, mini muffins, mini tarts, mini cookies. The cuteness factor goes way up with tiny desserts. Plus, you can eat like 3 or 5 of them and not feel all that guilt. You really shouldn't feel any guilt when eating delicious food. All in moderation, people.
These are some decadent double chocolate cookies here. Crispy on the outside, soft on the inside. A gluten free vegan cookie dough that is made extra chocolatey by both the melted semi-sweet chocolate and high quality cocoa powder. There are also loads of mini chocolate chips mixed right in. Too much chocolate? No such thing.
One bite or two, these mini double chocolate cookies will be gone in no time. It's a good thing this recipe makes over 60 cookies! More for you to share with friends, dip in your cup of coffee or surprise your kids with in their school lunches. Lots of cookie love going on with these mini cookies!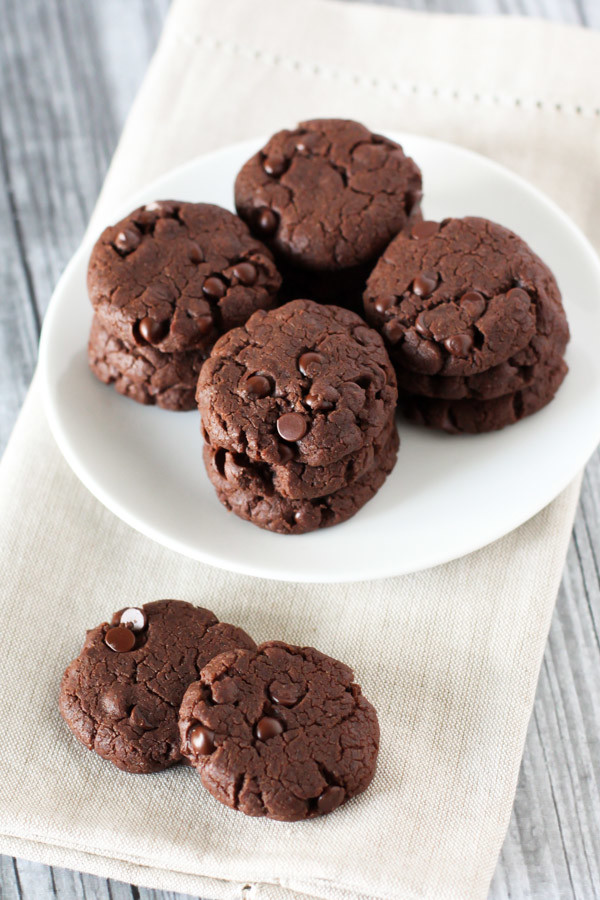 gluten free vegan mini double chocolate cookies
AUTHOR:
Sarah Bakes Gluten Free
INGREDIENTS
1 3/4 cups Sarah's gluten free flour blend
1/2 cup high quality cocoa powder
1 teaspoon baking powder
1/2 teaspoon baking soda
1/2 teaspoon sea salt
3/4 cup dairy free semi-sweet chocolate chips, melted
1/2 cup cane sugar
1/2 cup brown sugar
1/4 cup refined coconut oil, softened
2 tablespoons So Delicious unsweetened coconut milk
2 tablespoons pure maple syrup
1 teaspoon pure vanilla exract
3/4 cup dairy free mini chocolate chips (such asEnjoy Life)
INSTRUCTIONS
Preheat oven to 350 degrees. Line baking sheets with parchment paper.
Sift together flour blend, cocoa powder, baking powder, baking soda and salt in medium bowl. Set aside.
Place chocolate chips in microwave-safe bowl and microwave in 30 second intervals, at medium-low. Stir until chocolate chips are completely melted.
In large mixing bowl, cream together cane sugar, brown sugar, and coconut oil. Add melted chocolate chips and mix until combined.
Add coconut milk, maple syrup, and vanilla. Continue to cream together. Add flour mixture and mini chocolate chips. Mix until just combined.
Roll 2-teaspoon size scoops of cookie dough into balls and place onto prepared baking sheet. Slightly flatten with fingers (cookies won't spread much).
Bake cookies 8-10 minutes. Place on cooling rack to cool completely. Store in air-tight container.