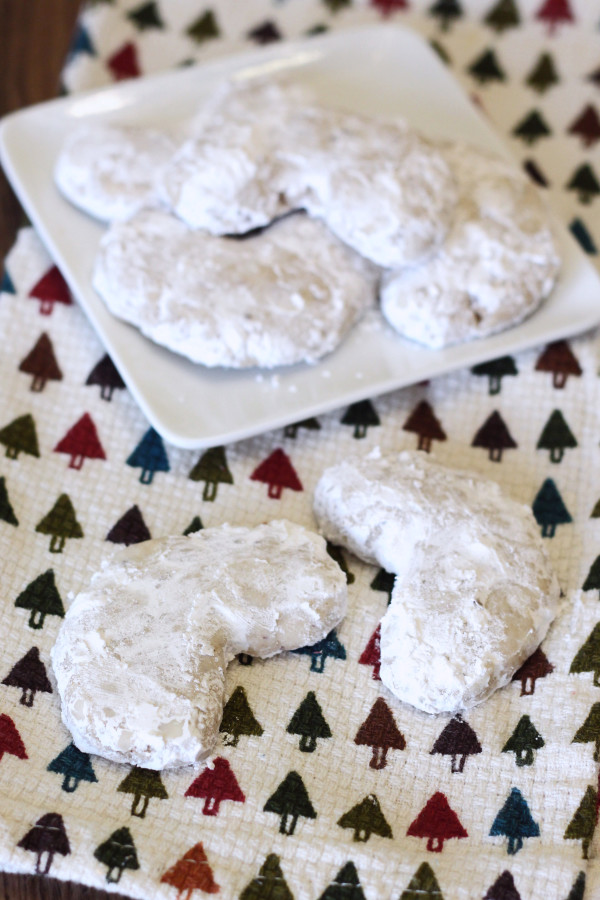 I have such beautiful memories of Christmas at my grandma's house. Every Christmas Eve, we would go to my grandma and grandpa's house in Sacramento. The aunts, uncles and cousins would come from near and far. My mom's mom was an amazing cook and would cook a gorgeous meal. However, the kids weren't too fond of the mushroom soup. My grandma was also quite the baker too. It's because of her that my mom loves to bake, therefore I have been given the love for baking. Thanks, grandma Lastufka!
One of the cookies that my grandma always made for the holidays…crescent cookies. Buttery, crisp cookies, filled with finely chopped nuts and coated in powdered sugar. Always my favorite! She would make them with almonds, but I've made them for you with pecans. You can certainly use almonds, if you'd like. I just love the taste of toasted pecans. These cookies have a great crunch, great flavor and are gluten, egg and dairy free. What's your favorite holiday cookie from your childhood?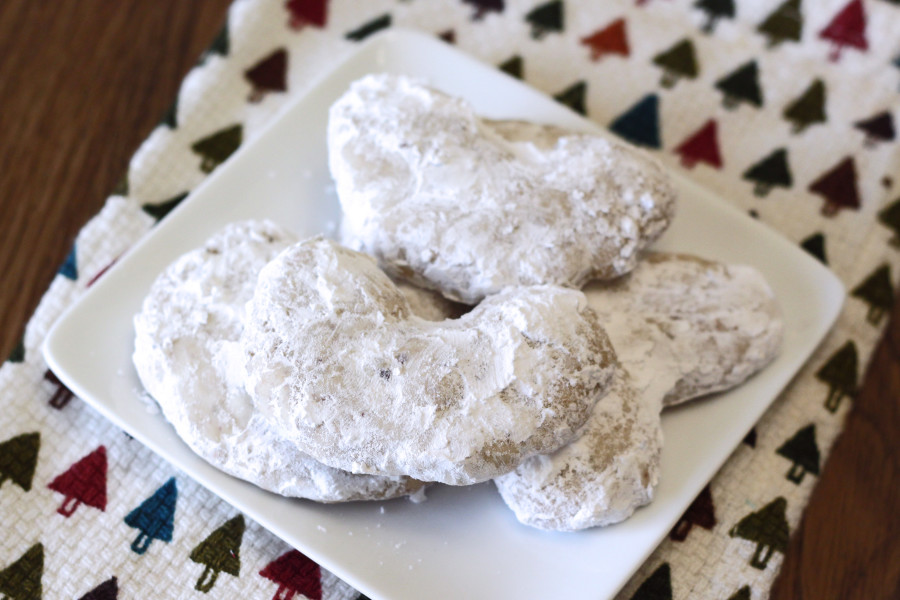 gluten free vegan pecan crescent cookies
AUTHOR:
Sarah Bakes Gluten Free
INGREDIENTS
1 cup toasted pecans, finely chopped
10 tablespoons Earth Balance vegan butter, softened
3/4 cup powdered sugar
2 tablespoons pure maple syrup
2 teaspoons pure vanilla extract
2 cups, plus 2 tablespoons Sarah's gluten free flour blend
1 cup powdered sugar (for coating cookies)
INSTRUCTIONS
Place pecans in food processor or high-powered blender. Pulse until finely chopped. Set aside.
In large bowl of standing mixer, add vegan butter, powdered sugar, maple syrup and vanilla. Mix for 1-2 minutes, until smooth and creamy.
Add flour and finely chopped pecans. Mix dough until just combined. Wrap in plastic wrap and chill dough 30 minutes-1 hour in refrigerator.
Preheat oven to 350 degrees. Line baking sheets with parchment paper.
Take tablespoon-size scoops of dough and form into crescent shape. Place on pan and flatten slightly (if dough cracks, just press back together).
Bake cookies 10-12 minutes, until golden brown. Place on cooling rack to cool completely.
Place 1 cup powdered sugar in shallow dish. Roll cooled cookies in powdered sugar to coat. Store in airtight container.