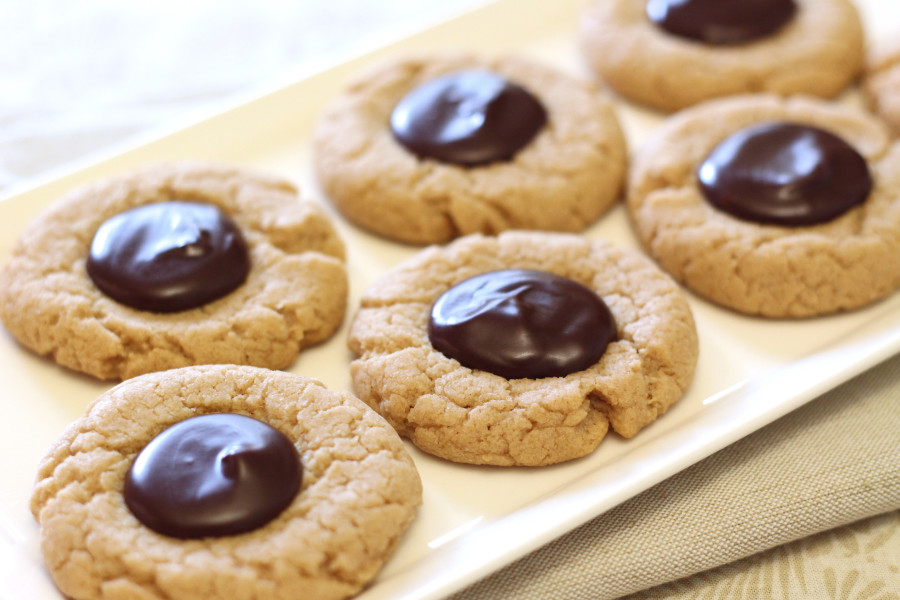 Christmas is next week. NEXT WEEK. How in the world did that happen? I'm pretty much done with all of my shopping. Gifts have been made. No presents have been wrapped. A couple packages still need to be sent. I'm feeling the pressure as the day draw nears. I wish the only two things on my to-do list were being present with my family and baking. Lots of cuddles and lots of cookies.
These little peanut butter chocolate thumbprint cookies are my newest baking creation. I love making cookies at Christmastime, especially ones that remind me of my childhood. My mom would make these with little Hershey Kisses on top. We would eat the chocolate kiss and then the cookie. I've taken the classic peanut butter cookie and filled the center with soft, creamy chocolate. Doesn't get much better than peanut butter and chocolate.
Need a new cookie recipe to bring to your Christmas party at work or cookie swap with your girlfriends? Here you go! Hard to resist, these peanut butter chocolate thumbprint cookies are a tiny, tasty treat.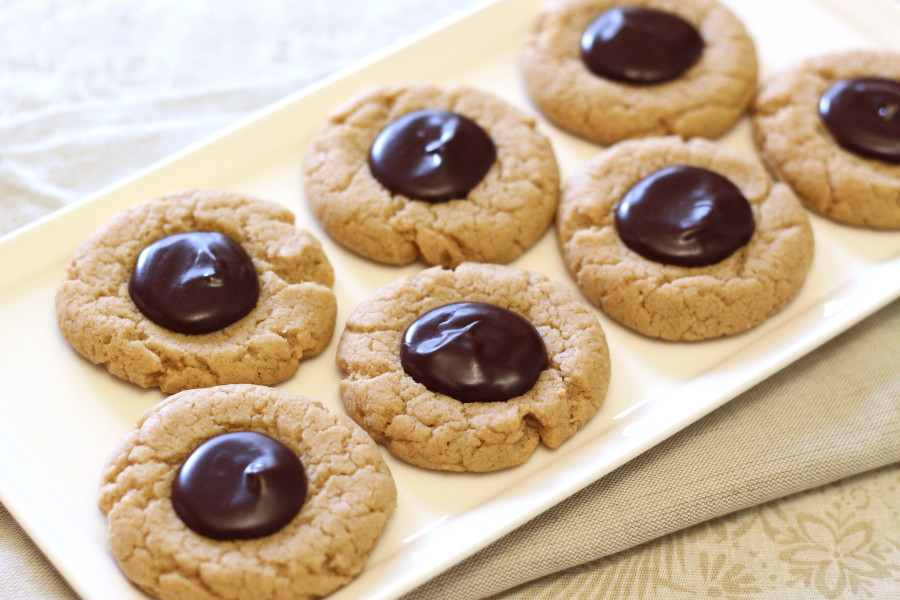 gluten free vegan peanut butter chocolate thumbprint cookies
AUTHOR:
Sarah Bakes Gluten Free
INGREDIENTS
peanut butter cookies
2 1/4 cups Sarah's gluten free flour blend
1 teaspoon baking powder
1/2 teaspoon baking soda
1/2 teaspoon sea salt
1 cup brown sugar
1/2 cup creamy peanut butter
1/4 cup coconut oil, melted
1/4 cup So Delicious unsweetened coconut milk, room temperature
3 tablespoons pure maple syrup, room temperature
1 teaspoon pure vanilla extract
chocolate center
1 cup dairy free chocolate chips
3 tablespoons So Delicious coconut milk creamer
INSTRUCTIONS
Preheat oven to 350 degrees. Line baking sheets with parchment paper.
In medium bowl, sift together flour blend, baking powder, baking soda and salt. Set aside.
In large bowl, cream together brown sugar, peanut butter and coconut oil. Add coconut milk, maple syrup and vanilla. Mix until blended. Add flour mixture and stir until combined.
Roll tablespoon size scoops of cookie dough into balls. Place onto prepared baking sheet. Flatten dough slightly by pressing with fingers, indenting center with thumb.
Bake cookies for 9-10 minutes or until golden brown. Remove from oven and allow cookies to slightly cool on baking sheet for 2-3 minutes.
While still a bit warm, indent center of cookie with thumb or back of teaspoon. Place cookies on cooling rack to cool completely.
To make chocolate center, place chocolate chips and creamer is small microwave-safe bowl. Microwave on low for 30 seconds. Stir and microwave an additional 20 seconds. Stir until smooth and creamy.
Top each cookie with about 1 teaspoon chocolate, filling center. Allow chocolate to set for 20 minutes.