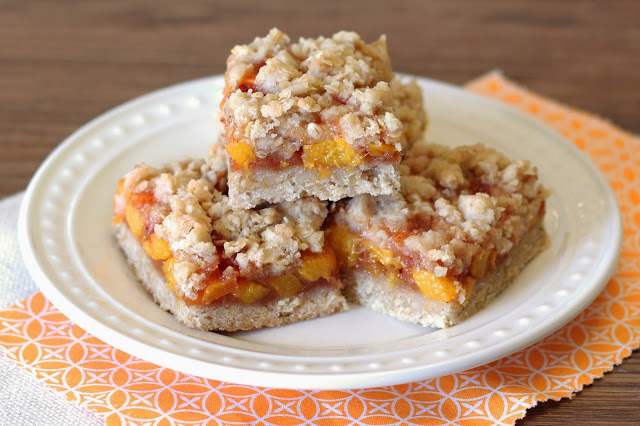 Can I just say, I love it when peaches are in season! They are one of the juiciest, sweetest summer fruits. I actually don't mind the fuzzy skin, but some people would rather peel their peaches. I think the fuzziness just adds to the fun of eating them. Juice dripping down your hand goodness.
I really wanted to make my favorite summer dessert, peach crisp, into bars. So I did! These are just as easy to make, you just press 2/3 of the crumb topping into the bottom of the pan. Top with sugar-cinnamon peaches and the rest of the oat crumble. Bake, slice and top with a scoop of vanilla coconut milk ice cream. Cause that's how we roll. I think I may need to try these with fresh blueberries too. How many of you would fancy that recipe? For now, savor every bite of these gluten, egg and dairy free peach crumb bars.
gluten free vegan peach crumb bars
makes 12 bars
peach filling
4-5 ripe peaches, peeled and diced
1/3 cup cane sugar
2 tablespoons cornstarch or tapioca starch
1/2 teaspoon ground cinnamon
1 tablespoon orange juice
crumb crust/topping
1 1/4 cups Sarah's gluten free flour blend
1 cup gluten free quick oats
1/4 cup brown sugar
1/4 cup cane sugar
1/2 teaspoon sea salt
6 tablespoons coconut oil, solid
2 tablespoons So Delicious unsweetened coconut milk
2 tablespoon pure maple syrup
Preheat oven to 375 degrees. Prepare 8×8-inch baking pan by lining with parchment paper or spraying with nonstick cooking spray. Peel, pit and dice peaches. In large bowl, gently mix together diced peaches, sugar, cornstarch, cinnamon and orange juice. Set aside.
For crumb crust/topping, sift together flour, oats, brown sugar, sugar and salt. Add coconut oil, maple syrup and coconut milk. Blend with fork until ingredients are well mixed. Spread 2/3 of oat mixture into prepared pan. Press evenly into bottom of pan. Top with an even layer of peaches (with juices). Sprinkle remaining oat crumble over peaches. Bake for 40-45 minutes or until peaches are bubbly and crumble is golden brown. Allow to cool in pan. Slice and serve.